Ajin: Demi-Human
November 10, 2017 · 0 comments
By Andrew Osmond.
Based on a red-hot manga by Gamon Sakurai, Ajin is part of the resurgence of horror anime which began with the world-beating Attack on Titan. The protagonist is Kei Nagi, a withdrawn Japanese schoolboy. He lives in a present-day Japan, but with a tweaked history; seventeen years ago, a number of 'Ajin' (Demi-Human) demonic beings appeared in the world. They can't die, whatever injuries they suffer, and they can summon tattered monster mummies to destroy their enemies.
But here's the thing; the Ajin look like us. While some have been captured by the authorities – there are gruesome video clips floating around the net – there might be other Ajin anywhere, even in Kei's class. Not that the self-absorbed Kei pays that any heed, right until he steps into a road, into the path of a speeding truck. His classmates see it all; Kei's body shattered, horribly mangled under the wheels… and then regenerates under a black miasma and coming back to life.
No question – Kei has just found out that he's an Ajin. That means he's no longer considered a person, he's a wanted animal. Much of the first film is a Fugitive-style chase-and-hunt story, with society turning on Kei quicker than you can say, "Accursed is the mutant!" "You can feel the pain of the characters," says Mamoru Miyano, who voices Kei. "The human relations hurt; the fact you find yourself becoming an Ajin, and your family doesn't treat you as a son anymore. Even when we were recording the scenes, it was very painful, because (my character) had to be hurt many times, over and over. Kei is an Ajin, and he may live forever, but he hates being himself."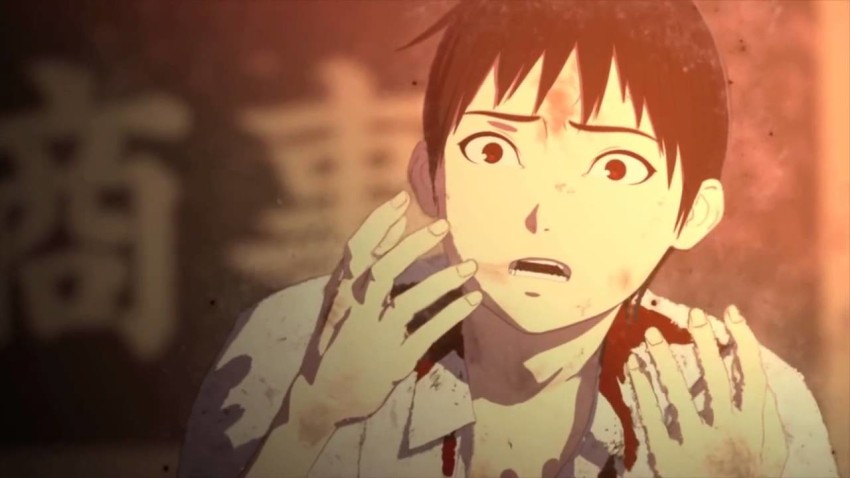 We gradually learn about Kei, about his self-absorption and why he's despised by his younger sister. Kei's certainly not a straightforward anime hero; but Miyano (who voiced one of anime's great anti-heroes, Light Yagami in Death Note) says he likes him all the same. "I can relate to Kei, I think he's very true to himself… I felt that through all his experiences, Kay would be able to learn and grow and live his life. There are scenes in the middle of the film where he suffers painfully and horribly. There were times I wanted to quit… but that's how much I put myself into this character. I'm happy to be in a film that makes me feel this way."
The anime is by Polygon Pictures, a pioneer in CG anime for more than three decades, which made Ajin its next big project after the space adventure Knights of Sidonia. The two productions share many staff, and a similar rollout – like Sidonia, the TV Ajin was released as a package on Netflix. Whereas Sidonia lent itself to CGI, with many space battles, Ajin is Polygon's bid to show it can handle other genres. It has spectacular battles, including a prologue showing terrified child soldiers fighting an Ajin in Africa, but it must also hit the horror spot. That means serving up a terrifying monster…
Not that the actors saw CG mummies while recording. "They recorded our voices first and then added the visuals on our voice-acting," says Miyano. "I didn't know what the movie would look like at all, so I was stunned when I saw the completed film. When I read the original comics, I thought they were so innovative and fresh, and you're pulled in. The Ajin (manga) fans must have been surprised when they heard this was going to be adapted into an anime. But the directors really fought against the scepticism of the fans; they tried their very best, they did not choose an easy way out. The scary parts are very scary, the deep human relationships are really touching. And this is only the first part!"
Miyano's a big cheese in voice-acting. As well as Light Yagami in Death Note, he was Rintaro Okabe in Steins;Gate, Masaomi in Durarara!, Berg Katze in Gatchaman Crowds, Rin in the swimming saga Free! and Yusuke in the recent Fireworks. Among his Ajin co-stars is the actress Aya Sazaki, who was the hyperactive Mako in Kill la Kill, Tamako in Tamako Market and Shizuka in Knights of Sidonia. Sazaki voices Kei's sullen younger sister Eriko, who's estranged from Kei long before he's exposed as an Ajin. Ajin tendencies don't run on family lines, so Eriko isn't hunted like her brother, but some parties are interested in her for their own reasons.
"There was a lot of pressure," Sazaki says of voicing Eriko. "Some of the ways we recorded our voices were actually used in the story. The director left all the pauses, the tempo and tone to us; it was quite difficult and we were nervous. They were shooting us with a camera while we were recording our voices. The details of our facial expressions were recorded on camera and reflected in the animation. Unlike normal animation, we were even conscious about the way we moved when we were recording."
Sazaki's fellow actress Mikako Komatsu concurs. She plays Izumi, a mysterious woman investigator hunting the Ajin (though you may know Komatsu as Marika, the bubbly heroine of Bodacious Space Pirates). "There was a camera in front of me and they were shooting our expressions while we were speaking," Komatsu says. "There must be a lot of animation based on our expressions and voices, and there are probably very detailed movements not usually in animation. Maybe those are the emotions we were actually doing when we were recording our voices."
In the film, Izumi's linked with another investigator, Tosaki, who seems to be the equivalent of a G-man in black (except his suit is white). He's voiced by Takahiro Sakurai, Suzaku in Code Geass, Norio in Knights of Sidonia and Griffith in the cinema Berserk. "I [Ajin] is really something that speaks to your instincts," Sakurai says. "It asks the question of what it means to live life. You can enjoy this as entertainment, but there's more to it. Probably most people do not really think about living and what it means to live your life, the value of the present. I'm over forty, and I think I've lived more than half my life, so in a way this anime triggered me to think about my life from now."
Another actor, Daisuke Hirakawa, was also impressed with Ajin's themes. Hirakawa often dubs Orlando Bloom; here he voices Tanaka, another Ajin, who's experienced brutal human captivity. "Just imagine why Tanaka started to hate human beings so much," Hirakawa asks us. "There's a scene where he's crying from anger; please imagine his mind, his emotions… The film has not only big action scenes, but scenes where you can see human beings changing drastically once they find out the person next to them is Ajin. You'd think that 'I'd just be normal,' but you see that if it happened – if you find the person next door is completely different from yourself – then you would tend to change drastically. Ajin teaches that."
The hunted Kei only seems to have one ally. This is Kaito, a childhood friend whom Kei had heartlessly discarded several years before the story begins. But when a terrified Kei calls Kaito after he's been revealed as an Ajin, Kaito doesn't spurn him. Instead Kaito becomes Kei's guardian angel, risking his own life to get Kei to safety. Kaito is voiced by Yoshimasa Hosoya, who was memorable as the jovial giant drummer Sentaro in Kids on the Slope; he now voices Orga in Gundam: Iron-Blooded Orphans.
"Ajin was like a Hollywood film!" Hosoya exclaims. "There were no visuals, but from the script and the original comics, we were really looking forward to the film itself. We kind of anticipated that it was going to be a very big-budget film. So when I first saw the completed film, the word 'Hollywood' came to my mind first… It was almost like a live-action film."
But if the actors pay tribute to the visuals, the directors pay tribute to the actors. The director is Hiroaki Ando, who's worked on prestige productions from Steamboy to Tekkonkinkreet. The chief director, meanwhile, is Hiroyuki Seshita, who co-directed Sidonia's first season and was main director on the second. "In Ajin, the cast created their own characters without the visuals, without the animation, and really got into them," Seshita says. "In their minds, the universe of this story probably went beyond the actual animation. When they recorded their voices, it was almost like a wonderful radio drama. The animators said the voices were such wonderful acting that they wondered what they could add to them. It encouraged them to work even harder.
"The original manga is very unique… Everyone wonders what is going to happen to Kei Nagai," Seshita continues. "We did feel pressure in making it into an animation, but we think we could draw its essence, and enhance what's wonderful about it. Kei has special abilities, but he's not going to suddenly change the world; he doesn't have that strong a sense of justice. He's a very ordinary guy, maybe even a bad guy, but Kei might be the ultimate saviour of the human being. He's not allowed to die, and he's seeking what it means to live in that situation. He really tries hard to live, and I think that's a new way to portray a hero."
Ajin the TV series and the Compel movie are released by Anime Limited.