Review: The Art of Satoshi Kon
October 22, 2015 · 0 comments
by Chris Perkins.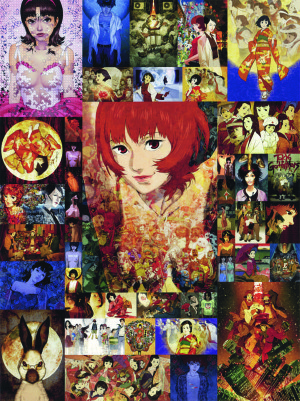 24th August 2010 was a dark day for anime, and indeed for fans of quality cinema in general. On that day Satoshi Kon, one of the brightest lights in the animation scene, passed away at the tragically young age of 46. He left behind a small but perfectly formed filmography comprising just four features and one TV series. Now, five years after his passing Dark Horse Comics bring us the English language version of The Art of The Satoshi Kon. This book was originally released in Japanese back in the year he died, but is only now making its English debut.
It's a lavish tome, a beautiful coffee-table hardback book that would be a fine addition to any collection. The volume spans Kon's too-short career, featuring beautiful artwork selected from his best known works, but also previously unseen and rare material from his work in manga, shorts and games.
The book lives up to its title in that this is all literally the art of Satoshi Kon. If you pick up an art book for a film by Ghibli for example, you'll typically find art not only by the director, but by numerous other artists on the production. Here though this is exclusively artwork produced by Kon himself, showing off just what an amazing artist he was. Generally the pieces are not artwork from the films themselves, but more often concept art or promotional materials – which is, again, distinct from other art books.
The representation of the various films is often surprising. The book takes on his films chronologically, with the manga and other works at the back of the book. The amount of space given to each film varies quite substantially- presumably based on how much artwork was available. Perfect Blue gets a fair amount of space, but Paprika gets just two pieces. As does Kon's only TV series Paranoia Agent, despite running for 13 episodes. However the reason for this is explained in the accompanying notes, when Kon recounted that he chose to take a step back and leave the design work on that project to others.
Surprisingly enough, the film of Kon's which boasts the most material is his second feature Millennium Actress. It feels like the 2001 film is often Kon's most overlooked, a problem not helped by the fact it is long out of print both in the UK and US. Hopefully though the gorgeous work from the film presented here will encourage more to seek it out (if they can find it).
Although other favourites such as Paprika and Paranoia Agent seem under represented, the quality makes up for the lack of quantity, with this book packed with stunning artwork from beginning to end. The inclusion of work from Kon's unfinished final film The Dreaming Machine is bittersweet- it's wonderful to get a look of course, but heart-breaking to know that we'll almost certainly never see the film completed.
Elsewhere the selection shows the breadth of Kon's talent with art from his manga works, some work on games and storyboards from short films. Most fascinating of all though may well be the "Original /Early works" which contains a mix of fine art, commercial work and even some unfinished pieces.
Commentary is limited to an 18-page section at the back featuring notes written by Kon himself, originally for a retrospective exhibition, and later amended for the original edition of the book. Although brief, it's still a fascinating insight into the mind of a master of his craft.
Ultimately, The Art Of Satoshi Kon is a fitting memorial to one of anime's most singular talents. As with the man himself's career the only problem here is that you can't help but wish there was more of it. Without any shadow of a doubt, this is a must have for any serious Kon fan or art book collector.
Chris Perkins writes about anime for MyM magazine and is the editor of Animation For Adults.