Andrew Osmond on the first lady of Japanese pop.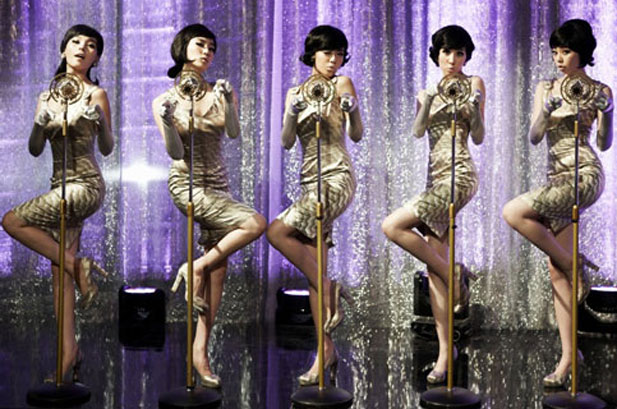 Hikaru Utada is one of the most famous singers in Japan, eighteen years since she first burst into the pop scene with her album First Love, which became Japan's highest selling album ever. Outside Japan, Utada is still little-known, except to certain groups – fans of Japanese media and music, obviously, and also to gamers and Evangelion fans.
Two of Utada's best-known songs outside Japan are "Simple and Clean" (Utada's adaptation of her Japanese song "Hikari") and "Sanctuary" (based on the Japanese song "Passion"). "Simple and Clean" was the theme of the first 2002 Kingdom Hearts game for the PlayStation 2, which united the universes of Disney and Final Fantasy. "Sanctuary" was the title theme of the sequel, Kingdom Hearts II, released in 2005.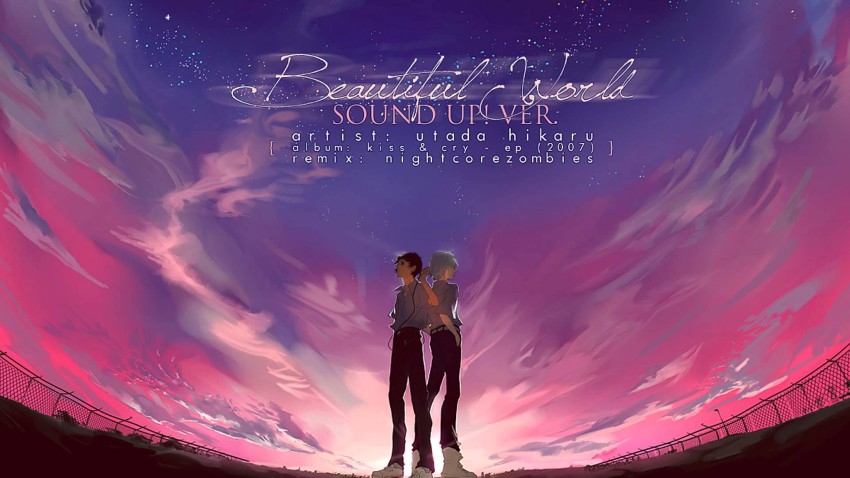 Evangelion fans, meanwhile, know Utada for the song "Beautiful World." Different versions of the ballad play on the end titles of Evangelion 1.0 – You Are (Not) Alone and its sequel, Evangelion 2.0 – You Can (Not) Advance. A different, much more sombre Utada song, called "Sakura Nagashi" ("Cherry Blossom Sinking") played out Evangelion 3.0 – You Can (Not) Redo. And before her involvement with Eva, Utada had already covered "Fly Me to the Moon," the 1950s jazz classic which was prominent in the TV Evangelion. A new Utada cover of "Fly Me to the Moon" appeared on the trailers for Eva 1.0, though not in the film.
Arguably, Utada's most impressive contributions to anime lie outside Eva and Kingdom Hearts, but first we should explain her history. Utada wasn't born in Japan, but spent her childhood in Manhattan. Her Japanese expat parents were both music professionals. Her mother was Keiko Fuji (real name Junko Abe), a phenomenally popular singer in her own right, who helped revive Japan's tradition of enka (ballad) songs in the 1970s. Utada's father was Teruzane Utada, a music producer, singer and songwriter.
According to an interview Hikaru gave to the site Tokyohive in 2011, she did not want to follow in her parents' footsteps, because she saw how hard the artistic life was. "(My parents) put so much passion into it, like selling a car to pay for the studio fee…They could not rent a house because their income was unstable. Witnessing those things as a child, I wanted a job with more stable income. I didn't want to have an unstable life, in which you go up and down with your emotions, passions, and overall living."
However her parents, seeing their daughter had an obvious gift for music, encouraged her to create her own songs. By the time she was 13, she had already recorded an album in Manhattan, Precious, under the pseudonym "Cubic U." It failed to make an impact (at least on its first release – it later became a bestseller in Japan). But by the time it was released, Utada's family had relocated to Tokyo and she was moving ahead under her own name.
In 1998, the fifteen year-old released "Automatic," a striking rhythm and blues track which became a massive bestseller. As with all Utada's hits, she wrote the song herself, setting herself apart from the bulk of J-pop artists. Utada's subsequent album, First Love, sold over eight million units in Japan, an all-time domestic record. Along with "Automatic," another of the album's hit singles was "First Love," which would be nominated in a poll a decade later as one of the best songs for brokenhearted listeners. "First Love" was also the theme for a live-action romantic TV drama, "Majo no Joken."
But soon it was Utada's own lovelife that was intriguing the tabloids. Following a successful follow-up album, Distance in 1999, the singer started work on the next, which would be released in 2002 as Deep River. Some of its new songs were accompanied by stunningly elaborate music videos, many placing Utada into animated worlds. These quasi-anime videos were created by a male director, Kazuhiro Kiriya, who became Utada's husband in 2002.
The fact that Kiriya was thirty-four at the time, while Utada was still only nineteen, was enough to get the press salivating. British readers may be reminded of the well-publicised age-gap marriage between Billie Piper and Chris Evans, who wed just a year earlier and divorced in 2007, the same year that Utada and Kiriya also divorced.
Some readers might remember one of Kiriya's most ambitious opuses. He made an SF feature film called Casshern (trailer) loosely adapted from a vintage SF anime. It aimed to place live actors into a luminal world between anime and live-action, using extensive greenscreen and CG. Utada provided the theme song, "When Someone's Wish Comes True." Casshern drew mixed reviews – the Anime Encyclopedia complained that the script "could have been scrawled on the back of a beermat." But even if you were bored by Kiriya's epic, you should still try the short-form masterworks he made with Utada.
The best is Kiriya's music video for Utada's song "Traveling." It's the "Sledgehammer" of Jpop, one of the most bogglingly creative mini-fantasy films ever made, with overtones of everything from The Fifth Element to Night on the Galactic Railroad. It may strike American viewers as a high-tech tribute to the retro-madness of H.R. Pufnstuf. The video features a red-wigged Utada dancing with flower-people and badger-faced typists; sometimes she turns into a stop-motion running doll or a bare-shouldered wood-nymph.
Anime is prominent in Kiriya's video for "Passion" (the Japanese version of "Sanctuary"), which features animation by Studio 4 Degrees C and specifically by its co-founder Koji Morimoto, famed for his innovative anime work over several decades. The video's live-action, meanwhile, was filmed in Beijing. Kiriya's video for "Keep Tryin'" turns Tokyo into a cartoon stage set of candy colours and clone Utadas, while "Sakura Drops" sets Utada amid scintillating CG birds and beasts. Reportedly, the latter video was inspired by an eighteenth-century Japanese painter, Ito Jakuchu.
One of Kiriya's most striking Utada videos is the one for "Final Distance," a heavily gothic fantasy. It was made as a requiem for a six year-old Utada fan who was among the victims of a mass killing in an Osaka elementary school. Not that all Kiriya's Utada videos were so elaborate. One of the most popular was for "Hikari" (the Japanese version of "Simple and Clean"), which merely has Utada singing along to the track while washing dishes. Utada revealed that Kiriya had envisaged something typically elaborate, but his big ideas were scuppered by scheduling conflicts; hence the kitchen sink solution.
During and after her time with Kiriya, Utada was involved in other anime-related projects. Her songs were featured on Freedom, a lavish SF miniseries with designs by Katsuhiro Otomo (not to be confused with the swimming saga Free). Utada provided the theme song, "This is Love," which you can see her belting out spectacularly live here. Another Utada song, the velvet-abrasive "Kiss & Cry" was tied into the promotion of Freedom; a music video was created with the Otomo-designed characters lip-synched to Utada's vocals.
Less well-known is Utada's foray into anime voice-acting. Back in 2001, a version of Osamu Tezuka's Black Jack was released online, consisting of twelve 11-minute episodes. In this version (but apparently no other), Utada voiced the hero's cute "daughter," Pinoko.
Utada is also interesting for her efforts to break into the Anglophone market. Not counting her early album Precious, she's released two English-language albums to date, Exodus (2004) and This is the One (2009). Neither had any substantial commercial impact in America and Britain, and some fans accused her of terrible misjudgements.
But love or hate Utada's English-language songs, it's perversely fascinating to see the singer of "Passion" and "Sakura Drops" sexed up for "Dirty Desire" and the notorious "Easy Breezy" – and remember that Utada wrote these sex songs too. She's also explored other styles in English. Some fans point to the Poe-themed gothic track "Kremlin Dusk" as one of the more interesting examples, or the industrial-sounding "You Make Me Want to Be A Man." The latter's video involved both Kazuhiro Kiriya and Koji Morimoto, and features visual samples of (among others) Akira and the Bjork video, "All is Full of Love."
In Japan, Utada's next album after Deep River was Ultra Blue in 2006. Its sales were down on its predecessors; notably even its single "Passion" charted low in Japan, while its English version "Sanctuary" burnished Utada's reputation with global gamers.
Utada bounced back, though, with her 2008 album, the chart-topping Heart Station, which included such singles as "Beautiful World," "Kiss and Cry" and the hugely popular ballad "Flavour of Life." The latter was used as the theme for the live-action TV version of a romantic manga, Boys Over Flowers.
Heart Station was followed by the Anglophone album This is the One, mentioned above, and an international concert tour, Utada: In the Flesh 2010 which reached London in February that year. Soon after, Utada announced she was planning a hiatus from her musical work. In the Tokyohive interview quoted above, she described her career as a hothouse where she was overly protected; now she wanted to experience life as an independent adult.
Utada's last songs before her temporary retirement included "Sakura Nagashi" for Evangelion 3.0 and the delightful "Goodbye Happiness." The latter song was framed as a message from Utada to her younger self – and presumably as a farewell, at least of sorts. Utada herself directed the playful, low-tech video, which is very much in the spirit of the dishwashing "Hikari"; it also has humorous references to her past works such as "Traveling" and her breakthrough, "Automatic."
The following years saw Utada in relative seclusion, even as she was buffeted by life-changing events. In 2013, her mother died. The next year, Utada's made headlines when she wed Francesco Calianno, an Italian-born bartender who she met in London. Their son was born the next summer.
And then, this spring, Utada began releasing new songs. The first, called "A Bouquet for You," is the theme for NHK's current morning drama, Toto Neechan. There's an extract from the song here, with animation which suggests (and may be) cut-out paper. And then there is her new album, Fantome, the first in eight years, announced as forthcoming in September. The return of a former megastar may always be an uncertain business, especially in popular music. Yet few singers can draw on such public recognition and affection as the singer nicknamed 'Hikki'. To use a twitter-trendy phrase, Welcome back Utada.
Hikaru Utada's new album Fantome is released on 28th September.