It's that time of year again, when Paris heats up, the tourists arrive and occupy the cafes along the Seine and the Parc des Expositions de Villepinte swells with anime and J culture fans from all over France and beyond. Yup, Team Anime Limited hitched their wagon and went to Paris for Japan Expo and what a weekend it was!
Japan Expo is a unique and wild weekend – as one of the biggest anime, gaming and J Culture events in Europe, it is incredibly popular and filled to the gunwales with booths, events, cosplay and food. This year was no different – a feast for the eyes (seriously, the booths are incredible) and an astonishing array of cosplay, we went once more into the breach. So, what did I see on our Japan Expo adventures this year? A whole lot of stuff!
Booths and Events
The biggest impact on your eyes when you first enter the exhibition hall is definitely the booths. They are huge, intricate and featuring some of the best artwork associated with whatever show, game or manga the company is promoting. The biggest impact comes from the gaming section of the expo – where an immersive, comfortable experience is the go to for companies like Nintendo and Bandai Namco Entertainment and boy did they deliver this year. Nintendo occupied a huge expanse of the expo centre with various sections promoting different games and adapting the design and experience for the game. The big promotion was for Super Mario Maker – an enormous booth with a giant screen allowing participants to play the game to an audience.
Bandai Namco once again knocked it out of the park this year with various events taking place at their booth getting attendees involved, cheering, singing and winning all manner of prizes and wee gifts. Needless to say, there was often a bottleneck in and around their booth pretty much all weekend!
Final Fantasy XIV also had a rather impressive booth experience – in which they built a village within the hall, with various stations to try out the game, have a slushie and even some cotton candy!
And finally, Sailor Moon was front and centre at Japan Expo with an incredible booth with some unique items for sale, including a €4000 genuine Sailor Moon tiara! Sadly, Andrew informed me that it was non-expensable so my search for a tiara continues.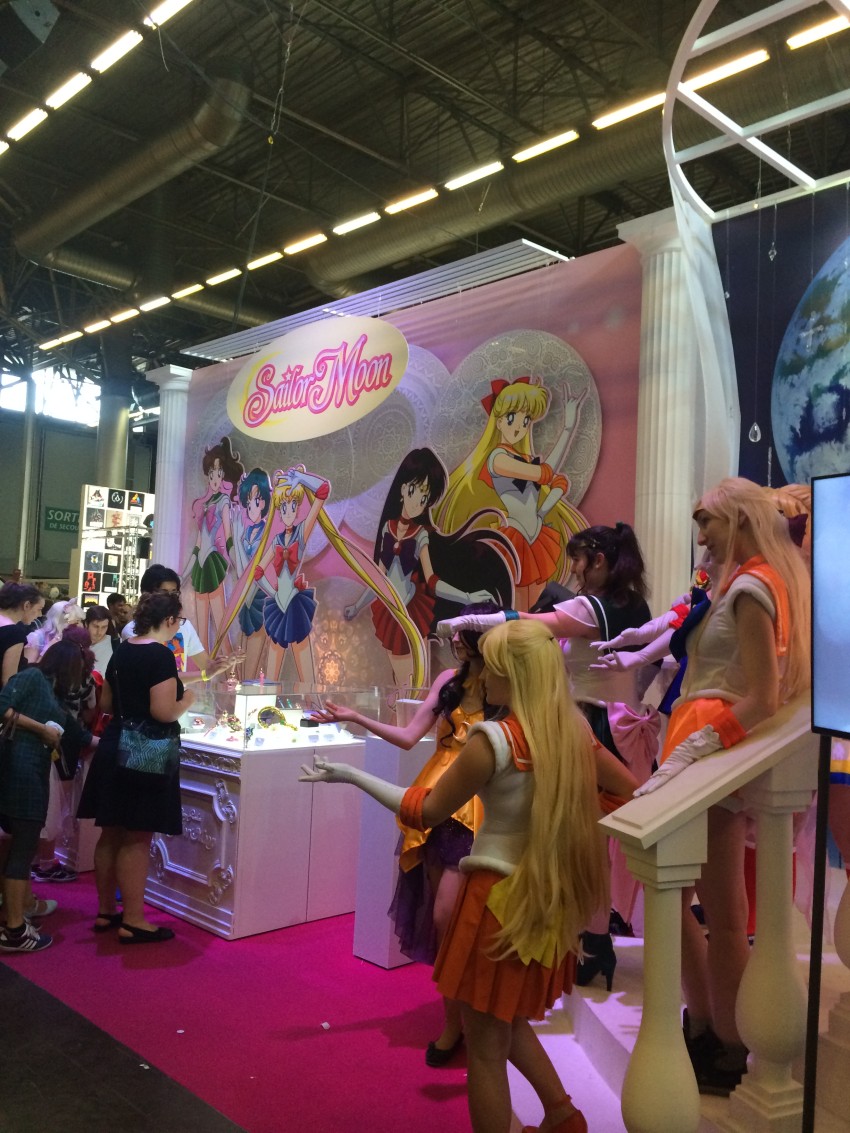 Cosplay
Cosplay is always the highlight of events for me – I love seeing fans dress up as their favourite characters especially the ones who go all out! Despite the intense heat and humidity of the event, the fans in France did not disappoint – and I have to admit an admiration for being able to go full cosplay and not completely melt! It's always intriguing for me to see cosplay in common between the UK and France. Unsurprisingly, cosplay favourite Kill la Kill was out in full force but there was also an incredible amount of Tokyo Ghoul cosplay as well. Convention perennials One Piece and Naruto cosplay was also common – some things never change.
J Culture and Food
The one thing that really stands out to me about Japan Expo is the focus on Japanese culture as a whole – outside anime and manga. This year was no different – besides the demos and experiential sections, there was also plenty or art, acting, singing and promotion of Japan as a destination.
As with last year's experience, there was a focus on Japanese martial arts of various types – with demos and even short tutorials to get people involved and interested. There were also calligraphy sections, origami and language booths all available for people to sample. It's pretty incredible to see and a great way for people to learn more about Japanese culture beyond anime and manga.
Art is a huge part of Expo – this year there was a spectacular display of the art of Hiromu Arakawa showcasing her astounding work on Fullmetal Alchemist and The Heroic Legend of Arslan. But beyond this, there were opportunities to sample some of Japan's other artistic exports – some from outside the world of manga. It's great to have access to Japanese artists that you may not have otherwise and it really adds to an understanding of Japan beyond what you tend to be exposed to usually.
And the food – a staple of any convention! With so many Japanese food booths you are truly spoiled for choice – ramen, onigiri, bento, you name it, it's there! However, the one restaurant that stood out to me was the Hello Kitty Cafe. Definitely not what I was expecting.
There were also booths focusing on and promoting Japanese food – especially that student favourite instant ramen noodles from Nissin. The booth wall highlighted the story of the company and the various noodles it makes. Definitely not something I thought I'd see but delightful nonetheless.
All in all, Japan Expo is one hell of an event to experience – the sheer size and effort that goes into the event is worth the trip to see. It's certainly interesting for us to see what conventions in the UK and France have in common and where they differ but one thing is definitely the same: the passion and enthusiasm of the crowds for Japan and for anime. And in the end, that's what we love to see: passionate fans having a great time.
Kerry Kasim