About Us
We are All the Anime!
Since starting out at the end of 2012 – AlltheAnime.com has finally got around to adding a new lick of paint to our web presence! We've brought together two key parts on the same site with two slightly different personalities.
First off the bat our main page (alltheanime.com) now focusses much more on retail & our catalog while our new blog focusses on delivering a range of different kinds of engaging content. You can expect a wide raft of content including:
Unboxing videos
First looks at products after approval
Clips, trailers and even full episodes
Details of events coming up that the Anime Limited team will be attending
Press releases and all the usual corporate gubbins
Articles from guest bloggers about the worlds surrounding the hottest releases from Anime Limited.
Articles from guest bloggers about the world of anime beyond our products!
Apart from that expect to see our online shop grow over the next few months with more special offers (tied into events and even a few web-shop exclusives).
A BIT ABOUT ANIME LIMITED:
Founded in late 2012 and based out of Glasgow, Scotland – Anime Limited brings a fresh approach to distributing the best in anime direct from Japan. Founded by Andrew Partridge as an independent company the emphasis is both breathing new life into much loved classics and introducing the cutting edge of theatrical offerings. With a focus on bringing more anime to the big screen, releasing beautifully packaged collector's editions and trying new ways to reach fans digitally, Anime Limited is committed to offering a wide range of experiences for UK audiences.
ABOUT THE TEAM (UK):
Not so long ago we took photos of our team while they were in the wilderness of the Anime Limited offices (and beyond) so we thought we'd put some faces to the names for folks and a few vital statistics
---
Andrew Partridge, CEO (Favourite anime: Cowboy Bebop): 
– Founded Anime Limited in December 2012 with the goal of delivery Criterion level quality in anime releases.
– Stumbled through an open door into the anime industry via Beez Entertainment over 10 years ago, hasn't found the exit since.
– To make him resemble a human being – just add coffee.
– Currently playing on Spotify: The entire discography of George Michael.
---
Andy Hanley, Head of Marketing (Favourite anime: Neon Genesis Evangelion): 
– Former Editor-in-Chief at the UK Anime Network, started working for Anime Limited in August 2017.
– Has been involved in the UK anime community since 2006.
– Has watched over 1,300 anime! Can you / have you done that?
– Currently playing on Spotify: Boards of Canada
---
Kat Hall, Product Manager (Favourite anime: Cardcaptor Sakura): 
– Originally an animation student from Duncan of Jordanstone with a flair for illustration.  Occasionally we let her near crayons & paper so she can design something cool.
– Among her many other tasks she cuts all of our UK trailers – check them out here!
– Fulfilled her life-long dream in 2014 and became a real life anime character by clambering inside a giant Meow costume for MCM Comic Con Glasgow & London.
– Currently playing on Spotify: Starbomb
---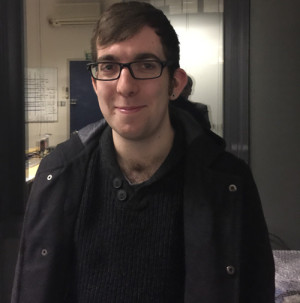 Chris Brown, Events Manager (Favourite anime: FLCL): 
– Works with us on a part-time basis and suffers the pain and agony that comes with setting up then managing our attendance at events (From as large as MCM Comic Con in May/Oct down to smaller fan-run events).
– Outside of his work at Anime Limited he's a web developer who works on a number of cool projects.
– To find him at MCM Expo – replace the charming smile there for a more stressed face like this one >:?
– Currently playing on Spotify: Bizarre trance/rap mashups
---
Robbie Duncan, Technical Wizard (Favourite anime: Cowboy Bebop: The Movie):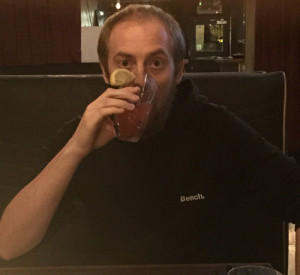 – Works part-time for Anime Limited to tame all the video, subtitle and other assets we have in the office.
– Trained in the dark arts of projection including the increasingly mystical medium of film reels.
– His will be the drink with a cocktail umbrella, please.
– Currently playing on Spotify: The Sound of SIlence
---
Keith Copping, Product Manager (Favourite anime: Hellsing Ultimate): 
– Works with us full time at Anime Limited, primarily on all things product and maintains general order to the chaos that reigns in the office (normally)!
– Outside of Anime Limited he's found contributing even more hours into The Witcher 3 – he loves it so much he started once, then went back to play it all again.
– Often found photoshopping the deepest seated fears of the team for his own amusement.
– Currently playing on Spotify: Anything by Devin Townsend
---
Jessica Poce, Head of Business Development (Favourite anime: Neon Genesis Evangelion – "the good one"): 
– Works full time at Anime Limited managing a wide range of business areas including merchandise
– She's been working in the anime space for over twenty years and has worked on a lot of the great shows like Cowboy Bebop, Escaflowne, Durarara!! and more – so moving to Anime Limited felt like going home again…
– Thankfully she paid no heed to the fact that the Romans built a wall to keep the Scottish in, she ventured from Italy to Glasgow to join our team.
– Currently playing on Spotify: Arcade Fire – Ready to Start
---
Lauren McQuade, Marketing Operations Assistant (Favourite anime: Ouran High School Host Club)
– Was working in the retail industry for nearly 5 years before joining Anime Limited in August 2017
– First discovered anime at the age of six when Spirited Away was released in the United Kingdom. (Making the rest of the team feel old…)
– Need to ask about an order you've placed at our AllTheAnime.com web shop? Chances are you'll be talking to Lauren 🙂
---
Kerry Kasim, VP of Marketing (Favourite anime: Space Dandy)
– After a brief period apart, absence made the heart grow sufficiently fond for her to rejoin Anime Limited in 2019
– Will give an impassioned speech on why you should watch and love Space Dandy, even if you didn't ask
– Kerry heads up all of Anime Limited's marketing operations
---
Alex Graham, Finance Assistant
– Joined Anime Limited in the summer of 2019
– Alex can be found somewhere in a mountain on invoices, keeping the company's finances in order