A Letter to Momo
July 10, 2015 · 0 comments
By Andrew Osmond.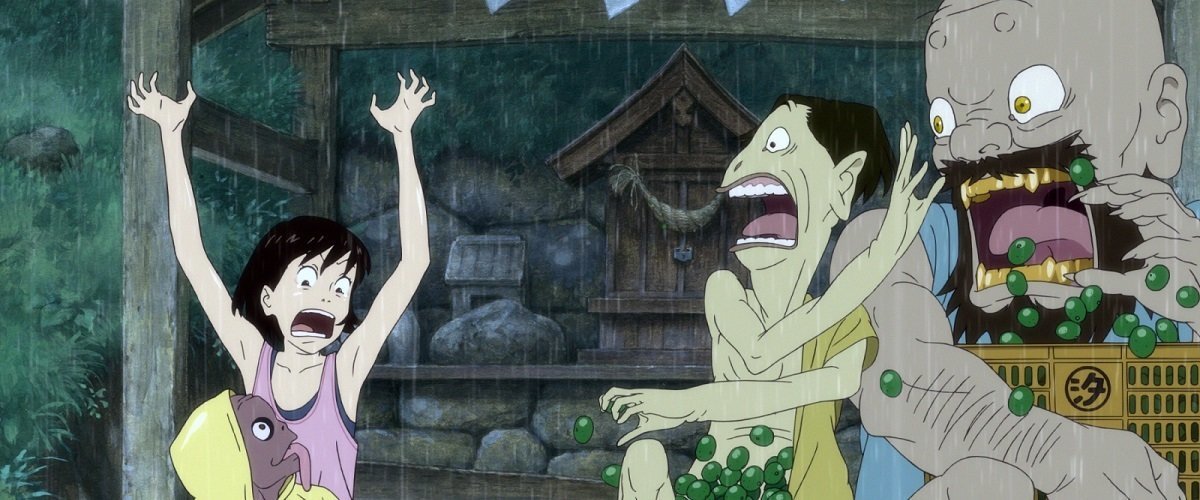 It starts with a grieving girl on a boat on Japan's Inland Sea, travelling unhappily to a new island home, while three strange-looking raindrops fall on her head. By the climax, the girl is racing against time, rushing through a torrential storm in the company of wondrous magic creatures. This is the story of eleven year-old Momo, a youngster on a tiny island beset by troubled feelings and three mad goblins.
However, its director Hiroyuki Okiura says his family film coalesced from several separate elements. One was a person close to Okiura who lost her father young and had a hard childhood. Okiura was also inspired by Japan's "goblin" folklore. Both in Britain and Japan, goblins often lurk in old picture books. "About seven years ago, I started to get interested in antique picture books dedicated to Japanese goblins, of which we had a rich tradition here in Japan," says Okiura. The great British fairy tale illustrator Arthur Rackham would have approved.
As for Momo's setting, Okiura had holidayed in the Inland Sea area as a child, while his uncle (Kazuteru Okiura) had written a book on the area's folklore. Momo's fictional island town is an amalgam of several real ones; for example, the straw boat festival in the film is based on one at Miyajima, a famous island off Hiroshima which offers stunning views of the area. (It's home to boar, deer and monkeys.) But another of Okiura's inspirations is rather more surprising. It's a cult, satirical science-fiction film, made in Russia!
Kin-Dza-Dza was directed by Georgiy Daneliya in 1986. According to Okiura, "I was fascinated by (the film's) rather odd situation where two men from Earth are forced to interact with inhabitants from a different world, without being able to understand each other. They don't really befriend the aliens, but they are unable to remain completely uninvolved. I really liked that kind of situation and I tried to replicate it in the relationship between Momo and the three goblins."
Before Momo, Okiura's own distinguished career was largely in SF anime. A self-taught animator at sixteen, he was quickly recognised as one of the best new artists in the industry. Anime expert Ben Ettinger describes Okiura as a "realistic school animator legendary for his manically detailed key animation, like the mob scene near the beginning of Akira." Specifically Okiura drew the action when a little psychic boy panics and brings down a giant-sized beer can crashing onto the streets of Neo-Tokyo. You can see a montage of Okira's drawing here and a discussion of his style here, which links Okiura with the anime trend towards "mature, cinematic realism" which Akira exemplified.
It was also exemplified in the work of Mamoru Oshii. At Production I.G, Okiura animated on both Oshii's Patlabor films, and became character designer and animation supervisor on Ghost in the Shell in 1995. In particular, Okiura was responsible for the distinctive look of Kusanagi; much less cute than the comic, an adult, rather masculine woman with a cyber-mind that's much 'older' still. (It'll be interesting to see how much of this interpretation carries into the live-action version with Scarlett Johansson.)
Okiura's feature director debut was on Jin-Roh: The Wolf Brigade in 1999. It's set in an alternate-history Tokyo, looking more European than the real one. Though it's not explicit in the film, it's set in a timeline where Germany conquered Japan; the history was created by Mamoru Oshii in several films and comic strips, but Jin-Roh is the best-known. Oshii scripted the film, but Okiura was no mere functionary. In his book on Oshii, Brian Ruh recounts how Okiura slashed out a chunk of Oshii's trademark philosophising, much to Oshii's chagrin!
Jin-Roh is a tragic love story, setting a traumatised soldier and a young woman against a violent backdrop of army purges and suicide bombs. It feels horribly universal – imagine how easily you could transfer the plot to, say, Iraq. There are echoes of dark film classics like Vertigo (doubled female identities) and The Third Man (deadly sewer shoot-outs), and an extra Grimm Red Riding Hood motif. Jin-Roh divides anime fans; it's beautifully made, but some people find it too much of a downer. It certainly seems a stark contrast to Momo, though both films feature relationships between troubled characters.
Okiura himself says, "I like heartwarming and uplifting stories. I had always wanted to create a story that leaves you refreshed after the words, "The End," and (Momo) could be described as a reaction to Jin-Roh." Mitsuhisa Ishikawa, co-founder of the Production I.G studio, also wanted a change, according to a Q&A at Momo's Toronto premiere. "'We made Ghost in the Shell and Kill Bill [the animated sequence] and all the gory violent films… We spoke with Okiura about making something more for children, and he made something very heartwarming.'
Okiura wrote and storyboarded the whole of Momo, coming up with the goblin designs himself. The biggest goblin, Iwa, with his permanently hungry open mouth, seems reminiscent of a popular Japanese mascot character, Domo-kun. All three goblins are voiced in Japanese by popular performers. Iwa is voiced by the veteran comedy actor Toshiyuki Nishida, whom older British viewers may have seen in porcine makeup in the beloved 1970s TV version of Monkey! (1-23 in this clip). The flatulent, lizardlike Kawa is voiced by Koichi Yamadera, a hugely prolific voice-actor, whose roles stretch from Togusa in Ghost in the Shell to Donald Duck. The smallest goblin, Mame, is played by "Cho," otherwise known as Shigeru Nagashima. It should be no surprise to learn that he dubbed Gollum in the Lord of the Rings films.
Momo herself is voiced by Karen Miyama, a teen live-action actress with almost no other anime credits, probably in a bid to get a more naturalistic performance. Okiura said Momo was, "not necessarily a strong character and slightly introverted, but a fair bit stubborn as well. I always assumed that a kid of that age would act and have different facial expressions depending on the situation; when she is with her mother, with other children, with adults she's not really familiar with, etc. I tried to render subtle aspects of her personality that are not revealed by her words, but also through a variety of minimal gestures."
MyM magazine claimed that, "Momo's character animation equals or surpasses Ghibli's… Its naturalism is nearer Takahata than Miyazaki in Momo's sullen playing with her food, the way she pushes herself across the floor on her back. There's also a great deal of running, especially in a hilarious scene when Momo dashes through town, a little girl fraidy cat."
Much of this action was created by Okiura's fellow "realist" animators, such as the revered Toshiyuki Inoue, who animated the riots in Jin-Roh. In Momo, he took on a frantic chase up a hill involving angry wild boars. But there was also room for the maverick freehand art of Shinya Ohira at the climax, which involves a myriad of magic beings. You can see samples of Ohira's work here, Momo among them.
But one especially notable name in Momo's staff is Masashi Ando, who was the character designer and animation director. Another realist animator, Ando's extensive credits include key animation on the recent Miss Hokusai, as well as several works by Satoshi Kon and Studio Ghibli. In particular, Ando was one of the supervisors on Spirited Away, where he took a particular line on the heroine Chihiro. As I wrote in my book on Spirited Away:
"According to interviews in the (Japanese) Spirited Away Roman Album, Ando wanted to make Chihiro a new type of Miyazaki heroine. In particular, he wanted to show Chihiro's thinking, her uncertainty and hesitation before she does something frightening or difficult, so children could relate to her and feel encouraged when she triumphs. Miyazaki's characters had always had moments of fear and desolation but without doubt, Ando argued, Miyazaki was denying the uncertainties felt by the happiest child… It seems logical that Ando's Chihiro is evident in (Spirited Away's) early scenes, precisely because they require an abnormal Miyazaki protagonist, listless, passive and scared."
Ando's Chihiro was largely redrawn by Miyazaki in the final film. Perhaps not coincidentally, Ando left Ghibli after Spirited Away. However, his version of Chihiro is revived in Momo; look at how the film shows Momo's fear of water, for example. Moreover, we'll see the characterisation carry through to a future UK release. After returning to Ghibli to help with Princess Kaguya, Ando was appointed character designer and animation director on the studio's next film, When Marnie was There. Ando also co-wrote the screenplay, based on a British book by Joan G. Robinson.
Marnie's director Hiromasa Yonebayashi (Arrietty) was clear why he chose Ando for the job. "Anna (the twelve year-old viewpoint character in Marnie) is extremely self-conscious in the beginning… I wanted to portray those murky, painful emotions that this particular age group characteristically feels. Ando is really good at drawing characters with such raw emotions." With Okiura back as well, contributing key animation to Marnie, it looks like Momo's spirit will live on.
Andrew Osmond is the author of 100 Animated Feature Films.
A Letter to Momo is available on Blu-ray and DVD from Anime Ltd.