'AJIN: Demi-Human' Season 1 coming to Blu-ray & DVD
October 20, 2017 · 0 comments
As we're getting closer to the end of the year we've got upcoming releases that we want to start sharing some details about with you, and we're kicking off that train with information about Ajin: Demi Human. We'll be bringing the complete first series of this to Blu-ray and DVD on 27th November. Have a read of the information below for details on what to expect from our release.
---
ABOUT AJIN: DEMI-HUMAN
Synopsis: When you have an infinite number of lives ahead of you, death is only the beginning.
When the truck slammed into Kei Nagai's body, he should have died instantly. Instead, the high-school student finds himself resurrected, with all of his wounds somehow healed. However, Kei's real problems are just starting.  Now revealed to be an Ajin, one of a mysterious new breed of demi-human that have begun appearing around the world, he's been marked with an international bounty, and in the eyes of the world's governments, Kei is a specimen to be contained by any means possible. 
On the run and unable to trust anyone except his closest friend, his only hope is to discover the terrifying secrets behind his new abilities before he's forced to use them in battle!
Check out the trailer below –

---
WHAT'S IN THE BOX? WHAT'S ON THE DISCS?
Our release, due for release on 27th November, will be available as a Limited Collector's Edition Blu-ray set and on standard DVD as well. Content across the discs themselves is identical.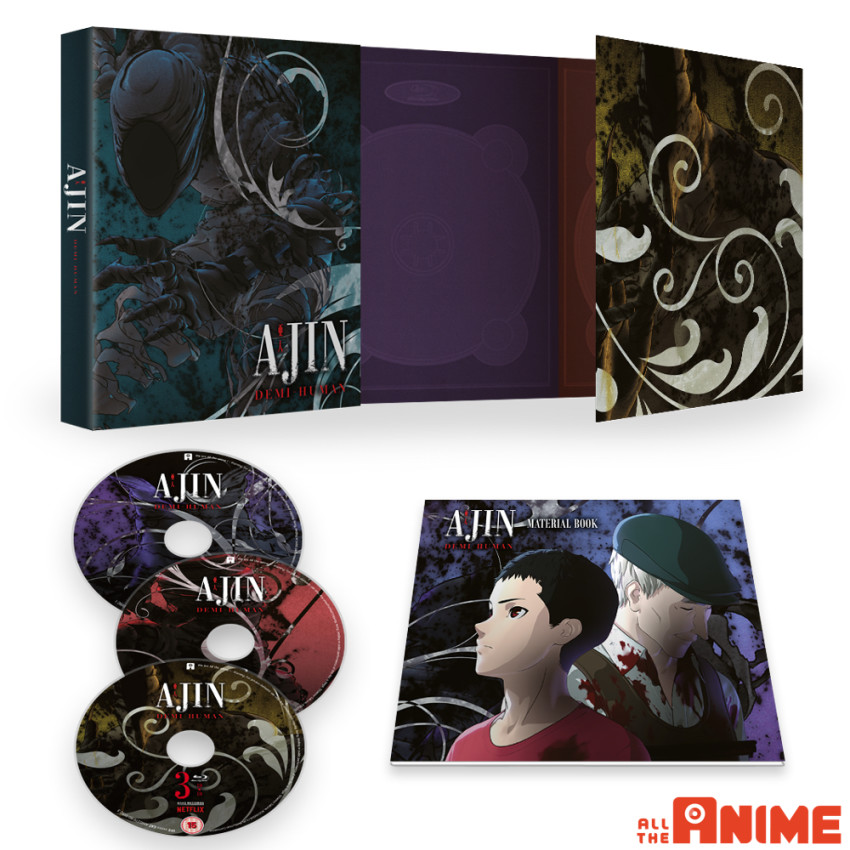 The Ltd Collector's Edition Blu-ray set (pictured above) comes packed in a rigid case with a digipack to store the three Blu-ray discs. Also included is a 64-page materials book that is divided into four sections: Characters, IBMs, Backgrounds and Artworks.
On the discs themselves you get  –
The complete first season of Ajin: Demi-Human (13 episodes) in both English and Japanese with English subtitles
The first Ajin: Demi-Human movie "compel" in Japanese with English subtitles only
On-disc extras include: Clean Opening, Clean Closing, Animatic Process Scenes and Movie Teasers.
---
WHERE CAN I BUY IT?
(All going well – very much up to the production gods if this can indeed happen or not) your first chance to own this release will be at the MCM London Comic Con event this coming weekend at Excel London, as we'll have limited quantities of it available to purchase.
You can pre-order this now ahead of its release from a number of retailers including –
Order at Amazon UK Order at Zavvi Order at Base.com Order at HMV Online Order at Anime-On-Line Order at AllTheAnime.com
Please note that pre-order of AJIN will commence at AllTheAnime.com during week commencing 13th November 2017.
---
We hope you're looking forward to adding to this to your collection! Stay tuned to AllTheAnime.com and our social media channels for more news on Ajin: Demi-Human
Signing out~!
Jeremy