Anime Limited to release Free! -Eternal Summer- in the UK
January 25, 2016 · 7 comments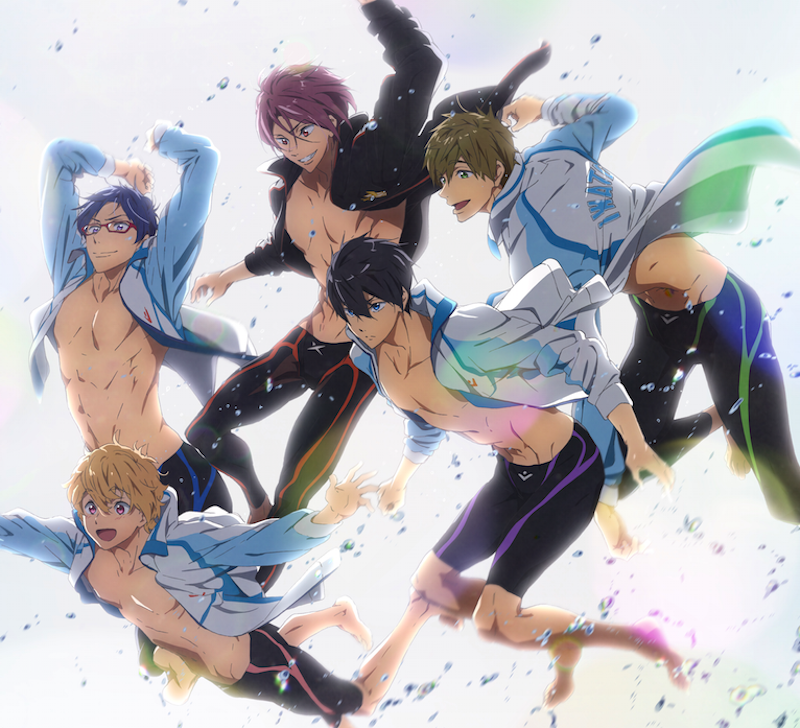 One of the biggest hits in the past few years is finally coming to UK as today we (Anime Limited) are delighted to announce that we are bringing the series Free! -Eternal Summer- to the UK on Blu-ray and DVD.
Synopsis:

The cherry blossoms are blooming, the sun is shining, and it's the perfect time to hit the pool! Haruka, Makoto, Nagisa, and Rei are anxious to get into the water and warm up their winter muscles ASAP, but things aren't all flip-turns and finish lines. Haru's passion for swimming is drying up, which dashes Rin's hope for a true rivalry. With their futures after high school looming over them, Makoto and Haru are having a hard time focusing. And a gruff new Samezuka student, Sosuke, appears just in time to jeopardize Iwatobi's chance at nationals.
From Kyoto Animation comes the internet phenomenon that's making a splash! Free! -Eternal Summer- is full of lovable characters, beautiful animation, and of course, MUSCLES!
"So it's finally happening. You have no idea how many people we've spoken to at events and how many messages we've received from fans asking if there's any chance of a release of Free! in the UK" says Andrew Partridge, President of Anime Limited. "Well now the UK will have the chance to get in on the action when we release Free! -Eternal Summer- this coming summer. It's early days so I can't elaborate on what we have planned, but I can say at this stage we will be releasing a Collector's Edition version of the series."
Our release, set to arrive this summer, will include both the original Japanese language audio with subtitles along with the English language dub produced by Funimation. And yes it will include the bonus OVA episode along with the main series, episodes 1-13. You can expect to see listings for this appearing with retailers to pre-order soon so keep an eye out for it.
Stay tuned for more details on this as they become available.
Signing out~!
Jeremy
Tagged with:

7 comments
Matthew

January 26, 2016 1:01 am

Although this wasn't as popular as K-On!, you've made a great choice licensing this behemoth of a show. It should sell quite well as I doubt there's that many people out there who haven't heard of the show. Now if you could license Overlord and Prison School, that would be greatly appreciated.

Mark

January 26, 2016 10:08 pm

Matthew they have Prison School I believe it was announced alongside Assassination Classroom and a few others last year

Matthew

February 3, 2016 12:12 am

Oh thankyou Mark, I didn't know.

Katie

June 25, 2016 11:57 pm

When people were asking for a UK release of Free, they meant BOTH seasons. Why on earth is only season two being released on dvd here? I would have thought it would have been better to try and release Free! - Iwatobi Swim Club first. Or are we all just expected to watch season one online and then buy season two on dvd?-_-

jeremy

June 30, 2016 9:36 am

Hi Katie, completely understand you're thinking on this and you're not the only person to have asked this. It's actually a pretty simple reason, the English language rights for both seasons are held by different companies. So it's a case where we've only got the second season specifically because of this. The first season is something we're exploring but we have no news on if this will be possible. But obviously if that changes we'll be sure to say. Hope that helps :) ^JG P.S. Sorry for the delay in response to this, your comment got flagged by a filter.

Katie

June 28, 2016 9:45 pm

Why did you delete my earlier comment? It's a fair enough question isn't it? Why are you releasing season two but not season one on dvd? I wondered why no one else was asking about it. I guess it's because you just keep deleting their comments.

jeremy

June 30, 2016 9:38 am

Hi Katie, have literally just answered your previous comment but just wanted to say it was not deleted, it got caught by a filter on our blog and we only just came across your original comment. ^JG