Anime Limited to screen Fairy Tail: Dragon Cry in Cinemas
April 11, 2017 · 8 comments
Fairy Tail fans! We have some very exciting news to share with you today as we're delighted to announce that we (Anime Limited) are bringing the highly anticipated film Fairy Tail The Movie: Dragon Cry to cinemas in UK & Ireland, with exclusive preview screenings on May 17th and further select screenings from May 19th. You can book tickets for the film right now at http://fairytailthemovie.co.uk/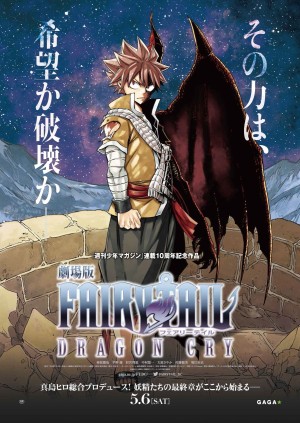 ABOUT FAIRY TAIL THE MOVIE: DRAGON CRY
The highly anticipated next chapter in Fairy Tail will be heating up cinemas in UK and Ireland soon!
Synopsis: "The Dragon Cry is a magic artefact with enough power to destroy the world. Enshrined within a temple in the Kingdom of Fiore, the Dragon Cry is stolen by Zash, a traitor of Fiore, and delivered to Animus, the ruler of the Kingdom of Stella.
The task of recapturing the Dragon Cry falls to Natsu and the Mages of the Fairy Tail Guild. During their mission to track down Zash, they infiltrate the Kingdom of Stella, and it is here they meet Animus' magician, Sonya…
What does Animus plan to do with the Dragon Cry? Sonya wants to save her country, but what secret is she hiding? Within the interlacing ulterior motives, Fairy Tail fights against the danger that is the menacing world!
And in the middle of this heroic battle, Natsu's instinct awakens…"
The film itself sees the creator of Fairy Tail, Hiro Mashima as producer, and Tatsuma Minamikawa, who was an episode director on anime series such as Attack on Titan, Chihayafuru, GATE, Gundam Build Fighters TRY and Aldnoah.Zero to name a few, directing the film being animated by A-1 Pictures (Fairy Tail, Sword Art Online, The Anthem of the Heart, Persona 3 Movies #3 & #4, Erased, Your Lie In April.)
Yuuko Yamada (Persona 3 Movies) is providing the character designs and the screenplay for the film has been written by Shoji Yonemura, who previously wrote the last two series of Fairy Tail, and Yasuharu Takanashi who composed the music for the Fairy Tail ZERO series is handling the music for this film.
The movie will feature original characters Zashu, Sonia and Animus along with the a variety of the regular cast of Fairy Tail too.
You can watch a teaser for the film below:
We can confirm that the film will be screening in cinemas in Japanese with English subtitles only, as there is no English language dub for the film.
As has been the case with recent theatrical releases of ours – Your Name, A Silent Voice and Sword Art Online The Movie: Ordinal Scale – there is a dedicated website to be able to purchase tickets from. Visit http://fairytailthemovie.co.uk/ to book your tickets.
F.A.Q. about Fairy Tail The Movie: Dragon Cry in cinemas
(Information correct as of: 11th April 2017)
—- When will the film be screening in cinemas?
Exclusive preview screenings of Fairy Tail The Movie: Dragon Cry will be on May 17th, with further selected screenings on May 19th.
—- What language will the film be screened in?
This will only be shown in Japanese with English subtitles.
There is no English language dub for this film and we are not privy to information whether there will be a dub in the future or not. Obviously if there is news to the contrary we will say, but to confirm, ALL screenings of the film in the cinemas across UK & Ireland will be in Japanese with English subtitles only.
—- Where can I book tickets?
Please visit our dedicated ticket site http://fairytailthemovie.co.uk/ to book your tickets.
— Where will it be screening?
You can see where it is being screened at our ticket website. Please visit http://fairytailthemovie.co.uk/
— Do I need to be a fan of Fairy Tail to see the movie?
This is really up to everyone's own interpretation, but Fairy Tail is a long running franchise so we suggest going into the film expecting there to be references that the creators would expect viewers and fans to be aware of. As you saw in the trailer above, the early promotional material for the film highlights that the manga is reaching its climax. So it's fair to assume going in that in terms of continuity, this likely takes places very far in the overall story of Fairy Tail.
And that's all for now, but we hope you're excited to catch the film in cinemas!
Signing out~!
Jeremy
8 comments
Philip

April 11, 2017 7:06 pm

Hi, any chance of screening it in Odeon cinemas please?

CelestialDragon

April 12, 2017 12:55 pm

Will the movie also be showing in America? And, if so, will it also be in Japanese with the subtitles? OMG I CAN'T WAIT!!!!!!! This report just made my day!!!!!

kawaiifan123

April 19, 2017 7:48 am

Hi, I can't wait for the movie and I wanted to book some tickets just now but for some reason the link does not want to open. Can someone help me?

Kirsty

April 22, 2017 10:36 am

Sorry if i missed this but is there an age restriction?

Elliora

August 15, 2017 8:47 pm

15

Ingrid Benitez

April 30, 2017 2:31 pm

Where can I book the ticket? The link above doesn't open

dud

July 16, 2017 6:04 am

Dragon cry is coming to U.S theaters for a short period of time in english dub and english sub titles. On August 14th, Dragon cry english subtitle will be out for that day. On August 16&19, Dragon cry english dub will be out for those days.

Elliora

August 15, 2017 8:43 pm

There is a dub coming out, will it be in cinemas?