Anime Limited to screen 'Napping Princess' in UK & Ireland cinemas
March 20, 2017 · 5 comments
It's a very exciting year to be an anime fan in the United Kingdom and Ireland with lots of films making their way to the cinema! But the fun doesn't stop as today we (Anime Limited) are delighted to announce that we will be bringing the film Napping Princess, aka "Hirune Hime: Shiranai Watashi no Monogatari", to cinemas in the UK & Ireland in summer 2017!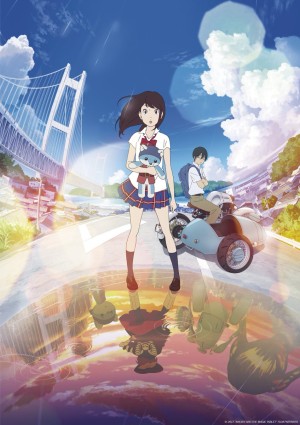 ABOUT Napping

Princess
Directed by Kenji Kamiyama (Ghost in the Shell: Stand Alone Complex, Eden of the East, 009 Re Cyborg, Moribito: Guardian of the Spirit)
Synopsis: "This fender and genre-bending film takes us into the not-too-distant machine-driven future. Kokone should be diligently studying for her university entrance exams, but she just can't seem to stay awake. Aside from stealing precious study time, her napping is even more distracting, as it brings on strange dreams with warring machines that hint at family secrets that have been dormant for years. She can't ask her father, a hipster mechanic more talented and artful than his job requires, as he's always busy modifying motorcycles and cars in flights of fancy. What are these visions that lead Kokone at once closer to and farther away from her family? Like all the best anime, the film revels in multilayered fantasy to show how sometimes opposites—waking and dreaming, the past and the future—are far more intertwined than they appear."
The film will be screenings in cinemas in UK & Ireland in summer 2017 in Japanese with English subtitles
There will be more details coming soon about the theatrical screenings in UK & Ireland so please stay tuned for more information as we can share it. But we hope you're excited to see the film!
This is news to so hot-off-the-press that there currently isn't English trailer we can share with you, but in the interim here's a Japanese promotional video and some still images from the film to give you a taster for it –

Signing out~!
Jeremy
Tagged with:

5 comments
Marco

March 20, 2017 2:30 pm

Planning on giving it a dub?

Shiroi Hane

March 20, 2017 5:04 pm

Not at this point at least: "..in Japanese with English subtitles"

Kess

August 1, 2017 9:30 pm

Honestly I don't know what to feel with this anime, it doesn't look too exciting. Anybody agree?

Ian McKean

August 17, 2017 3:18 pm

I saw it last night and really enjoyed it. Quite funny in places too.

Jake

May 23, 2021 4:38 pm

The animated cinematography alone is mesmerising.