Anime Limited licenses Aoharu x Kikanju
June 30, 2015 · 0 comments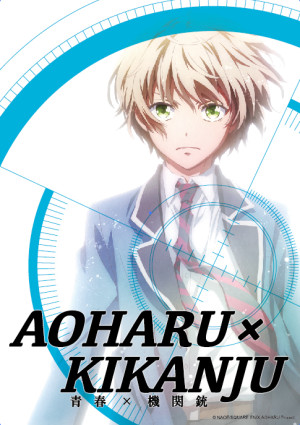 We're fast approaching the start of the summer simulcast season and with that notion bring news that we have licensed a new title for the UK, Aoharu x Kikanju. (Also known as Aoharu x Machinegun.)
The story sees Hotaru Tachibana, a girl disguised as a boy, finding herself drawn into the world of survival games (think of them as team battle simulations like paintballing) through strange circumstances by a host, Masamune Matsuoka. The two form a team with Tohru Yukimura, an ero-manga artist and they aim be the best team in Japan.
"The premise of the show is very interesting. I think of it like airsoft meets Ouran Highschool Host Club, one my favourite anime." says Andrew Partridge, President of Anime Limited."This show also represents our continued support for new directors as Hideaki Nakano makes his full series directorial debut and we can't wait to see what he does now!"
We're also happy to confirm that there will be an official UK simulcast for the series commencing in July. We have partnered up with Viewster.com to allow UK & Ireland residents to watch the show each week. (Start date to be announced.)
For those wanting a preview of the series, you can watch a Japanese promotional video below.
We will have more details on the simulcast of this series for you soon.
Signing out~!
Jeremy
Tagged with: