Escaflowne – Blu-Ray (Episodes 09-17) replacement scheme
November 9, 2016 · 2 comments
CLICK HERE TO READ UPDATE TO THIS POST ON 7th Feb 2017
---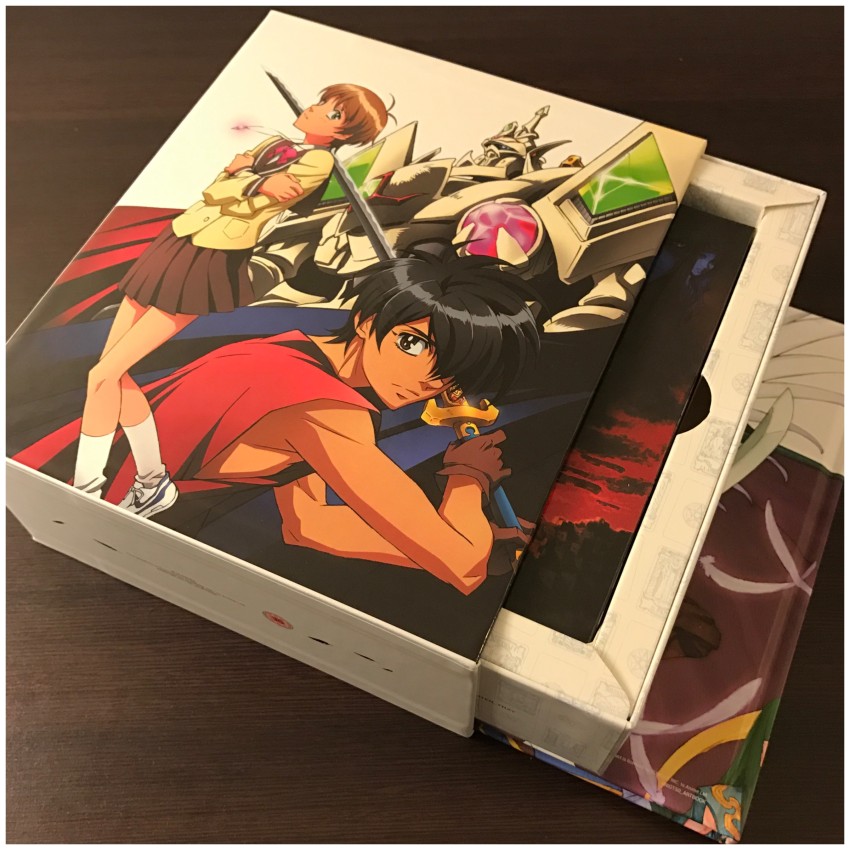 Obviously sometimes things go wrong with a release and what is a good measure of how much a company cares is how they handle it & respond to that issue.
Last night at about 11PM at night we were alerted by a customer who bought and advanced copy Escaflowne Ultimate Edition of an issue on Disc 3, Episode 9 where subtitles are rendered smaller and on the left centre of screen.   This is something rare that has occurred in the final version of the compile for Escaflowne Blu-Ray where the subtitles were rendered in SD instead of HD.
Fear not though, the disc plays fine barring this but we'll be running a replacement scheme post-haste as a blu-ray standard edition is being queued up for early February.  Anime Limited takes this kind of issue very seriously and strives to deliver the best product to fans.  See details below for more information.
ESCAFLOWNE REPLACEMENT DISCS
WHAT IS THE ERROR? AND WHAT IS BEING CORRECTED?
As mentioned above, there is a single episode (Episode 9) where subtitles have been rendered in the wrong resolution on the final build by mistake.
You can see the issue here (if you watch your anime subtitled like we do, it's hard to miss on the final product):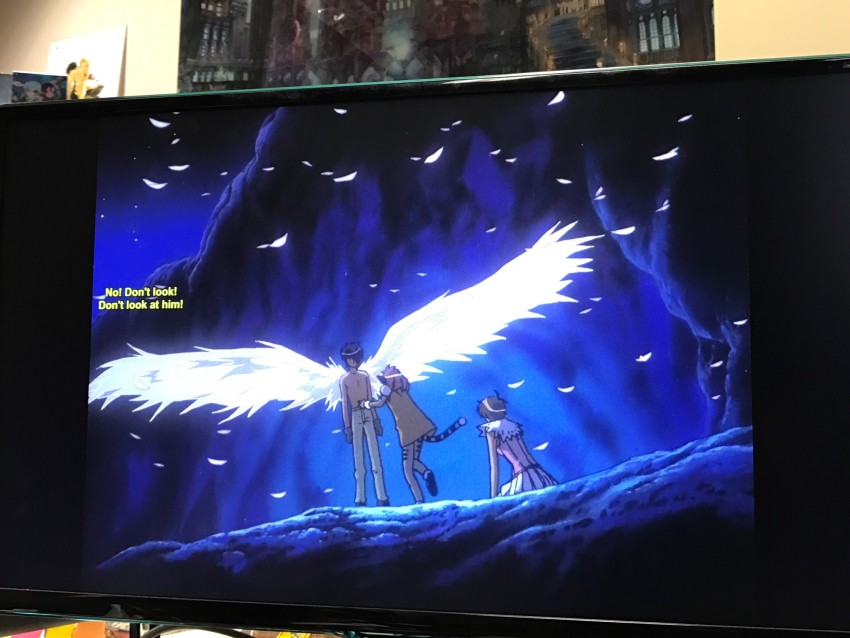 HOW DID THIS HAPPEN?
Occasionally, when a check disc goes to final authoring upload things go awry and in this case one episode's subtitles were rendered in SD instead of HD – which explains the positioning.
A full Quality Control (QC) check was run on the discs from authoring and as you can guess – nothing came up during that process.  Here's a shot of the final check disc from the authoring house – as you can see, it's rather different:
We can assure you, we are as frustrated if not more-so than you are by this as we did a full QC check and it was not on the QC discs.  Given tight turnarounds at this time* of year a manual check of each final disc from replication before print is not always possible (nor is it usually necessary as the final compile shouldn't differ to the final QC'd disc).
On top of frustration about it – please accept all of our deepest apologies for anyone who's viewing experience is impacted while we get this sorted out.
* On top of delivering new product, we also have two weeks of film festival in Scotland Loves Anime – Your Name at the London Film Festival AND MCM Comic Con October, which is a lot for a team of five to do as you can imagine on top of the day-to-day work!
WHO IS ELIGIBLE FOR A REPLACEMENT?
Anyone who purchased the Ultimate Edition of Escaflowne will be eligible . If you send us a photo of your disc and a screengrab of your receipt, order confirmation from one of the many online retailers stocking Escaflowne Ultimate Edition on BD or failing that a photo of your email address on a sheet of paper next to your copy and we can send out replacement disc.
HOW WILL THE REPLACEMENT BE SENT?
We will be sending replacements out via the Royal Mail in monthly batches. We'll be sending the replacement disc on their own – i.e. in envelopes or plastic casing; no special packaging, no extras. Let me be clear on this point before it's misconstrued: by extras I mean physical extras. All on-disc content will be identical barring the fixed Episode 9.
WHEN WILL THE REPLACEMENT BE SENT?
We're working on the fix now and to make sure we can do it in the most effective manner we need to match this up with our blu-ray standard edition release, scheduled now for early February 2017.  This means you'll see replacement discs before then and we'll be in contact via the replacement email address in late December with an update for folks in the first wave of replacements so please stick with us while we prepare information.
Why aren't you delaying and fixing it before it goes on sale?
Unfortunately most stock is already with retailers ready to go out and fulfilment may even be starting in some cases so it's too late to recall stock now.  Also replacing the disc inside all stock unnecessarily risks damage to the beautiful package.  At this stage a replacement scheme for the disc itself is the best way to ensure everyone who wants a fixed disc gets one.
A REQUEST FOR A LITTLE COMMON SENSE
Yes, everyone who's bought a copy of Escaflowne Ultimate is eligible for a replacement disc. No ifs, ands or buts.  But keep in mind we are a five person office and we'll be fulfilling these ourselves so this takes time to process and run on top of the regular work.  So replies very likely will come only on a wave-by-wave basis as opposed to individual emails.
While many would not do this or put hands up to this quickly even if they would replace it, we're fans like you guys are and we feel we have a duty to you to deliver the best possible product.  We worked for many months making this product the best release of Escaflowne possible including negotiating for the soundtrack, more line-art than any other English release etc so again we're sorry to any subtitle fans who are (quite rightly) upset about this.
Given all the hard work we've put in, as you can imagine we take any issue of this magnitude very seriously. In under 24 hours of being made aware of the issue we're announcing a replacement scheme and getting it fixed ASAP.  We hope that shows how much we care about your experience with a product like this and that it doesn't impact on future purchases.
HOW DO I GET IN TOUCH AND REQUEST REPLACEMENT DISCS?
Easy as emailing us your details to the following address: replacement@alltheanime.com
Please include the following in your email:
Proof of purchase: A receipt or order confirmation (a screenshot if ordered online).
Photo of the disc in question: We won't ask you to ship it back, but we do ask for a picture of it.
Address you'll need the disc sent to: If that changes before we send the disc out don't worry – we'll send out an email nearer the time before the first wave of discs go out.
Our team will get back to people as soon as possible afterwards, but right now the first wave of replies will come as a date for discs is confirmed (don't worry – you will get an auto-reply from the email address confirming receipt of your message in the meantime).
I bought it from the Anime Ltd store – www.alltheanime.com – do I need to do anything?
No – we will action your replacement automagically as soon as discs come in.  It's completely hassle free and you only need to email us if the address we shipped the product to is different from where you need your replacement disc sent.
ARE THERE ANY DEADLINES FOR REQUESTING REPLACEMENTS?
We'll keep fulfilling these discs until end of 2017 earliest so don't worry – there's no rush if it's not impacting your enjoyment of the show just now, after that we'll try our best to fulfil but keep in mind it's a huge administrative task for us given the size of company so sometimes it will take time to reply.
And I think that's it for now! If you have any questions or queries, email us at the above address as well. We'll be checking that and using it as our base of operations for the new Escaflowne blu-ray disc.
Thanks in advance for the understanding and again our deepest apologies folks!
Andrew Partridge,
President, Anime Ltd
2 comments
Shiroi Hane

November 9, 2016 1:41 pm

I blame Trump.

Jack Cheng Ding Han

November 10, 2016 5:45 am

Do I just need to email proof of purchase and an image of the error or do I need to send the physical disk itself?