By Andy Hanley.
With Earth in ruins following a massive disaster, humanity has abandoned the planet along with their physical bodies, rebuilding their minds into an orbital data archive called DEVA. In the year 2400, DEVA's central council detects unauthorised access. Someone on Earth is trying to hack into the system. To investigate the hacker's motives, DEVA dispatches System Security Third Officer Angela Balzac to Earth. Equipped with a prosthetic body, Angela attempts to make contact with a local agent Dingo, instead runs into swarm of sandworms infesting the Earth's surface…
Rakuen Tsuihou: Expelled from Paradise seems designed from the ground up to appeal to the otaku audience, from the choice of attire for its protagonist down to an animation style that seeks to offer the same look as a traditional anime that is "shot on threes" – that is, effectively animating at eight frames per second, even though there's no real benefit to doing so when rendering fully in 3D.
Although it might go to great lengths to look like the kind of traditional animation that fans cherish, that doesn't mean that the transition to 3D computer graphics (CG) is pointless, as it still allows for a dynamism that would take an improbable number of man-hours to replicate using more traditional techniques. These benefits are manifest throughout the film, with long, constantly moving pans – to follow protagonist Angela Balzac up a long flight of stairs for example – or to shift the focus of the camera elsewhere within a scene (admittedly often via a heavy detour along our heroine's alluring curves).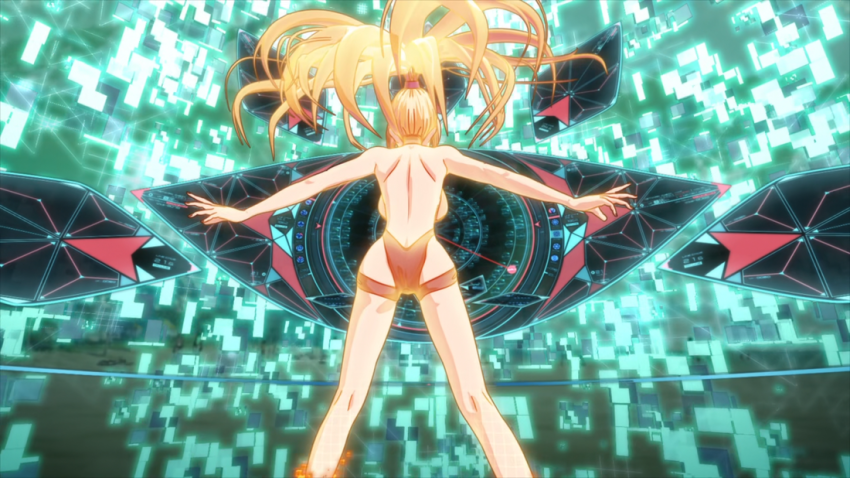 The use of CG really comes into its own during the film's final act, racing through space under attack before embarking upon a battle royale between piloted mecha in the midst of a deserted city. It's spectacular to watch and is delivered with a speed, detail and movement that would otherwise be impossibly hard. That said, even these elements of the film are still a confluence of new and old, as the film contains a credit for "Motion advisor" for one Ichiro Itano, the ringmaster of the so-called "Itano Circus" named for the barrage of twisting, exploding rockets and dizzying patterns of contrails that has graced many an anime, including this one. He must have had a ball playing with the more versatile and flexible camera movements of the technology on show here.
Expelled from Paradise succeeds where similar outings have failed – it rarely falls into moments of robotic movement or character models that look "off" to give away its 3D rendered nature; if you don't go looking for it then it's easy to forget that it's a CGI film at all, which is perhaps the greatest compliment that can be paid to Graphinica, who animated the film for Toei Animation.
Expelled from Paradise also has some notable talents at the helm. Director Seiji Mizushima's CV includes the original Fullmetal Alchemist TV series and the more Concrete Revolutio. Meanwhile, the script for the film is provided by Gen Urobuchi, a rare breed of writer within the anime business whose attachment to a series is guaranteed to rouse excitement from fans – not surprising given his work on the likes of Puella Magi Madoka Magica, Psycho-Pass and Fate/Zero. Despite his nickname of the "Urobutcher", derived to his tendency to kill off characters in brutal fashion, he actually plays against this stereotype here – if you're expecting blood and guts, you're going to be disappointed.
Instead, the film is part road-movie and part lightly meditation on a number of well-established sci-fi topics – including musings on how important physical bodies actually are to the human experience, especially when compared to the possibilities of a sentient AI.
Much of the scope for this commentary is provided from the film's opening setting, where humans are stored in an orbital hard-drive as entirely digitised avatars. As a result, a person's stature is no longer represented by their wealth, but by the amount of memory afforded their existence, creating a whole new class-based society where those deemed useful can live a life of luxury, while the lower orders are effectively imprisoned within the confines of a ZIP file.
However, there's trouble in "paradise" and it comes via the disembodied voice of Frontier Setter, who has hacked his way through countless security systems, coaxe the human race into accompanying him in the exploration of space. This may sound innocent enough, but to the powers that be it's tantamount to terrorism
Angela isn't the only officer sent in pursuit of this Earth-dwelling spammer, and thus it's a race against time for Angela and her human partner Dingo to reach Frontier Setter before her colleagues – a mission made more difficult by Angela's unwillingness and naiveté regarding the subtleties of inhabiting a living, breathing body.
Expelled from Paradise isn't exactly the place to look if you're hungry for a deep, thoughtful treatment on the human condition a la Ghost in the Shell – although it has talking, the film concerns itself with entertaining the viewer. Thankfully entertainment is something that the film has no shortage of, punctuating its journey with slices of action, but proving equally enjoyable when it comes to the simple pleasure of watching Angela and Dingo's partnership blossom from an ill-tempered first meeting.
Expelled from Paradise is being released by Anime Limited on DVD and Blu-ray.