Fairy Tail: Dragon Cry Home Video Release Info
April 26, 2018 · 0 comments
With so many major releases coming your way over the coming months, we've been offering you first glimpses at a number of our big titles – including a surprise or two – to whet your appetite recently. However, one big forthcoming release we haven't let you take a peek at yet is our home video release of Fairy Tail: Dragon Cry, which we know many of you loved when we brought it to UK cinemas last year.
So, how about we right that wrong here and now, and let you take a look at what we have in store for Fairy Tail fans when it comes to adding this great movie to your collection?
First up though, let's talk about the film itself in case you're not up to speed with Dragon Cry and what it's all about.
---
ABOUT "FAIRY TAIL: DRAGON CRY"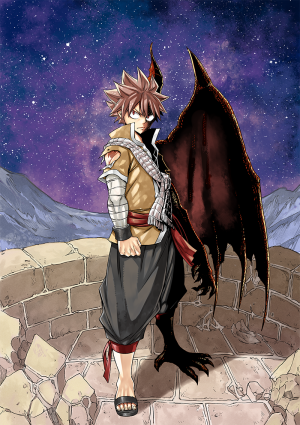 Synopsis: "The Dragon Cry is a magic artefact with enough power to destroy the world. Enshrined within a temple in the Kingdom of Fiore, the Dragon Cry is stolen by Zash, a traitor of Fiore, and delivered to Animus, the ruler of the Kingdom of Stella.
The task of recapturing the Dragon Cry falls to Natsu and the Mages of the Fairy Tail Guild. During their mission to track down Zash, they infiltrate the Kingdom of Stella, and it is here they meet Animus' magician, Sonya…
What does Animus plan to do with the Dragon Cry? Sonya wants to save her country, but what secret is she hiding? Within the interlacing ulterior motives, Fairy Tail fights against the danger that is the menacing world!
And in the middle of this heroic battle, Natsu's instinct awakens…"
Check out a subtitled trailer from our theatrical release of the film below –
---
 WHAT'S PLANNED FOR OUR DRAGON CRY RELEASE?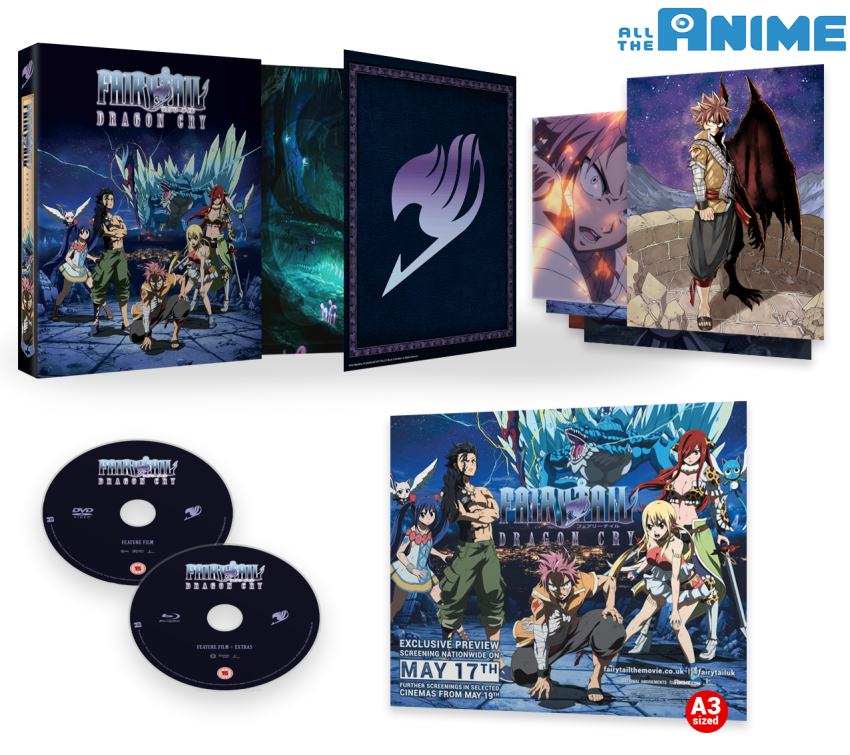 Fairy Tail: Dragon Cry will be coming to the UK as a Blu-ray+DVD Limited Collector's Edition, as well as via Standard Edition Blu-ray and DVD editions, all of which will be available from Monday, 28th May 2018. On the disc itself you'll find the film in full (featuring both English and Japanese 5.1 audio with English subtitles), alongside trailers and promotional videos for the movie on the Blu-ray.
The Ltd Collector's Ed. Blu-ray version will also come packed in an eye-catching rigid slipcase (which uses a spot UV effect to make the characters and logo upon it stand out), within which you'll find:
A digipak holding the film on Blu-ray and DVD
A set of five art card featuring images and visuals from the film
An A3-sized poster, utilising the same design you may have seen from our advertising of the film's UK theatrical release last year
---
WHERE CAN I BUY THIS?
You can pre-order your copy of the film from many retailers including the following –
Order at Amazon UK Order at Zavvi Order at Base.com Order at HMV Online Order at Anime-on-Line
When it comes to our AllTheAnime.com web shop, we'll start taking orders from Friday, 18th May 2018. In the interim you can see the listing in the link below:
VIEW AT ALL THE ANIME WEB SHOP
If you are planning to order Fairy Tail: Dragon Cry from our own online store, then you should read on for news of an exclusive – and strictly limited – bonus item that we'll be providing alongside this release.
---
ALLTHEANIME.COM SHOP EXCLUSIVE LIMITED EDITION BONUS ITEM
For those looking to pre-order our Limited Collector's Edition Blu-ray, we'll be offering the first fifty (and only fifty) customers who place a pre-order for Fairy Tail: Dragon Cry a copy of the official Japanese storyboard book for the film – this very same book was also distributed to some attendees of the film's original theatrical release in Japan.
This book totals 200 pages and is packed with draft storyboards from the original creator of the Fairy Tail manga, Hiro Mashima. It's full of fascinating insight into the creative process around Dragon Cry and is a must-have for fans of the film, or indeed of Fairy Tail as a whole.
As we noted previously, pre-orders for our Collector's Edition will open on Friday, 18th May at around 5PM, so be sure to check the shop listing below then to be amongst the first to pre-order and ensure you nab a copy of the film which includes this bonus item!
Stock of this storyboard will be allocated strictly on a first-come, first-served basis as orders are received, so when it's gone, it's gone.
---
And that's that for our look at Fairy Tail: Dragon Cry on home video! We hope to see you around on May 18th when pre-orders open, and as a final reminder all of our editions of the film will be hitting retail stores on Monday, 28th May 2018.
Until next time, take care!
~ Andy H