Fairy Tail Part 12 – Sleeve Replacement Scheme
February 24, 2017 · 2 comments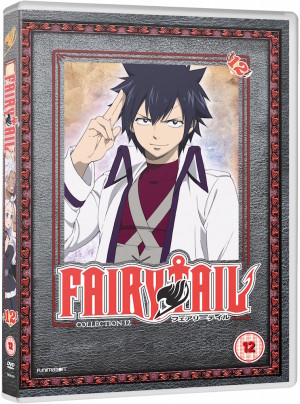 Ahead of it's intended release next week (Monday 27th February) we wanted to inform everyone that a printing error has been discovered on units that have been shipped to retailers on the release of Fairy Tail Part 12. As a result all stock that has presently not been sent to retailers has been quarantined and this will now be having its general retail release date shifted back to mid-March (exact date TBA) while we get this corrected.
We are very sorry this has happened but we are not leaving Fairy Tail fans high and dry when it comes to this. We will be replacing any sleeves impacted by this. Please read on below.
**F.A.Q. About Fairy Tail Part 12 Printing Error**
What's the printing error?
The error is do with the reversible cover sleeve design specifically. The reverse cover features an alternate sleeve design and usually there is text to accompany this, however this is not present on copies impacted by this.
How do I know if my copy will be impacted?
We are to understand all copies that have been sent to retailers at time of writing (including those sent from our own web shop fulfilment house) have been impacted by this. So if you receive / purchase one your copy will likely be impacted.
We are working to get remaining units of this impacted version out of circulation.
Can I get a replacement sleeve?
Of course! Everyone who receives any of these impacted copies is entitled to a replacement sleeve, no questions asked!
To get one all you need to do is the following –
Email jeremy@alltheanime.com with the subject "Fairy Tail Part 12 sleeve replacement" and in that email please include
— a photo/scan of your proof or purchase.
— And your full name and postal address, where we will send the replacement sleeve to.
Please note if you ordered from our AllTheAnime.com web shop you will be automatically added to the list of replacements; so you don't need to worry about emailing us.
When will replacement sleeves be sent out?
As soon as the corrected stock has been manufactured – estimated to be completed in early-mid March – we will be working getting the new sleeves out to you ASAP. Please note we will email you to let you know when it's been sent.
Once again we're very sorry to all fans of Fairy Tail that this has happened. But If you receive one of these copies at least you know the discs aren't impacted and that you can watch it and enjoy it! To everyone who has yet to order this release, we hope you don't mind waiting a few extra weeks while we get this corrected ASAP.
If you have any questions about this please feel free to drop me an email on jeremy@alltheanime.com and I'll get back to you as soon as possible. Alternatively please feel free to message us through our Facebook and Twitter profiles.
Signing out~!
Jeremy
2 comments
Matthew

February 24, 2017 10:53 pm

Why not just sell the affected units on your webstore or something? It's not like this is such a major issue that people wouldn't want to buy it. You'd be surprised how many people out there who don't care about what you describe and for the right price would buy it.

Kyril

March 10, 2017 9:18 am

I dunno if this would be the place to ask, but back when Manga UK were in charge of the Fairy Tail releases, they did 4 larger collection releases which had I guess 2 parts per box or something? I've held off on getting any of your releases so far in case you would do the same, especially since I've already got an inconsistent collection since I bough Collection One and Two on Blu Ray, but then Fairy Tail stopped getting blu ray releases. In the end however I'd just like to own the show in some form, so if there's no point in holding off, please let me know.