Full Metal Panic Ultimate Edition Blu-ray details
September 11, 2015 · 0 comments
Many of you have been eagerly anticipating to see what we have planned for our upcoming Ultimate Edition release of Full Metal Panic in December (date TBC). Today we can reveal those details and give you a first glimpse of what the whole set will look like.
Before we go any further, we do want to highlight that you can pre-order your copy today from the likes of Amazon UK, Zavvi, Base and our web shop. So if you want to get in early with pre-ordering, you can do just that.
The waiting is over, let's show everything that will come with our set and then go into detail accordingly. (You can click on the image below to enlarge it.)
As you can see quite the loaded the set. So let's break this down bit by bit.
WHAT WILL BE IN THIS ULTIMATE EDITION BLU-RAY SET
Full Metal Panic Season 1 (3 x Blu-ray discs)
Full Metal Panic? Fumoffu (2 x Blu-ray discs) [Exclusive to Ultimate Edition]
Full Metal Panic: The Second Raid (2 x Blu-ray discs)
76 page Hard Back Artbook (pictured right) containing materials categorised by characters, the Arm Slaves (aka mecha) and location settings organised to be a compendium of the franchise as a whole rather than simply focusing on each season. (We personally curated this ourselves and a lot of effort went into making this possible.) [Exclusive to Ultimate Edition]
How will IT be packed?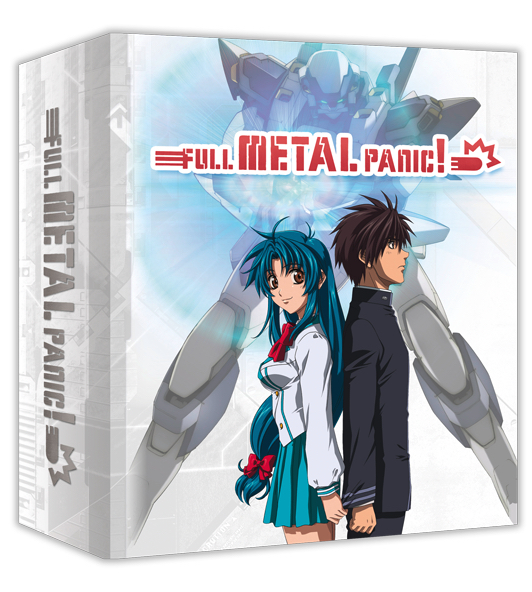 We have decided to take a new approach with how to pack this release compared to previous Ultimate Edition packages of ours. While we can't share any images with you at this time we can tell you that the entire release will come packed in a rigid box (pictured left), in similar style to what we did with Gurren Lagann and Giovanni's Island, to provide some context.
But where it differs is that there won't be a digipack to house the discs with this release. Instead there is an inner rigid box to hold three Blu-ray amaray cases, one for each season respectively. The centre section of this inner rigid case will be foam backed, allowing for not only easy removal of the three cases but also sturdy storage in the package as a whole at the same time. Also there won't be an o-card/sleeve that comes with it, but al the packaging details will be on the plastic wrap around the box, so we can keep the box clean.
In addition to this, and in similar style to our past Ultimate Editions, there will be 76 page hard back artbook that can also fit inside the outer rigid case next to the inner box.
Because of the inner rigid box holding the amaray cases, everything is well protected and very sturdy, allowing for safe storage and easy access to the contents inside at the same time.
what's on the discs?
As mentioned this Ultimate Edition will come with all three seasons of Full Metal Panic: Season 1, Fumoffu (aka Season 2) and The Second Raid (Season 3), each in its own individual amaray case (pictured below). Here's a breakdown of what on-disc content is included across the 8 discs.
Season 1:
Complete Season, episodes 1-24
Extras: Jakoichi Chigara x Shouji Gatou Special Interview, Japanese Piracy Warnings, Original TV Spots, Textless Songs
Full Metal Panic? Fumoffu (aka Season 2)
Complete Season, episodes 1-12
Original Japanese TV Spots, Textless Songs
Full Metal Panic: The Second Raid (aka Season 3)
Complete season, episodes 1-13
Extras: Bonus Episode 000, Bonus OVA episode, Dawn of the Light Novel, Location Scouting in Hong Kong (Parts 1 – 7), Textless Songs
A few other details we want to make known about the the discs:
The episodes from all three seasons can be viewed with either the English language dub or the original Japanese audio with subtitles. The extras however are generally in Japanese with subtitles only.
For those not aware, Season 1 and Fumoffu were both animated before 16:9 became the standard format for anime, so both seasons are in 4:3 ratio but upconverted to 1080p. When watching any episodes from these seasons the footage is Pillarboxed, meaning it will be displayed with blackbars at the side to retain the original display ratio of the picture. (For those of you who have watched our release of Cowboy Bebop, it's exactly the same as that for exactly the same reasons.) Both of those seasons are upscaled but if we do say ourselves we think they both look fantastic considering that.
For those of you interested, the three discs for Season 1 (3 x discs total) are all BD50s. Then for both Fumoffu (2 x discs total) and The Second Raid (2 x discs total) the first disc is a BD50 and the second a BD25.
This is the first time that Full Meta Panic: The Second Raid is being released in the UK, and the first time that the first season and Fumoffu will be available on Blu-ray in the UK.
Full Metal Panic? Fumoffu is exclusive to this Ultimate Edition Blu-ray release, and will not be available individually in the UK at a later date. For those wondering, we are exploring making Season 1 and The Second Raid available individually in some form at a later date, but we have no time frame on if/when this might be.
Finally we should add that that this Full Metal Panic Ultimate Edition Blu-ray set is limited to 1000 units total across all retailers.
And that ladies and gentlemen is your first glimpse at what we have planned for our Ultimate Edition Blu-ray release. Do let us know what you think of it. We'd love to hear your thoughts. We've very excited to bring this to the UK and hope you are too.
Signing out~!
Jeremy