By Andy Hanley.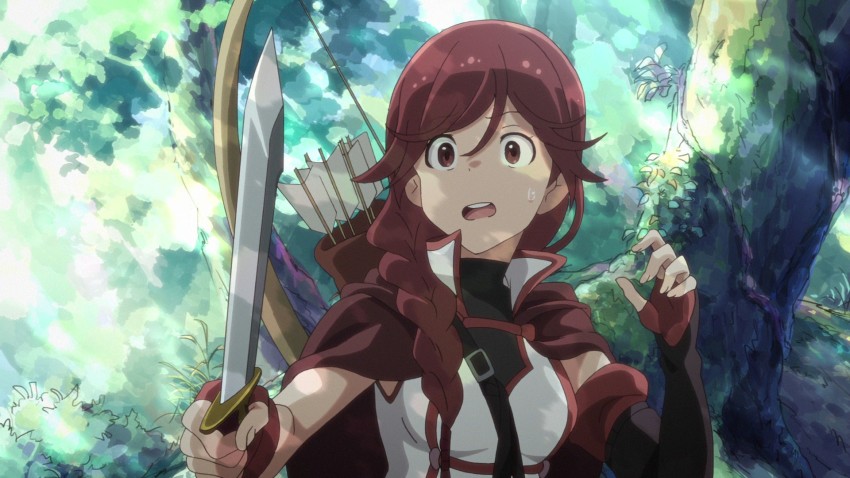 Although it was hardly the first of its breed, the success of Sword Art Online in both its original light novel and later anime adaptation form has seen an explosion of stories based around a similar concept – being trapped in a video game world, usually based around the settings and mechanics of a traditional fantasy role-playing game. We've also seen a wealth of original spins on this core conceit, although few of them have proven more successful in delivering on their potential than Grimgar: Ashes and Illusions.
In this case, however, the characters we follow within the series have no real idea of their seemingly earthly origins – they awaken in a strange world with no memory of their past lives, occasionally leaving themselves baffled when they find themselves using words like "cell phone" or "video game" with no direct recollection of what those seemingly alien words even mean. If they were to remember these fleeting glimpses into their untold pasts, they'd be more likely to recognise the trappings of their new home world – a land where fighting goblins and other such enemies is the only way to earn the money required to live, and one where those who choose to fight must select a path from various classes and hone their skills in battle to unlock further abilities.
Yes, Grimgar's world is that of a dyed-in-the-wool RPG, but to fight within its confines isn't a blaze of button presses. Combat here is visceral and harrowing – enemies howl in fear and pain when injured and hunted, and the group's first kill is as harrowing an experience as you'll ever see in anime. This is an uncaring world death is final to friend or foe with no prospect of "respawning".
These harsh realities of the world imagined by Grimgar are refreshing to watch when set against the usual tropes of this genre. This isn't the story of a hero from another dimension coming to save the world, but rather one we can all relate to on a decidedly less perilous level – the daily grind to get by, and those occasional wonderful moments of levity or joyful human interactions which make it all worthwhile. Laid over this is the familiar thrill-ride of an RPG-themed action series, itself set against the realisation of just how brutal the kill-or-be-killed nature of its combat is.
Sometimes uplifting, sometimes heart-pounding, occasionally heart-breaking, the series is an emotional rollercoaster that takes its broadly lovable (if occasionally infuriating) cast and uses them as a springboard to catapult us through all its world has to offer – not just narratively, but also in terms of the breathless beauty of its watercolour-inspired vistas and backdrops, which bring a unique aesthetic to the show. They nicely complement restrained but distinctive character designs, while the series boasts an excellent soundtrack that helps to convey the show's sense of emotion or urgency whenever required.
Even if you find yourself rolling your eyes at the prospect of watching yet another "trapped in a fantasy RPG" anime, this is one series for which you should make an exception. Mature, darker and decidedly more realistic, it stands out from the crowd with both the emotional resonance and visuals required to back up its narrative. Grimgar: Ashes and Illusions is a series that lives up to the connotations of its title, to prove itself as an outstanding fantasy series in its own right.
Grimgar: Ashes and Illusions, coming soon to Blu-ray and DVD by Anime Limited.