Anime Limited acquires Kakegurui for UK home video release
February 6, 2018 · 0 comments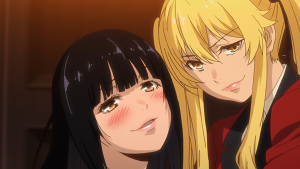 If you're anything like us, we suspect you spent a hefty chunk of last weekend watching the latest hot anime title to arrive on Netflix's UK streaming service: Kakegurui. Similarly, if you're anything like us you probably found yourself wishing you could hold a copy of the series in your hand, and place it lovingly onto a shelf in the midst of your anime collection.
Well, if you were gambling on someone acquiring this series for a UK home video release then you're in luck, as we can today confirm that Anime Limited have indeed acquired the home video rights to Kakegurui for the UK and Ireland!
This sexy, sassy title is adapted from a manga of the same name penned by Homura Kawamoto, and is brought to life in anime form by production studio MAPPA (In This Corner of the World, Yuri on Ice) with a soundtrack provided by TECHNOBOYS PULCRAFT GREEN-FUND (Trinity Seven, Witch Craft Works). If you're a fan of Yuri on Ice or the opening credits to the Persona 5 video game then you'll also easily recognise Kakegurui's eye-catching opening credits as the work of the incredibly talented Sayo Yamamoto.
ABOUT KAKEGURUI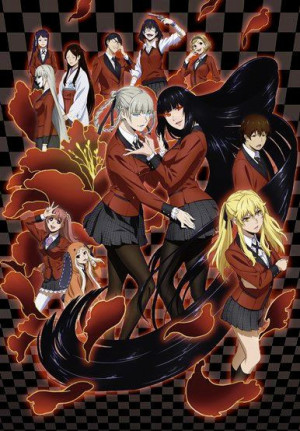 Synopsis: "Hyakkaou Private Academy is no ordinary school. Forget academic studies, this is a school where the key to success is proficiency and nerves of steel in the no-holds-barred gambling around which the entire societal structure of the academy resides. Win big and the world is your oyster; fall into debt and be doomed to a school life of subservience and abuse from those more fortunate than you.
Into this ruthless world steps Yumeko Jabami – a wide-eyed, innocent transfer student who seems like easy pickings for her classmates. However, there's more than meets the eye to this newcomer: little do they know that Yumeko is a young woman whose passion for gambling and risk-taking knows no bounds, and whose desire to experience the thrills of putting everything on the line will pose a direct threat to the student council that sits atop the academy's power structure."
For a better glimpse at the title, take a look at this English-subtitled trailer released by Netflix:
Our current intention is to release the first season of Kakegurui on Collector's Edition Blu-ray in the first quarter of 2019, so bear in mind that it'll be a while before you hear any more news from us on this title. Needless to say we don't have any more details to share at this time, but we'll be sure to update you closer to that release date. For now though, Netflix UK subscribers can watch the entire first season – complete with both Japanese and English audio and English subtitles amongst the language options available – and get their gambling freak on right here and now!
We hope you're as excited as we are about this news – until next time, take care!
~ Andy H