Lupin the 3rd: Part IV Home Video Release Details
April 18, 2018 · 7 comments
Following our recent announcement that we've acquired the new Lupin the 3rd Part 5 series – which you can watch weekly at Crunchyroll – we mentioned there would be details about our upcoming home video release of Lupin the 3rd Part IV (aka Lupin the 3rd: The Italian Adventure) on 28th May 2018. Well, today is the the day we fill you in on the details of what to expect, plus some other important details you should know about this release too.
Read on below for all the details!
---
ABOUT LUPIN THE 3RD PART IV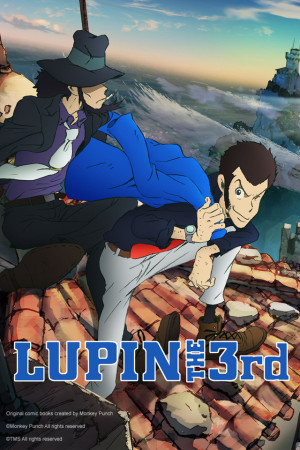 A beloved classic franchise, Lupin the 3rd (2015) is the first full-fledged Lupin the 3rd series since 1984.
Synopsis: Master thief Lupin the Third returns to the spotlight when he's poised to marry the danger-loving, Italian superstar Rebecca Rossellini. But once his high-profile wedding is interrupted by his eternal rival Inspector Zenigata, the chase is on! In this clever and colorful series, Lupin gallivants across Italy and beyond, chasing treasure and pleasure. No mission is impossible for Lupin: exploring haunted houses,fighting the mafia, running from zombies, swiping the Mona Lisa, escaping a custom-made prison,or even just lending a hand to strangers in need.
He's aided by the loyal gunslinger Jigen and the ace swordsman Goemon, while his beautiful partner-slash-rival Fujiko Mine keeps him on his toes. But this time, the super-powered MI6 agent Nyx is eager to bring Lupin down. And could that bearded street artist really be the great Leonardo da Vinci, back from the dead? The mysteries of the Dream of Italy will be revealed as Lupin the Third takes on the Italian Adventure!
You can watch a preview for show, that was published prior to its airing in Japan, below

---
hang on, this is "PART 4"?!
In short, yes. But in our honest opinion you can jump into this series whether you have some prior knowledge of the franchise, a lot, or even no knowledge at all. The entire series of "Part 4" is one self-contained story. You'll become very acclimated with the characters quickly too, so you have nothing to fear on that front.
---
WHAT'S PLANNED FOR THE Ltd. Collector's Ed. Blu-ray RELEASE?
28th May 2018 will mark the first time a full Lupin the 3rd series is released on home video in the UK, so we wanted to make sure we utilise some of the gorgeous art from the series! Here's what our Ltd Collector's Edition Blu-ray will look like –
It will come packed in a rigid case with a digipak to hold the four Blu-ray discs. Also included is a 60-page art book that looks at characters from the series, props (i.e. gadgets, vehicles and more), backgrounds and concept art. The rigid case will come with an o-card (aka slipcover) around it too.
When it comes to the episodes themselves, in this Ltd Collector's Ed. Blu-ray release each episode is in Japanese with English subtitles only. You get the entire series, which includes the two episodes "Venice of the Dead" and "Non Rendezvous", which were released separately in Japan as bonus OVA episodes.
---
WHERE CAN I ORDER THIS?
You can pre-order this from retailers now including the following:
Order at Amazon Order at Zavvi Order at Base.com Order at HMV Online Order at Anime-On-Line
Pre-orders at our AllTheAnime.com web shop will commence on 11th May 2018. (There may even be a special offer to coincide with that too 😉 ) In the interim you can view the listing here:
---
BUT WAIT, ISN'T THERE AN ENGLISH DUB OF THE SERIES?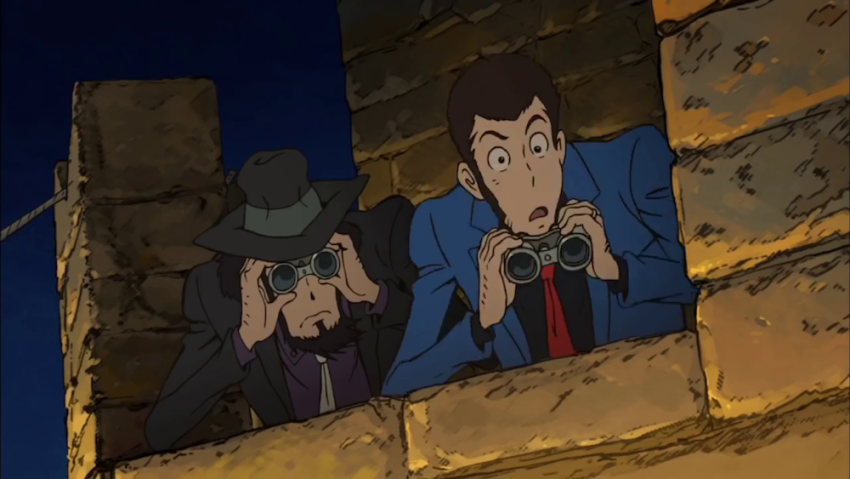 Yes there is, so this is where things get tricky and is also partly the reason why it's taken us far longer to release the series than was originally anticipated. So, we want to put all our cards on the table and let you know where things stand, the circumstances that have had to be taken into consideration for this, and what is going to happen down the line:
When the series originally aired, it premiered first in Italy, not in Japan. It came to light later on that there were particular video materials used for the Italian broadcast that differ to the materials used in the Japanese broadcast, when the series later aired in Japan.
When the series was dubbed into English, the dub was created utilising the Italian broadcast video assets, not the Japanese broadcast video assets. This meant that there were differences between the two.
"Why is this is a problem?" you ask. To give some context, when you select audio options on other anime Blu-rays, both the English and Japanese audio are timed to match with the video materials. This is why it's easy to switch between the two. But in this case, because there are differences between the two versions in terms of video footage it was simply not possible to include both language options on a single Blu-ray release.
However, that doesn't mean we aren't going to be releasing the English dub version of the series…
We are happy to confirm that the English language audio version of the series will be getting its own Blu-ray release. However it will be made available as a separate standard edition Blu-ray release that will be exclusive to our AllTheAnime.com web shop in the future. (No release date has been announced for this edition at this time)
The reason it will be exclusive to our AllTheAnime.com web shop is that we aware there is some demand for the series dubbed, but far more interest has been shown in the subtitled version compared to the English dub. So we wanted to make sure we honoured our commitment to fans and still found a way to be able to bring the English dub version out in some form for those who want it, without impacting those who have been patiently waiting for the subtitled version and just want to own the series.
We know that for some people this may be hard to accept, but the very unique circumstances regarding the video and audio materials for the series has meant this is the only way we can release the English dub while trying to keep the cost down as much as possible for you, the fans. (A similar solution has been implemented in other territories as well, so it's not just us doing this)
---
But I WANT TO BUY BOTH THE SUBTITLED VERSION AND DUBBED VERSION.
how much will that cost me?

We want to make it known now that while the English dub release will be exclusive to our AllTheAnime.com web shop, if you are someone who is planning to order the Ltd Collector's Ed. (subtitle-only) Blu-ray version from our AllTheAnime.com web shop or buy it from the AllTheAnime stand at any event we exhibit at, you will be eligible for a discount on purchasing the standard ed. English dub version Blu-ray when it's available.
If you do so, you will be entitled to purchase a single copy the standard edition dubbed version Blu-ray for only £10 when it is available. (Again, no release date announced at this time)
TERMS & CONDITIONS OF THIS OFFER:
This offer will only be available to anyone who purchases the Ltd Collector's Ed. (subtitle-only) Blu-ray from our AllTheAnime.com web shop or from the AllTheAnime stand at any event we exhibit at. This DOES NOT AND WILL NOT apply to purchases made at any other retailer (be it online or at an event).
Purchasing one copy of the Ltd Collector's. Ed (subtitle-only) Blu-ray will entitle you to purchase one copy of the standard edition dubbed version Blu-ray at the £10 discounted price.
Once the standard edition dubbed version Blu-ray is ready, everyone who purchased the Ltd Collector's Ed. (subtitled-only) Blu-ray from our AllTheAnime.com web shop will be contacted via email with details on how to redeem the offer.
If you purchase the Ltd Collector's Ed. (subtitled-only) Blu-ray from the AllTheAnime stall at an event, you will need to send an email to shop.uk@alltheanime.com that includes a photo showing both your receipt and the purchased product in the same photo. We will then contact you via email once the standard edition dubbed version Blu-ray is ready with further instructions on how to redeem the offer.
Again, to clarify there's no definitive time frame on when the standard edition and this offer will be available for redemption, but this is something we will honour at any time provided you follow the conditions and instructions above. 🙂
---
F.A.Q. About Lupin the 3rd Part IV
There's a lot of info we've thrown at you in this post. This F.A.Q. section is mostly here to summarise the above.
— When is the Ltd Collector's Ed. (subtitled-only) Blu-ray being released?
29th May 2018.
— What language are the episodes on the Ltd Collector's Ed. (subtitled-only) Blu-ray?
Japanese with English subtitles only.
— What's the SRP of the Ltd Collector's Ed. Blu-ray?
The SRP is £69.99. (Obviously, this is before respective retailers apply their own discounts – £69.99 ultimately shouldn't be the price you pay for it.)
— Will there be a release of the English dub of the series.
Yes. It will be released as a standard edition Blu-ray exclusive to AllTheAnime.com in the future. (No release date announced at time of writing.)
— Why aren't both language options available in the Ltd Collector's Ed Blu-ray?
Please read the section above titled "But wait, isn't there an English dub of the series?", as we go into detail there.
— I watch all of my anime with an English dub, what do I do?
Fear not, we will also be releasing the series in full as a standard edition Blu-ray featuring the show's English dub, at a time yet to be confirmed.
— But I want to own both language versions!
We will be offering the dubbed version (when available) at a greatly reduced cost to anyone who purchases the Ltd Collector's Ed. (subtitle-only) version from our AllTheAnime.com web shop or from the AllTheAnime stall at an event we exhibit at. Please see the section above for details on our dub "upgrade" scheme!
— Will the series be getting released on DVD at all?
No. It will only be released on Blu-ray only due to lack of demand for a DVD edition of the series.
— Do I need to have seen any other incarnation of Lupin the 3rd to be able to enjoy Part IV?
In short, no. Each incarnation of the franchise, while in the same universe, is very much a self-contained story. So you can jump into this if you've never watched any Lupin the 3rd series before, no problem.
— Are the two episodes that were OVAs in Japan included?
Yes, "Venice of the Dead" and "Non Rendezvous" are included on our release.
---
That about wraps up this post! We hope you're excited about adding this series to your collection! It'll be the first time that an entire Lupin the 3rd series has been released in the United Kingdom on home video, and we're very excited to give fans the opportunity to own a piece of this franchise.
Obviously once we can update you and share more details on the English dub standard ed. Blu-ray, we'll be sure to do so – as always, watch this space.
Signing out~!
Jeremy
7 comments
Marco Morelissen

April 20, 2018 7:28 am

Im sorry but I never heard so much BS for not including the English audio track. its called "Putting in the effort". Therefore im cancelling my preorder on base.com despite this looking like a nice release. Im sorry AlltheAnime but this is just dumb. Like with Durarara S2 not including the OVA's for some reason.

Matt

April 20, 2018 12:16 pm

Agreed. It doesn't look good to mess fans around like this. Especially when they would have got the English audio as part of the license.

Andy Hanley

April 20, 2018 2:18 pm

To be clear in case there's been some confusion here, we *are* releasing Lupin the 3rd Part 4 with its English dub track, albeit as a separate Standard Edition which will be available at a relatively low cost to anyone who wishes to "upgrade" their Collector's Edition if they purchase it from us. As we've outlined in detail in the blog post, this is a very unique situation which has led to us taking the decision in question for our release strategy. Normally, including both Japanese and English audio is no problem at all, but due to the entirely different video assets used for the Japanese and international editions of the series there's simply no way to include both editions on a single set of discs, meaning that our only options were to create a single release that would be completely cost prohibitive for most potential buyers (as production and manufacturing costs would have increased sharply as a result), or do as we have done and offer two separate releases to fit most customer's desires. This decision came at the end of lots of pain-staking discussions about how to best serve our customers in these unique circumstances, and it was decided that this was the best option open to us after taking everything into consideration. We can only apologise if people are frustrated or disappointed by this, but we've done everything that we can to serve all of our customers in the most comprehensive way possible. Andy Hanley Marketing Manager Anime Limited

Marco Morelissen

April 22, 2018 10:27 am

Dear Andy, The "lowcost" you claim on the all the anime store is a fantasy. a retail price which was for me 52 euro(about roughly 43 pounds. 43 pounds versus 70 pounds at alltheanime store+10 pounds international shipping. And then when i wanna upgrade it for 10 pounds i need to pay another 10 pounds for shipping. So roughly 100 pounds (about 110-120 euro for the release i want). Im sorry but that is to much. I dont like to pay double. I mean i love collecting anime but to me its a "rip-off" that i need to pay for 2 sets ....

Andy Hanley

April 23, 2018 12:25 pm

Hi Marco, It's worth noting that when we start taking pre-orders our Collector's Edition will be available at a lower price that it's currently listing for (and as noted in this article, look out for a special offer on the title when we launch it for pre-order), which will shave at least some costs off compared to those you quoted. It's also worth noting that to include both the dubbed and subtitled editions of the series within a single Collector's Edition would have increased costs more for all of our customers than providing these two editions separately with an "upgrade" programme available, which is ultimately why we took the decision we did. As mentioned, we've done everything we can to serve our customers in the best way possible, but apologies again for any disappointment. Andy Hanley Marketing Manager Anime Limited

Doris

April 22, 2018 6:08 pm

Amazing to see people complain about not having the sub and dub in the same release when it's been explained time and time again, also in regards to the US release, why it simply can't happen. I for one am really glad I'll be able to buy this series at all and that so much effort has gone into this release.

penguintruth

April 24, 2018 10:46 pm

I think it was actually Tokyo Movie Shinsha that screwed the fans over this time, not any domestic licensor (living in the States, I was pretty angry at Discotek, but it's mostly passed). If it's any consolation, Part V only has one music soundtrack, by Yuji Ono. At least All The Anime took the time to make this FAQ, which is more than what Discotek did over here. It is a shame, though, having to choose between the two versions, especially when Richard Epcar directed a pretty solid dub with most of the red jacket series cast back. But without Ono's music, I can't really support it.