Mobile Suit Gundam Thunderbolt
April 26, 2016 · 0 comments
Following on from our previous schemes to order the Japanese Blu-ray Collector's Edition of Gundam The Origin, today we are happy to announce we are now taking pre-orders for the hotly anticipated Japanese Mobile Suit Gundam Thunderbolt: December Sky Blu-ray [Collector's Edition, Export Edition].
Mobile Suit Gundam Thunderbolt combines 4 episodes that were recently streamed in Japan into a single movie with additional scenes added.
As was the case before, this pre-order scheme in conjunction with Bandai Visual allows UK fans to pre-order this upcoming release knowing that it will be sent from our offices here in the UK (once stock arrives – expected July 2016.) Though please note this is a Japanese product. The main feature itself has both English and Japanese language audio and will have English subtitles, but any additional features on the disc itself and/or the physical items included in the package itself will be in Japanese only.
We (Anime Limited) are now taking pre-orders for Mobile Suit Gundam Thunderbolt: December Sky for the UK, Ireland and Scandinavian customers through our AllTheAnime.com web shop. The deadline to pre-order this by is 11:59pm on Sunday 22nd May 2016. Click on the link below for more details about this product.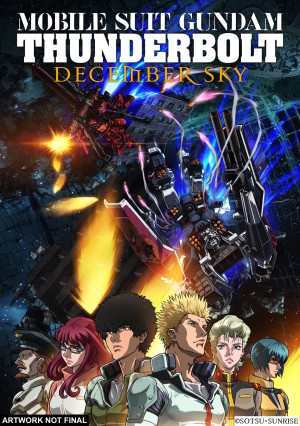 Synopsis: It is Universal Century 0079, at the end of the One Year War between the Earth Federation and the Principality of Zeon.
The space colonies of Side 4, or Moore, were previously destroyed by a Zeon attack, and many colonists lost their lives. Side 4 became a shoal zone filled with the wreckage of destroyed colonies and warships, lit by constant flashes of lightning due to collisions between electrified debris. It soon came to be known as the "Thunderbolt Sector."
The Moore Brotherhood, an Earth Federation Forces unit made up of surviving citizens from Moore, set out to exterminate the Zeon forces in the Thunderbolt Sector in order to reclaim their homeland. To halt the Federation advance, the Zeon forces deployed their own Living Dead Division, which was established to collect combat data on soldiers with prosthetic limbs.
Io Fleming, though part of the Moore Brotherhood, hates being tied down by his homeland and family history. Daryl Lorenz, having lost his legs in earlier battles, is now an ace sniper of the Living Dead Division. When they confront each other on the battlefield, they will reach a mutual realization. These two are destined to kill each other.
You can watch a preview for this (Japanese only at the moment) below.

F.A.Q. ABOUT PRE-ORDERING THIS FROM OUR WEB SHOP
To reiterate this is a Japanese product we're making available for UK fans to pre-order, this is not an Anime Limited produced release. (This is why a lot of the content is Japanese only.)
The deadline to pre-order this by is 11:59pm (UK) on Sunday 22nd May 2016.
The release of the product in Japan isn't until late July 2016. We anticipate our allocation to arrive near the time of the Japanese release date and estimate orders to be fulfilled during July 2016.
Payment for the product will be taken within 24-48 hours of the pre-order being placed.
The price listed at our web shop is inclusive of delivery via the UPS courier service and UK & Ireland Customs Clearance.
All UK & Ireland pre-orders for this will only be fulfilled via the courier service UPS and a signature will be required on delivery. (Please select the free delivery method of checkout – you will not be charged additional cost for this.)
We can only fulfil orders of this product to UK, Ireland and Scandinavian countries. Any order placed from other countries will be cancelled.
Any orders for outside of the UK & Ireland for this product placed at our web shop will be only fulfilled by the UPS courier service. Please note there will be an additional international shipping surcharge. The cost of this will be added during the checkout process.
For those living in France and Belgium, you can place an order at our French team's AllTheAnime later this week.
Signing out~!
Jeremy
[Updated, 26th April, 18:17 – Added detail about English language audio being included.]