Newswire #93.1 – 28th Oct 2016
October 28, 2016 · 0 comments
Day 1 of MCM London Comic Con has come to a close and it's time to roundup what we (Anime Limited) have revealed throughout the day!
First of all, yesterday (Thursday) evening we revealed on our social media channels that we will be bring the first season of Free! Iwatobi Swim Club to Blu-ray and DVD in 2017! 
Free! Iwatobi Swim Club
Synopsis: When you're ten, they call you a prodigy. When you're fifteen, they say you're a genius. Once you're twenty, however, you're just ordinary. Haruka Nanase has just three more years to go until he's normal, but until then, he's got an unusual obsession with water. In the morning, he soaks in the tub. For breakfast, he eats fish. And of course, he's always wearing his swimming trunks – no matter where he goes! That's pretty strange, given that he doesn't swim much any more. Despite meeting his friends – Nagisa, Makoto, and Rin – in a swimming club in elementary school, he's never shown interest in joining a new swimming club.
The reason lies in the past, with a trophy buried underneath a condemned building, and in Rin, who left to train overseas. The past isn't so far away, however, as the four friends reunite – with Rin throwing their trophy away, and challenging Haruka to a race! What's become of their friend, and why is it that even when Rin wins, he loses?
There's no more info that that at this time, but please know it is coming and as soon as we have more details we can share, we will.
Then today (Friday) we made 5 announcements! First of all we revealed that we will be bringing the following series to the UK in 2017: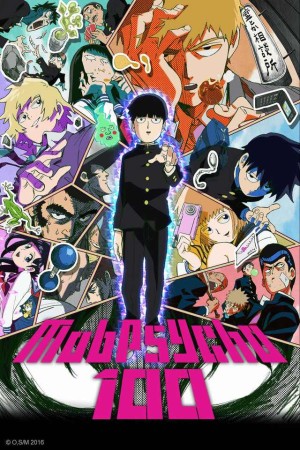 Mob Psycho 100
Synopsis: Kageyama Shigeo, a.k.a. "Mob," is a boy who has trouble expressing himself, but who happens to be a powerful esper. Mob is determined to live a normal life and keeps his ESP suppressed, but when his emotions surge to a level of 100%, something terrible happens to him! As he's surrounded by false espers, evil spirits, and mysterious organizations, what will Mob think? What choices will he make?
The anime based on the original story by ONE, the idol of the webcomic world and creator of One-Punch Man, is coming your way with animation by leading animation studio Bones!
Assassination Classroom Season 2
Synopsis: Class 3E is about to begin their second semester! And while some things have changed, the class assignment is still the same: kill their teacher before the end of the year! Easier said than done since Koro Sensei's made it clear he won't go down without a fight. Will these students be able to take down the tentacled monster that moves at Mach 20 before he can destroy the world?
Kiss Him, Not Me
Synopsis: Kae Serinuma is what you'd call a "fujoshi." When she sees boys getting along with each other, she loves to indulge in wild fantasies! One day her favorite anime character dies and the shock causes her to lose a ton of weight. Then four hot guys at school ask her out, but that isn't exciting to her at all — she'd rather see them date each other!
One quick additional details about Kiss Him, Not Me though. We are working on getting this available to view on a simulcast platform in the Unitd Kingdom and Ireland. There should be additional news on this coming soon so please stay tuned for details on that.
March Comes in Like a Lion
Synopsis: This is a gentle tale about people trying to regain something. And it is a tale of battle. The main character, Rei Kiriyama, lost his family in an accident when he was young. Now he is a 17-year-old pro shogi player who is burdened with deep loneliness. Rei lives alone in an old town in Tokyo, but after becoming acquainted with three sisters, Akari, Hinata and Momo, he begins to change little by little…
We haven't got any more details on these at this time, but please know as soon as we have more details we'll be sure to share them.
And finally, we confirmed that we will be bringing the highly anticipated film A Silent Voice to the UK.
A Silent Voice
Synopsis: Shoya Ishida starts bullying the new girl in class, Shoko Nishimiya, because she is deaf. But as the teasing continues, the class starts to turn on Shoya for his lack of compassion.
When they leave elementary school, Shoko and Shoya do not speak to each other again… until an older, wiser Shoya, tormented by his past behaviour, decides he must see Shoko once more. He wants to atone for his sins, but is it already too late…?
Directed by festival favourite Naoko Yamada, best known for K-On.
We're happy to confirm there will be coming to limited cinemas in either December or January – we're still ironing out the details which is why we can't say more right now. We will have more details on this in the coming weeks so please stay tuned for those.
And that wraps up Day 1. We've got lots more to share to with you over the weekend so check back tomorrow evening and we'll have another round up of news for you!
Signing out~!
Jeremy