[UNBOXING] AJIN: Demi-Human Season 1
November 8, 2017 · 0 comments
A few weeks ago we brought you the first details on what expect from our upcoming release of AJIN: Demi-Human season 1. Today we're delighted to bring you a full unboxing of what to expect from our Ltd Collector's Edition Blu-ray set due for release in a few weeks time on 27th November. (Due to delay in receipt of materials, the date of release has been pushed back by a few weeks to 11th December.)
---
WHERE CAN I BUY IT?
You can pre-order your copy right now from the likes of
Order at Amazon Order at Zavvi Order at HMV Online Order at Base.com
And we can also tell you that it will be available to pre-order from our AllTheAnime.com web shop during the week commencing 13th November. (You never know there might even be a special pre-order offer too 😉 )
---
UPDATE: On Friday 17th November we announced there would be an AllTheAnime.com exclusive bundle that come with an A3 poster. DETAILS HERE
---
WHAT'S IN THE BOX? WHAT'S ON THE DISCS?
Due for release on 27th November, AJIN: Demi-Human Season 1 will be available as a Limited Collector's Edition Blu-ray set and on standard DVD as well. Content across the discs themselves is identical.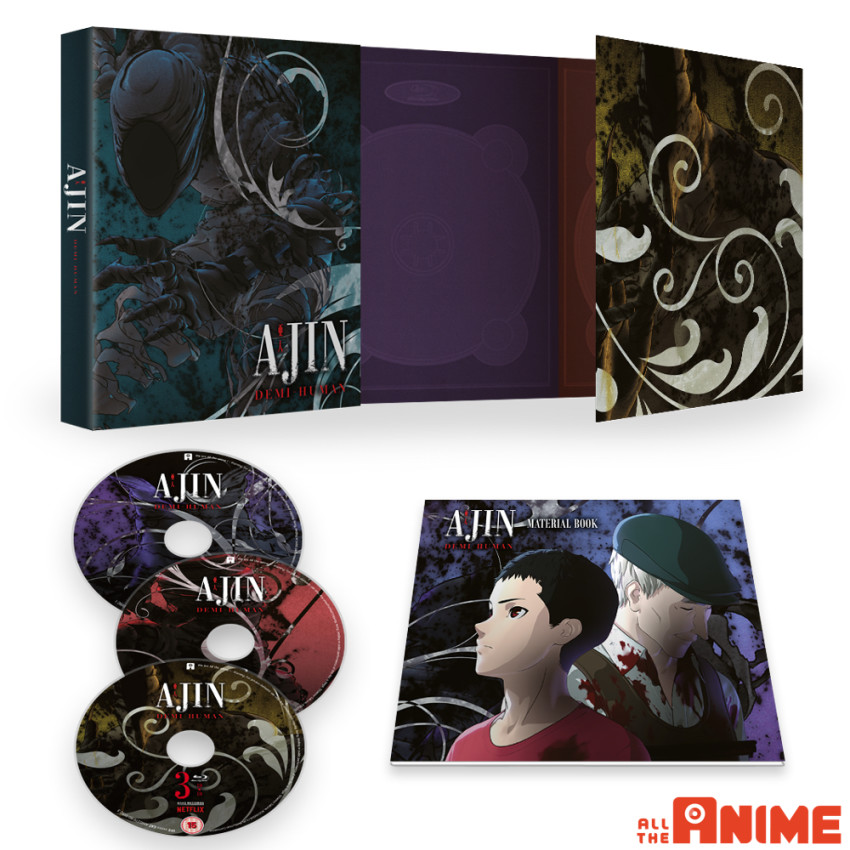 The Ltd Collector's Edition Blu-ray set (pictured above) comes packed in a rigid case with a digipack to store the three Blu-ray discs. Also included is a 64-page materials book that is divided into four sections: Characters, IBMs, Backgrounds and Artworks.
On the discs themselves you get  –
The complete first season of Ajin: Demi-Human (13 episodes) in both English and Japanese with English subtitles
The first Ajin: Demi-Human movie "compel" in Japanese with English subtitles only
On-disc extras include: Clean Opening, Clean Closing, Animatic Process Scenes and Movie Teasers.
Check out the subtitled trailer for the series below –
---
PHOTOS OF THE ACTUAL PRODUCT
And now it's time to show you photos of the Ltd Collector's Edition Blu-ray version. You can click on the images below to enlarge them.
And that wraps-up this unboxing of AJIN: Demi-Human season 1. We hope you're looking forward to adding this to your collection on 27th November. Stay tuned for more info on our release of AJIN: Demi-Human ahead of its release!
Signing out~!
Jeremy
---
UPDATE – 17TH NOVEMBER: Release date and pre-order information updated. Information about AllTheAnime.com Exclusive bundle added.