[Unboxing] Assassination Classroom Season 1 Part 1
May 20, 2016 · 1 comment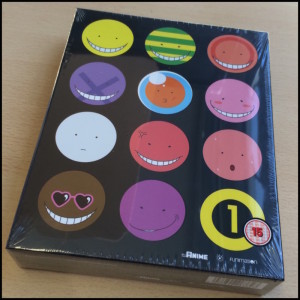 It's been a long wait but we're fast approaching 30th May and that means it's time to bring you an unboxing of our Limited Edition Blu-ray release of Assassination Classroom Season 1 Part 1.
But before we proceed a quick note that you pre-order your copy of Assassination Classroom Season 1 Part 1 from the likes of Amazon UK, Zavvi, Base, Anime-On-Line and even our own web shop. HMV will be stocking on day of release too. And those of you planning to attend MCM London Comic Con (27-29th May), we should have some copies available to buy at our booth there (while stock lasts.)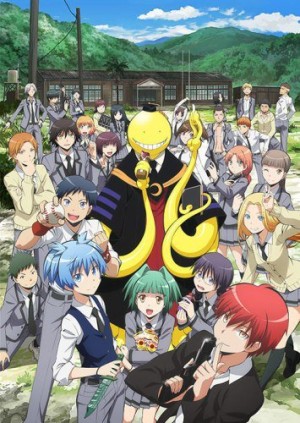 ABOUT ASSASSINATION CLASSROOM
Synopsis: At Kunugigaoka Junior High School, class 3-E is the lowest of the low. With abysmal test scores and no future prospects, they've been given up on and hidden away from the main campus at the top of a deserted mountain. But when a super-powered tentacled creature with a thirst for destruction becomes their new teacher, they've got a brand new assignment to get them inspired about school: take him out.
In addition to reading, writing, and arithmetic, the murderous monster behind the lectern will teach his students everything he knows about the assassination game. Should some eager beaver prove to be a Grade-A assassin, he or she will save Earth from extinction – and collect a hefty reward. But they'd better study up, because their saboteur sensei has already taken out most of the moon, and our planet is next on his list!
You can watch the trailer for this below.
WHAT'S INSIDE? WHAT'S ON THE DISCS?
Our release of Assassination Classroom Season 1 Part 1 Limited Collector's Edition Blu-ray comes packed in a rigid box. Inside that you'll find an amaray case to hold the two Blu-ray discs, plus you'll find some art cards and there's even a unique item in a replica of the Kunugigaoka Academy Student Handbook & Student Diary.
As a note, there is also a filler box also included. The reason for this is when our release Assassination Classroom Season 1 Part 2 is released, you'll able to fit the Blu-ray inside the rigid box alongside Part 1.
If you're opting to get the standard DVD of Assassination Classroom Season 1 Part 1, it will come with an amaray case and inside that the two DVD discs.
In terms of on-disc content, that identical over both formats, you'll get:
Episodes 1-11 of Assassination Classroom with both the English dub and original Japanese audio with subtitles.
Extras include episode commentaries for eps 1 & 7, OVA episode 0 "Meeting Time", Interview with the cast, Clean Opening and Closing title sequences and previews for the show.
WHAT DOES THE FINISHED PRODUCT LOOK LIKE?
And so we come to the part you've been waiting for, photos of the finished product! A quick note that you can click on the photos to enlarge them.
And that wraps up our unboxing of Assassination Classroom Season 1 Part 1. We hope you're looking forward to getting hold of your copy.
Signing out~!
Jeremy
1 comments
Matthew

May 21, 2016 1:23 pm

That's an amazing looking limited edition set. Unfortunately I've paid upfront a short while back elsewhere for the DVD edition as I was unaware at the time what came with the Blu Ray edition. In hindsight, given how amazing your past limited editions have been, that's my fault for not trusting similar quality will come with this.