[Unboxing] Durarara!! x2 Shou
May 19, 2016 · 0 comments
After an unexpected delay that no-one could have predicted, our release of Durarara!! x2 Shou is only a few weeks away from being released! It arrives on 30th May as a Limited Collector's Edition Blu-ray set and on standard DVD.
Before we proceed, a quick note that you can pre-order your copy today from the likes of Amazon UK, Zavvi, Base, Anime-on-Line and our own web shop right now. You'll also be able to purchase on day of release from HMV stores across the UK.
ABOUT DURARARA!! X2 SHOU
For those that may not know, Durarara!! x2 is the sequel to the original Durarara!! series. In a slight change from the norm, this sequel, known as Durarara!! x2, has been split into three arcs: Shou, Ten and Ketsu. In total there are 36 episodes in Durarara!! x2. "Shou" is the first of the three arcs and comprises episodes 1-12.
With the above in mind check out the trailer below that was used to promote the series being simulcast from our friends at Aniplex.

Synopsis: Half a year after the turmoil that rocked the entire city of Ikebukuro – peace has once again returned to the city and people are living each day normally. The high school students enjoy their days of youth as the strongest and most dangerous man of Ikebukuro works diligently. The informant plots a new scheme and the headless rider is pursued by the cops as she rides through the night. But soon this ordinary life will be cut short by extraordinariness. Slowly but surely, the unknown will seize the city and face an all new storm.
WHAT'S INSIDE? WHAT'S ON THE DISCS?
Our release of Durarara!! x2 Shou contains episodes 1-12 of Durarara!! x2, this is complete first arc of the three that comprise all of Durarara!! x2. All of the episodes can be viewed with the English language dub and the original Japanese audio with subtitles. In addition to the episodes, you'll also find the clean opening and closing titles sequences as on-disc extras.
Out Limited Collector's Edition Blu-ray release comes packed in a rigid case and inside that there's a variety of goodies for you! There's a digipack housing the two Blu-ray discs, and there's also a 32-page art book, 6 art cards and even a set of stickers.
Our standard edition DVD includes two DVD discs inside an amaray case.
WHAT DOES THE FINISHED PRODUCT LOOK LIKE?
Take a look at the photos below for a full unboxing of our release. You can click on them to enlarge them too!
If you're opting for the standard DVD version, here's what you can expect
And that concludes our unboxing. We hope you're looking forward adding to your collection.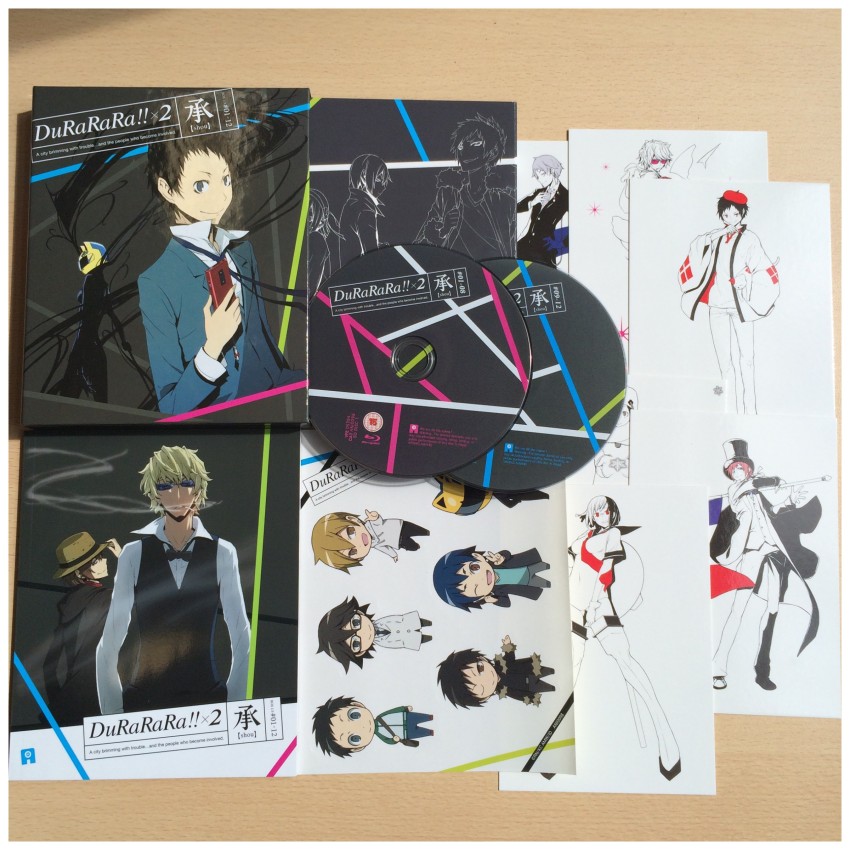 Signing out~!
Jeremy