[Unboxing] Evangelion 1.11
April 13, 2017 · 0 comments
The time is (finally) nearly here! Our Ltd Collector's Edition Blu-ray release of the film Evangelion 1.11 arrives on 24th April and today we're delighted to bring you an unboxing of this release!
A quick reminder before we get to all the juicy details and pictures that you can pre-order your copy of this right now at Amazon, Zavvi, Anime-on-Line and our own web shop.
ABOUT EVANGELION 1.11
Synopsis: "The stunning rebuild of the anime masterpiece is now extended and enhanced with never before seen new animation and 266 visual and audio improvements.
Tokyo-3 still stands after most of civilization was decimated in the Second Impact. Now the city endures the ceaseless onslaught of the deadly Angels, bizarre creatures bent on eradicating the human race. To combat this strange and ruthless enemy, the government agency NERV constructs a fleet of towering humanoid machines – the Evas – and Shinji Ikari is called into action, reluctantly taking his place at the controls of Eva Unit 01.
Living a life of loneliness and questioning his existence, Shinji struggles to accept responsibility for mankind's battle for survival in this visually striking rebuild of one of the most important anime of all time. Shinji will fight the Angels alongside the only person who might understand his plight – Rei Ayanami, the elusive and frail pilot of Eva Unit 00. In this film experience not to be missed, Shinji and Rei will struggle to learn a simple truth: when carrying the burden of humanity's survival on your shoulders, you are not alone."
You can watch the trailer for this film below –
---
WHAT'S INSIDE? WHAT'S ON THE DISCS?
Our release comes packed inside a rigid case with a digipack to hold the two discs (1 x Blu-ray and 1 x DVD). Also included are art cards and a booklet that goes into details about the film itself.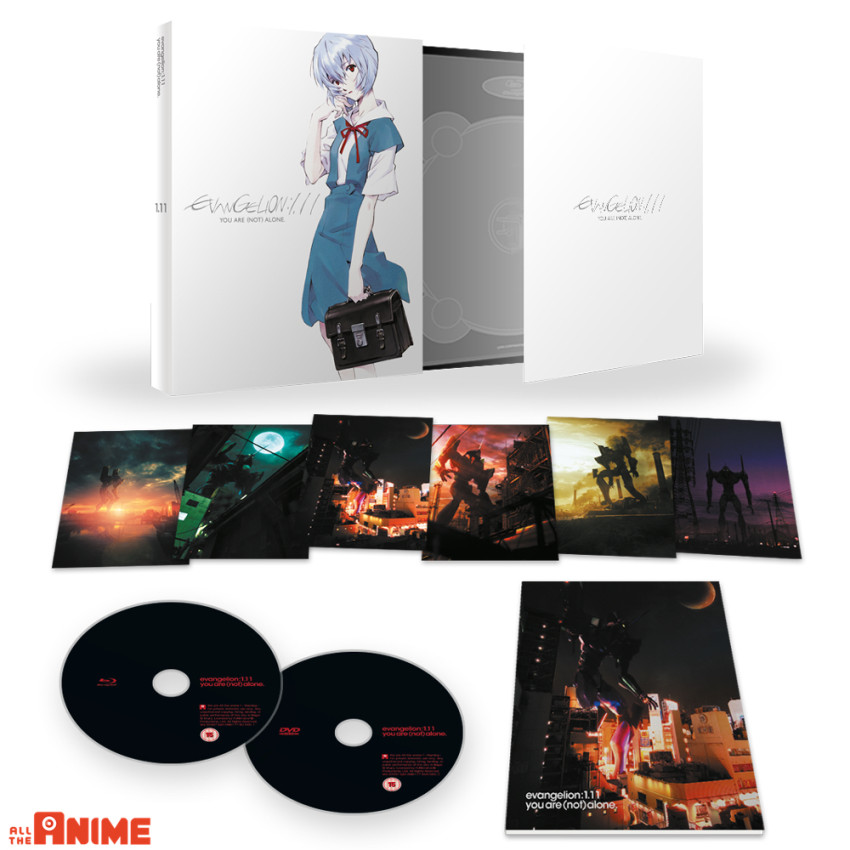 On the discs themselves you get:
~ The main feature "Evangelion 1.11" in both English and Japanese with subtitles. Both audio options are in Dolby TrueHD: 6.1 on the Blu-ray and DVD discs.
~ Extras content is exclusive to the Blu-ray discs and you get Rebuild of Evangelion 1.0 "Shiro Sagisu Version" and "Joseph-Maurice Ravel Version", Angel of Doom Promotional Music Video, News Flashes, Movie Previews "Beautiful World Version 2″, Beautiful World Version 2A" and "Beautiful World Version 2B".
---
WHAT DOES THE FINISHED PRODUCT LOOK LIKE?
And now onto photos of the finished product. You can click on these to enlarge them too if you want.
And that concludes this unboxing! We hope you're looking forward to adding this to your collection when it's released on 24th April.
Signing out~!
Jeremy
Tagged with: