[UNBOXING] Hyouka Part 2
May 22, 2018 · 2 comments
It's been a while since we released the first part of the series Hyouka, but for good reason as we were cooking up something special to be part of our release of the second half of the series that would also fit nicely into the storage box that came with Part 1*. Today we show you what to expect from this ahead of its release on 25th June.
But in case you need a quick reminder about the series, or you not familiar with at all and want to know more, have a read of the information below.
---
MCM London Comic Con attendees: Before getting to tell you about the product itself and whatnot, we're happy to confirm that the first opportunity to get your hands on this release will be next weekend at the MCM London Comic Con event (25-27th May 2018). We will have copies of this available to purchase (while stock lasts) from our stand, stall #1600 in the South Hall.
---
ABOUT "HYOUKA: PART 2"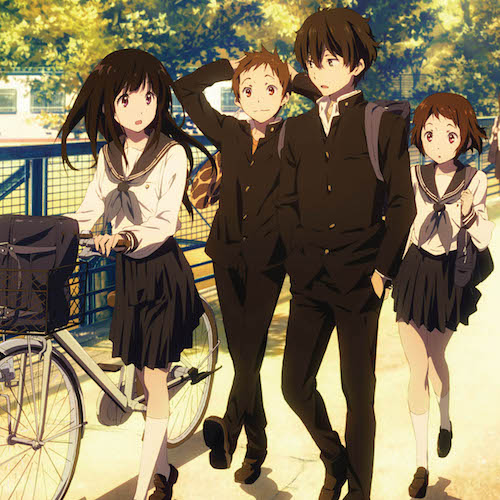 Synopsis: Hotaro Oeki joined his school's Classic Literature Club in the hope of an easy low-energy after-school life. However, he reckoned without the inquisitive Eru Chitanda, a fellow club member who simply can't leave even the smallest of mysteries untouched without demanding to know eveything about them.
As a result, and buoyed on by their mutual friends, Chitanda's infectious energy and insistent nature sees Oreki dragged into the heart of numerous low-key mysteries revolving around their school. From the strange happenings at the annual culture festival to a simple missing box of chocolates, Hotaro will have to use all of this investigative intellect and powers of deduction to get to the bottom of the unusual occurrences which emerge around him – hopefully without expending too much of the previous energy which he guards so carefully.
Studio: Kyoto Animation (A Silent Voice, K-ON!, Full Metal Panic: The Second Raid)
Check out a preview for Part 2 below:
---
WHERE CAN I BUY THIS?
You order your copy from the following retailers now:
Order at Amazon UK Order at Zavvi Order at HMV Order at Anime-on-Line
And we'll be taking pre-orders from 8th June, but in the interim you can view the listings at our web shop in the link below:
---
WHAT'S INSIDE? WHAT'S ON THE DISCS?
This comes packed in a rigid case that will fit inside the storage box that came with Part 1*. So it'll sit nicely beside Part 1 and fill out the large space you may have noticed. Following on in similar style to Part 1*, inside the Part 2 rigid case is a digipack to hold the two Blu-ray discs. We've been cooking up something special for this release, so also inside the rigid case is an 84 page art book!
What's so special about this? Well, it's an art book that features all the available material we could get out hands on from booklets included in the original Japanese releases, translated into English! That's right, we've translated all the details – in this book there's a lot of fine detail – which (as far as we're aware) is the first-time this material is being released in an English speaking territory! So a nice little exclusive to show how demonstrate how excited we are at being able to release the series, as well as knowing how much fans will get kick out of it too.
On the discs themselves, you'll find:
— Episodes 12-22 [end] of the series with English and original Japanese with english subtitles language options.
— You'll also be able to enjoy textless versions of the opening theme song "Mikansei Stride" and the ending theme song "Kimi ni Matsuwaru Mystery"
---
WHAT DOES THE FINISHED PRODUCT LOOK LIKE?
And now it's time for photos of the finished product! You can click to enlarge them too if you want.
And for those of you wondering, here's what Part 2 looks like inside the box that came with Part 1*
---
And that concludes this unboxing of Hyouka Part 2! We hope you're looking forward to completing your collection of the series.
Signing out~!
Jeremy
---
*Part 1 referenced/shown sold separately
2 comments
abdullahshaikh

February 16, 2019 9:00 am

Does the one with dvd format not come with the artbook? Amazon mentions the artbook in bluray format but it's not written on the dvd one. Please do reply

jeremy

February 18, 2019 3:21 pm

Hi, the artbook is only included in the Ltd. Collector's Edition Blu-ray version. It's not included with the standard DVD version. I hope this helps. ^JG