[UNBOXING] Love Live! Sunshine!!
May 17, 2018 · 1 comment
It's know it's been a long wait for Love Live! fans when it comes to our release of the first season of the series Love Live! Sunshine!! but the wait is nearly over as on 18th June we we release the series on Ltd Collector's Ed. Blu-ray and standard DVD. Read on below for details on what we have planned and photos of the finished product!
---
MCM London Comic Con attendees: Before getting to tell you about the product itself and whatnot, we're happy to confirm that the first opportunity to get your hands on this release will be next weekend at the MCM London Comic Con event (25-27th May 2018). We will have copies of this available to purchase (while stock lasts) from our stand, stall #1600 in the South Hall.
---
ABOUT LOVE LIVE! SUNSHINE!!
Synopsis: "Uranohoshi Girls' High School, a private school in the seaside neighbourhood of Uchiura at Numazu city, Shizuoka prefecture. A small high school in a corner of Suruga Bay, it is home to nine teens, led by second-year student Chika Takami, driven by one seriously big dream: to become the net generation of bright, sparkling "school idols"! As long as we don't give up, any dream can come true… All we have to do now is keep pushing hard for glory!
Now their "School Idol Project" begins to make their dreams come true!"
You can watch an English dubbed preview for the series below:
ADDITIONAL INFORMATION
— Want to know more about the series? Have a read of the piece by Paul Browne at our blog HERE
---
WHAT'S INSIDE? WHAT'S ON THE DISCS?
Our Ltd Collector's Ed. Blu-ray release is limited to 500 units only! It comes packaged in a rigid case featuring a variety of the characters on either side of it. And to make a bit extra shiny, and spot-uv finish has been applied! (See what we mean further down in this post) Inside the rigid case you'll find a digipack to house the two Blu-ray discs. You'll notice it's designed to look like one of the school bags you see in the series.
Also inside the rigid case are three vinyl stickers that have varying designs of the Aqours logo, and as if that wasn't enough there's a 20-page booklet that includes art from the series, cast interviews, group & member information for various characters and more.
On the discs themselves you'll get all 13 episodes of Season 1 with English and original Japanese with English subtitles language options. Extras on the discs include promotional videos and the textless opening song "Aozora Jumping Heart".
---
WHERE CAN I ORDER THIS
You can pre-order your copy from the following retailers now:
Order at Amzon Order at Zavvi Order at Base Order at HMV Online Order at Anime-on-Line Order at All The Anime
---
PHOTOS OF THE FINISHED PRODUCT
And now it's time to show you how the finished product has turned out! Check out the photos below. You can click on them to enlarge them too!
You may remember earlier in the post we talked about how a special spot-uv finished had been applied to the rigid case. Static photos can't properly show that off, so here's our attempt to show you how it's turned out 🙂
And now back to more photos
---
And that wraps this shiny unboxing for you! Don't forget it's available from 18th June. We hope you're looking forward to adding this to your collection.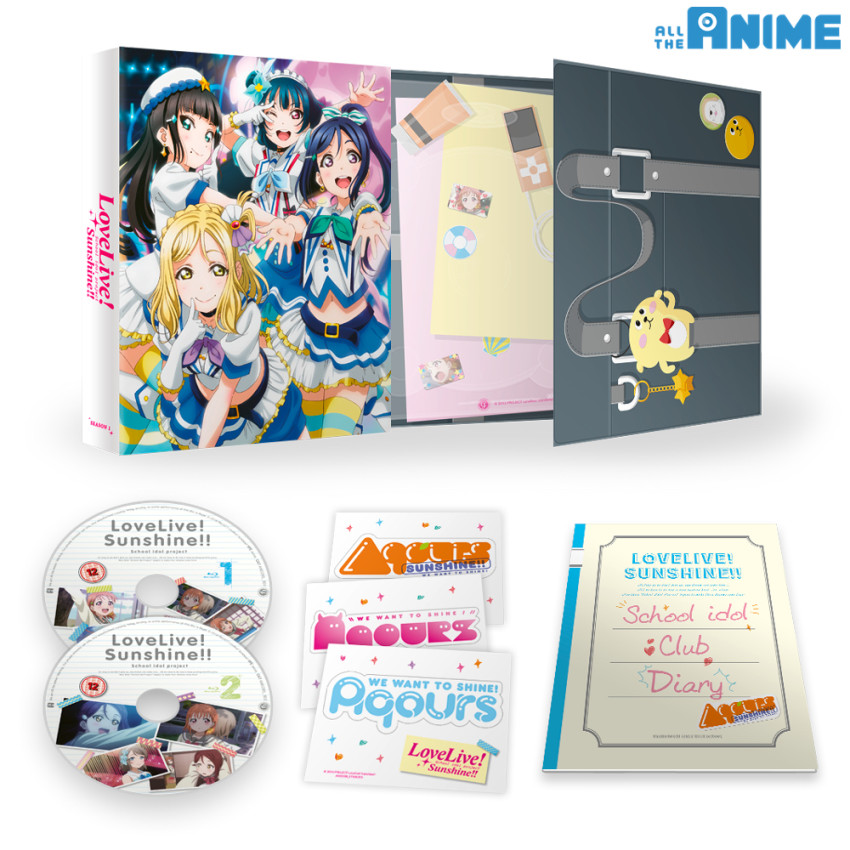 Signing out~!
Jeremy
1 comments
Matthew

May 18, 2018 7:39 pm

This boxset looks really good, I'm debating whether to rebuy the show as I own the Funimation release. But on another note I'm reducing the amount of anime I import from America to buy your releases instead. If anything your boxsets work out cheaper than importing from America and they look so much better.