[Unboxing] Rage of Bahamut: Genesis
May 26, 2016 · 0 comments
On Monday 6th June we bring a series that has a lot of people excited about, Rage of Bahamut: Genesis. We're going to be releasing it as a Ltd Collector's Edition Blu-ray set and on standard DVD.
Before we give you all the juicy details, a quick note that you can pre-order this from Amazon, Base, Anime-On-Line and even our own web shop right now. We can also confirm that HMV stores across the UK will be stocking this on day of release. And if you're coming to MCM London Comic Con this weekend, we'll have some copies of this available to buy at our stand (while stock lasts).
ABOUT RAGE OF BAHAMUT: GENESIS

Synopsis: Meet Favaro Leone, professional bounty hunter and casual scoundrel. When he's not crossing swords with his arch nemesis and former best friend, Kaisar Lidford, he can be found at the local tavern spinning tall tales to anyone who will listen. After a one-winged demoness overhears his drunken boasts, she wrangles him into an unbreakable contract that will force him to make good on the promise he made.
With nothing but a destination in mind, the pair set out on their grand adventure – completely unaware of the dark forces working to fulfill an ancient prophecy that will bring about the end of the world. That is, unless a charming rogue, a clueless demon, a disgraced knight, and a tiny zombie can band together to change the course of history.
Visually arresting and fun from start to finish, Rage of Bahamut is a can't-miss title for any action-fantasy fan.
WHAT'S INSIDE? WHAT'S ON THE DISCS?
Our Limited Collector's Edition Blu-ray release comes pack in a rigid box to stores to the two cases containing the discs, one disc in each box respectively, and there's also a whopping 300-page artbook containing key frames from the animation, presented as a flip book.
The standard DVD version comes with the two discs inside an amaray case.
On-disc content, that is identical between the two versions, include:
The complete series (12 episodes) in both English and Japanese with subtitles.
Episode commentaries for episodes 1 & 12
Episode 6.5 – Roundup
Clean Opening
Clean Closings
WHAT DOES THE FINISHED PRODUCT LOOK LIKE?
And now it's time for photos of the release itself. You can click on the images to enlarge them.
To give you more of an idea as to how the art book works, check out this video below.
And that concludes our unboxing of Rage of Bahamut: Genesis. We hope you're looking forward to it, because we certainly are!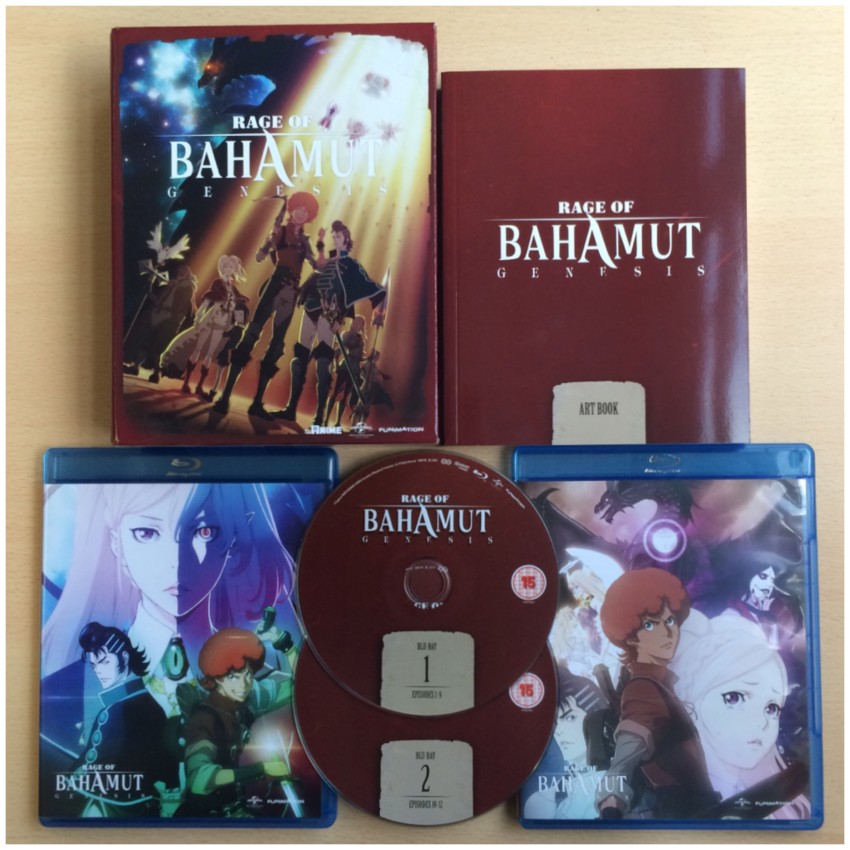 Signing out~!
Jeremy