[Unboxing] Sword Art Online II Part 3
March 30, 2016 · 0 comments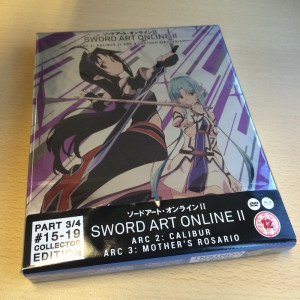 Our release of Sword Art Online II Part 3 is set to arrive on Limited Collector's Edition Blu-ray/DVD and standard DVD on 11th April. Today we've received a sample of the final product and wanted to show you what you can expect from our release.
First of all before going any further, you can pre-order your copy of our Sword Art Online II Part 3 release from the likes of Amazon, Zavvi, Base, Rice Digital and our own web shop. And we can confirm that HMV stores across the UK will be stocking this from day of release as well.
As a note, if you're not familiar with our previous releases of Sword Art Online II we have published unboxings of those too. You can find Part 1 HERE and Part 2 HERE.
Synopsis: The next chapter of Sword Art Online II!
ARC 2: CALIBUR 
News spreads among the players that the legendary Holy Sword Excalibur has been discovered inside ALO. This was actually the very sword that Kirito and Leafa found in the underground realm of Jotunheim several months ago when they saved Tonky. Hearing the news, they decide to acquire Excalibur before the other players. Summoning Asuna, Klein, Sinon and the others, they set off for the dungeon in Jotunheim for an exciting new mission!
ARC 3: MOTHER'S ROSARIO
Hearing rumors about an undefeated player known as Zekken, Asuna decides to mount a challenge. Zekken has been seeking opponents to duel for an ultra-fast 11-hit combo original sword skill. Not a single challenger has been successful so far, will Asuna succeed where so many have failed?
Contains episodes 15-19, which include the full Calibur Arc and the start of Mothers Rosario. All episodes feature the English dub and the original Japanese track with English subtitles.
WHAT'S INSIDE? WHAT'S ON THE DISCS?
Continuing the theme of our releases, the Limited Collector's Edition version of Part 3 comes packed in a rigid case that has mirror-like print effect around it. Inside that a digipack holding the two discs (1 x Blu-ray and 1 x DVD) and a 56-page booklet including materials translated from the original Japanese releases. If you're looking to pickup the standard DVD version, it is an amaray case with the DVD disc inside, as per our releases of Part 1 and 2.
The episode included in this release are 15-19. This features the entire Calibur arc (eps 15-17) and the first two episodes of the Mother's Rosario arc (eps 18-19).
On-disc content:
Episodes 15-19 with both English and original Japanese with subtitles language options.
Extra on-disc content:
Special Animation "Sword Art Offline Parts 6 & 7″ **Blu-ray disc exclusive extra**
Textless Opening (Calibur version)
Textless Ending
Original Web Previews **Blu-ray disc exclusive extra**
Physical Extra:
56 Page deluxe booklet featuring:
Episode analysis
Character and location information
Interview with Muneyuki Kanbe, the person in charge of goods licensing management for Sword Art Online.
An interview with Kazuma Miki and Tomoyuki Tsuchiya, the Editor-in-chief and Editor of Dengeki Bunko, the publication in Japan where people read the manga Sword Art Online.
WHAT DOES THE FINISHED PRODUCT LOOK LIKE?
And now the part you've been waiting for, photos of the actual product. As a note, as was the case with Part 1 and 2 because our release utilises a mirror-like effect on the rigid case we've done our best to showcase this in the photos. But trust us when we say it look nice and shiny! (You can click on the images to enlarge them.)
Now you're no doubt wondering what it will look like inside that lovely collector's box that came with part 1. Here's a look at that for you. **Sword Art Online Part 1 and Part 2 pictured below sold separately**
And for those of you looking to get the standard DVD version, here's what you can expect
And that concludes the unboxing of our Sword Art Online II Part 3 release. We hope you're excited to add to this to your collection. Available from 11th April.
Signing out~!
Jeremy
Tagged with: