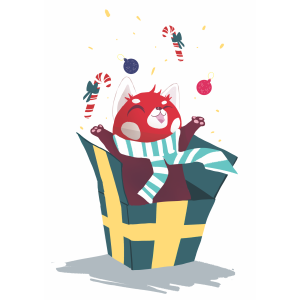 It's that time of the year! December is nearly upon us and that means it's the return of our annual AllTheAnime.com 12 Days of Christmas sales!
If you're not familiar with this it's pretty simple:
Offers can be found at our AllTheAnime.com online shop from 1st – 12th December
There will be a new offer (or offers) launched at 5pm every day, but the key detail is that the offers are only valid until 4pm the following day.
We're not giving any clues as to what to expect from the offers each day, except for one; the final day! (Read on below for details.)
It's that simple. There are some terms and conditions to be aware of – see the FAQ section at the bottom of this post – but otherwise that's pretty much what you need to know.
---
---
Day 12 Advance Information: Mystery Boxes~!
It's become a bit of a tradition that the final day of our offers will be the Mystery Bundle day and this year will be no different!
This year there will be three boxes available, with a maximum of 2 of each box person –
~ Mystery Box: RED ver. —
£44.99 each
500 units available
Will include: 5 x Blu-ray Collector's Edition titles + an exclusive bonus merchandise item exclusive to this RED Box, and a few juicy extra bits and bobs as well. (Over £250 SRP value)
~ Mystery Box: BLUE ver. —
£44.99 each
500 units available
Will include: 5 x Blu-ray Collector's Edition titles [different to what's included in the RED box] + an exclusive bonus merchandise item exclusive to this BLUE BOX, and a few juicy extra bits and bobs as well.  (Over £250 SRP value)
[The merchandise item is different to the one included in the RED Box.]
~ DVD Box —
£29.99 each.
There will be only 50 units available. (Yes, 50. Not a typo.)
Will include 5 DVDs; the 5 titles will be pre-determined set selection of standard DVD versions of titles included across the two Blu-ray boxes. (It'll be the same selection in each DVD box.)
**NOTE for all Mystery Boxes: The titles included are a pre-determined selection. So for example, if you bought two of the Red Box, you would receive the exact same contents twice.
This the only offer we'll tell you about in advance is day 12: Mystery Box Day~! But we know some of you like to budget in preparation for this, so we hope this help 🙂
---
F.A.Q. (Frequently Asked Questions) Section about 12 Days of Christmas Sales
UPDATED: 5TH DECEMBER 2019
New additions will have a '+' symbol next to it.
GENERAL Questions –
~ When do the sales begin and end?
The sale period launches on 1st December 2019 and concludes on 12th December.
New offer(s) launch each day at 5pm and conclude the following day at 4pm.
~ Are there any restrictions on these offers?
Unless otherwise noted, like on day 12 (noted above), there are no restrictions. However, if an order seems to be of a wholesale nature we may cancel your order without warning.
~ Will there be any new products available to order/pre-order during the sale period?
Maybe… 😉
~ Will there be any recently released products included during the sales?
Our rule for these 12 Days of Christmas offers is that a product release after April 2019 will not be included in the sale. But with that being said, there may be some potential exceptions to this rule –
— There may be an instance where a particular product is available to order at its early bird offer pricing from earlier in the year
— And as alluded to in the question above, there may be new products available to order for the first-time during this sale period.
---
Shipping / Fulfilment Questions –
~ So following what happened last year with your supplier, how are you going to prevent those circumstances from happening again?
Yeah, trust we haven't forgotten what happened last year and this is something we've been working on since then. To help keep this answer as short and to the point as possible, here's what you need to know –
— Fulfilment of all orders (excluding any Day 12 orders) will be handled by our regular fulfilment house team. We have a great working relationship with them have a very reliable streamlined form of communication established, so it means we can have actual correct up to date information as needed when it comes to the status of orders.
— The only exception to this will be any Mystery Box orders, which are all being handled at our HQ in Glasgow.
~ How long will it take an order to dispatch?
Obviously this is one of, if not, the busiest time of year for our online shop. So unless otherwise noted, although we hope for this to be quicker than this we're asking to allow up to 7 working days for any order to be dispatched for any order placed during our 12 Days of Christmas sale period.
The reason for this is to allow our team to be able to order in additional stock as needed, and factoring current delivery times from our supplier. (Some of you may have noticed at the top of our online shop, we have a note highlighting we recently changed our supplier of stock. So that is factoring that in, plus additional time for being this time of year in general.) Obviously our aim is to get every in-stock order shipped quicker than 7 working days, but we're noting this now so expectations can be managed accordingly.
~ How will parcels be shipped?
All parcels will be shipped by Royal Mail. There will be no courier service implementation this year.
Worth noting the only exception to this if a parcel is required (due to sizing, weight, etc) to be sent via Parcel Force.
~ Will there be a tracked shipping option for delivery?
Yes. Standard rules apply for this. Tracked shipping is selectable during the checkout process.
~ If an order includes multiple items and/or a pre-order item, when they be shipped together of separately?
We'll be implementing our usual shipping policy of split shipments; meaning that the item(s) will be shipped as we have stock available to send. So if you order multiple items, chances are that they could be sent separately.
The only exception being a pre-order product, which won't be shipped until closer to date of release (noted in the product listing) or when stock is available.
+ ~ Can multiple orders be combined or multiple orders be shipped together at once?
Due to the volume of orders we're receiving and the logistics involved, we cannot do this. We thank you for your understanding.
---
Terms & Conditions of the 12 Days of Christmas sales at AllTheAnime.com
~ Returns policy
— Our standard returns policy is in effect during this sales period (see FAQ section on our shop HERE.)
~ Refund Policy
— Again, please see our standard returns policy on the FAQ Section of our shop HERE)
— The only exception to this is for any kind of bundle offer, such as the Mystery Box. If you purchase any item labeled as a bundle or a Mystery Box we are more then happy to refund this but only on the basis that all items are still brand new and sealed, and that all items as part of the bundle are returned. We will not refund any one item included as a part of a bundle/mystery box.
— We do not offer partial refunds/discounts on defective products.
---
And that's what you need to know about our 12 Days of Christmas offers at our AllTheAnime online shop! Day 1 kicks off this Sunday (1st December) at 5pm. See you then!
Signing out~!
Jeremy