2021 Works in Progress
October 8, 2020 · 0 comments
By Andrew Osmond.
2020 was supposed to be a year full of big anime movie releases. As we all know, Covid had other plans, and anime studios had to adjust as best they could. For example, one of the summer cinema releases was meant to be A Whisker Away, a delightful "girl turns into a cat" fantasy written by Mari Okada (Maquia) and animated by the Colorido studio (Penguin Highway). It ended up going straight to Netflix.
It seems likely though, that many of the big "2020" films will be released in cinemas, but perhaps not till next year, along with the films planned for a 2021 release anyway. Here are six of the most anticipated…
INU-OH
This March, fans were shocked by news that feted maverick director Masaaki Yuasa was "retiring." To be precise, he was relinquishing his role as the President of Science Saru, the studio he'd founded. However, that certainly didn't mean Yuasa wasn't going to make more anime at Saru, as proved by the preview of his next film, Inu-Oh, at this year's virtual Annecy animation festival.
For the first time, Yuasa is telling a historical story, set in 14th-century Kyoto. The main characters are two boys who begin to perform together. One is the titular Inu-Oh, a jovial young Noh performer who was born with "unique physical characteristics" which adults see as deformities, forcing him to hide his face with a mask. Inu-Oh's friend is Tomona, a blind musician who plays a biwa, a kind of lute. Yuasa describes them as modern pop idols who rise to stardom in an ancient era, as if the Beatles had transformed culture six centuries ago.
"We often think of history as moving in one straight line, but it actually branches off and people and events in those branches have been forgotten or disappeared," Yuasa said in the Annecy presentation. "So what if over 600 years ago, there was a pop culture and stars in Japan like the ones we have today? I felt a real significance in presenting the lost pop stars that aren't mentioned in history… To us in the modern world, Noh is an imposing art, but back then it was like kabuki, enjoyed by the general public. Unlike the slow-moving modern Noh, the pace was much faster."
Anime has a tradition of presenting irreverently anachronistic takes on Japanese history, blending in modern sensibilities. Samurai Champloo and Gintama spring to mind. However, the glimpses of Inu-Oh in the Annecy presentation suggest a film that looks markedly different both to conventional anime and to Yuasa's previous work. The extracts evoke Isao Takahata's Kaguya with artfully unfinished pictures – used to depict the world that the blind Tomona creates from sounds – and a refinement far from Gintama or Samurai Champloo.
Apart from Yuasa, another huge name on the film is Taiyo Matsumoto, credited with Character Creation. Known for a graphic style that's both abrasive and stupendous, Matsumoto's manga include Tekkonkinkreet, which was spectacularly animated as a film by Studio 4C. It was soon followed by Ping Pong, which was filmed in live-action by Fumihiko Sori (Vexille) in 2002, then animated by Yuasa twelve years later. Both Tekkonkinkreet and Ping Pong centre on the friendships between oddly matched boys, which may influence Inu-Oh and Tomona in Inu-Oh.
Beyond Matsumoto, the film has a separately credited Character Designer, Nobutake Ito, who had the same role on Ping Pong and other Yuasa anime: Lu Over the Wall, Night is Short, Walk on Girl, Tatami Galaxy and Kemonozume. The scriptwriter is Akiko Nogi, who previously wrote the live-action film of the manga I am a Hero.
There was a historical Noh performer and playwright called Inu-Oh in the 14th century who is said to have enjoyed great success, but few documents about him survive. The film's version of Inu-Oh is directly based a novel by feted author Hideo Furukawa, published only this year. Furukawa is described in the Encyclopedia of Science-Fiction as "straddling both literature and genre fiction" and having "an insistent sense of bricolage, hommage and recursion," which means he rips off or riffs off other creators, depending on your preference.
Furukawa's book has the full title The Tale of the Heike: Chapter of Inu-o, with the author presenting it as a "new" chapter in the real medieval chronicle, Tale of the Heike, which Furukawa had retold in a 900-page tome a few years before.
MOBILE SUIT GUNDAM: HATHAWAY'S FLASH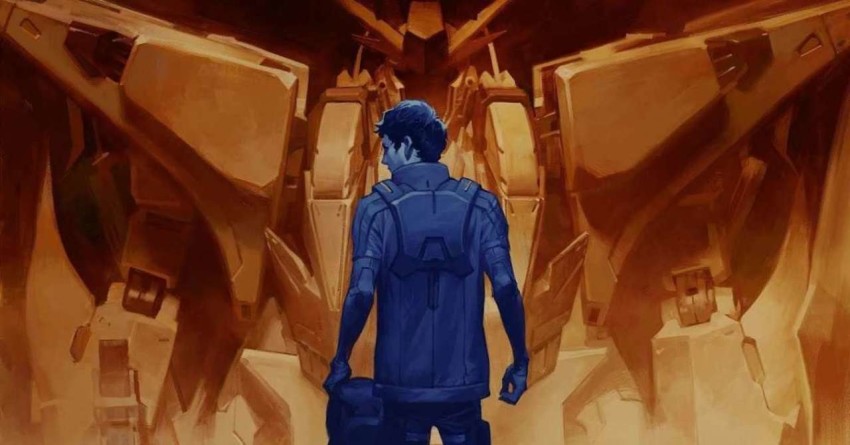 Through the 2010s, the Gundam franchise highlighted its classic timeline, the Universal Century, with vastly more lavish visuals than when it was depicted in the 1970s and 1980s. Gundam Unicorn was a splendid continuation of the old stories; Gundam: The Origin filled out the background; and the 2018 film Gundam NT (aka Gundam Narrative) tied the history together. Gundam: Hathaway's Flash promises to take things forward again.
As Gundam fans know, Hathaway is the son of the heroic captain Bright Noa, a mainstay of the franchise. As a teenager, Hathaway was a central character in the 1988 film Char's Counterattack, where he became involved in the Earth-Zeon conflict with tragic consequences. Hathaway's Flash will pick him up as an adult twelve years on.
The first of a planned trilogy, the film will be directed by Shuko Murase, whose experience on the franchise goes back to 1990s titles including Gundam F91 (Animation Director) and Gundam Wing (Character Design). Away from Gundam, Murase directed the devastatingly downbeat SF film Genocidal Organ. Will Hathaway have a comparable sensibility? Hathaway's composer will be Hiroyuki Sawano (Attack on Titan), following his work on Unicorn and NT.
Unlike recent Universal Century titles, Hathaway's Flash has a direct link to the father of the franchise. The film is adapted from a trilogy of novels by Yoshiyuki Tomino, published in 1989-90. Reportedly the books present Hathaway as a rebel leader, fighting Earth in the tradition of the legendary Char. That's also suggested in the film's trailers, though Char isn't Hathaway's only role model, judging by how he introduces himself. "I'm Noa… Hathaway Noa."
Hathaway will be voiced in Japanese by Kensho Ono, who was the Japanese dub voice of Harry Potter, and Miles Morales in Spider-Man: Into the Spider-Verse. Mecha fans may remember Ono as Slaine in Aldnoah.Zero; he was also Tetsuya in Kuroko's Basketball, Tomohiro in A Silent Voice and the enigmatic Kite in Masaaki Yuasa's recent Japan Sinks: 2020.
JOSEE, THE TIGER AND THE FISH
This looks like a film for fans who appreciate the "real-world" anime films that have grown in prominence in the 2010s, such as A Silent Voice and I Want to Eat Your Pancreas. The studio name should also turn heads – it's by Bones. While the studio is associated with top-drawer franchises from Fullmetal Alchemist to My Hero Academia, Bones isn't often linked with real-world subjects, though it made the outstanding historical adventure film Sword of the Stranger (2007).
Josee, the Tiger and the Fish is the story of Tsuneo, a male university student, and Josee, the big-haired, strong-willed girl he meets who's confined to a wheelchair. Somehow Tsuneo becomes her "caretaker," and given the personality clash that's played up in the trailer, it's hard not to predict where their story will go. It's also impossible not to wonder if the choice of material was influenced by Silent Voice and Pancreas, which both involve girls with disabilities or medical conditions. However, the source short story is a proven property – written in 1985 by Seiko Tanabe, it's already inspired a live-action film in 2003.
Judging by the trailer, the film takes advantages of the anime medium to show the teenagers' fantasy worlds, not unlike Pancreas. It's scheduled for cinema release on 25th December in Japan.
THE DEER KING
This anime project was announced in 2018, though it seems uncomfortably topical now. It's a fantasy story, but instead of a Dark Lord, this world is threatened by a mysterious illness. The hero is a soldier who escapes imprisonment and meets a young girl. The story has been described as a medical fantasy, even winning the Japan Medical Novel Award in 2015. The source books are by Nahoko Uehashi, who also wrote Moribito and The Beast Player Erin, both made into TV anime by Production I.G.
It's also Production I.G which is making this film, which should be enough for many fans to pay attention. It also has a couple of really heavy-hitting directors. Masashi Ando is an anime giant – he was animation director on Spirited Away, Your Name, Tokyo Godfathers and Paprika, which is a track record that's pretty hard to match. He's Chief Animation Director on Deer King as well, and the Character Designer.
Ando's co-director is Masayuki Miyaji, who directed the ingenious meta-historic adventure film Fuse: Memoirs of a Huntress, as well as Bones' SF series Xam'd: Lost Memories.
KNIGHTS OF SIDONIA: AI NO TSUGUME
It's been five years since we last left the crew of the spaceship Sidonia, still battling the alien Gauna for survival. During the Cloud Matsuri virtual festival this May, the President of Polygon, Shuzo John Shiota, recalled how the TV series was crucial for the studio, marking an influx of new staff and being Polygon's first collaboration with Netflix, where the two TV seasons can be seen.
Ai no Tsugume will be a brand-new Sidonia adventure, not to be confused with a previous cinema compilation in 2015. It won't follow the source Sidonia manga by Tsutomu Nihei, but will go its own way. The trailer makes clear this is a direct continuation, bringing back many of the main characters, with ethereal music by the Japanese electronic band CAPSULE.
EVANGELION: 3.0+1.0: THRICE UPON A TIME
Okay, this is the one that many of you are really waiting for. Eva fans have been stuck at the infuriatingly inconclusive ending to the third Rebuild film since 2012. The latest poster for Evangelion 3.0+1.0 came with the English-language tagline, "Bye-bye, all of Evangelion." After a quarter-century, is this the real, definitive, End of Evangelion? Will it make sense? Will Shinji be happy? Will it end with applause or with someone feeling sick? And most important of all, is Pen-Pen in it?
Heaven only knows, although we do know the new film's opening ten minutes is full of cheerful spectacle, with the kind of irresponsible use of national monuments that we usually only see in Godzilla films. Maybe we should watch Anno's 2016 Shin Godzilla again for clues. The film's opening was streamed online last summer and is a doddle to find on YouTube, complete with a massive cheer by a French convention audience (you'll see why) and some 1.5 million views.
Andrew Osmond is the author of 100 Animated Feature Films. For details of works in progress at Scotland Loves Anime, see our website.