UPDATE: 26/10/2016 with Guest of Honour Signing Session times and other information. (Updates have been highlighted in red throughout this page.)
We're just under two weeks away now only days away from the MCM London Comic Con event at Excel London so it's the perfect time to tell you all the reasons you should swing by our AllTheAnime stand over the course of this weekend!
If you have got your tickets yet you get them from the official website of MCM London Comic Con.

UPDATE – WHERE TO FIND US AT MCM LONDON COMIC CON, OCTOBER 2016
Here's a map (which you can find the full version of at the MCM website HERE) of where out booth on the show floor is. We are in the North Hall!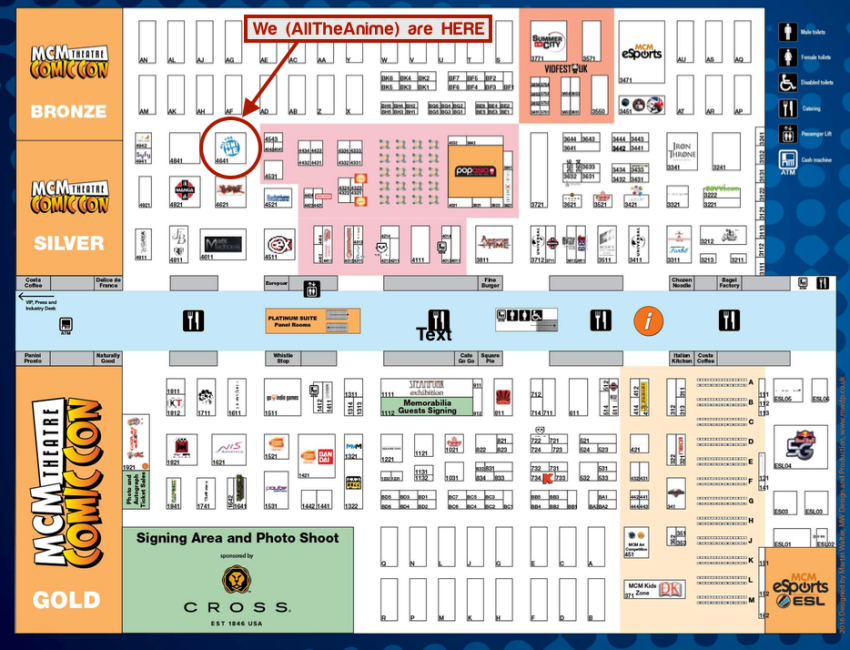 REASON 1: CRUNCHYROLL X ANIME LIMITED
Your eyes don't deceive you! We're delighted to announce we are collaborating with the forerunners in the current landscape of anime streaming simulcasts, Crunchyroll, and they will be at our AllTheAnime booth the entire weekend!
Crunchyroll Giveaways ~ They'll have some exclusive giveaways (strictly while stock lasts) for Premium Subscribers of their service all weekend! You simply need to prove you're a Premium Membership subscriber to the representative at the stand and you'll be able get an exclusive free gift! You'll get a free coaster – you have a choice between one of two designs – and you'll even get a free Re:Zero bag! Again, these giveaways are exclusively for Crunchyroll Premium subscribers and are strictly while stock lasts.
Crunchyroll Screening Room ~ Back at MCM London in May we had a screening room at our booth in conjunction with FunimationNow and we loved how so many of you wanted to chill out and watch some anime throughout the weekend.
At MCM London Comic Con in just under a few weeks we happy to say the screening room back at our stand! However this time we'll be offering screenings of many subtitled anime that are currently streaming at Crunchyroll and will be coming to home video in the future as part of our partnership with them too!
(Also worth noting that the English language dub SimulDub streaming version of these same shows are/will be available through the FunimationNow service.)
We'll have a full schedule of what anime you can watch over the weekend in our Screening Room published before the event begins. So be on the lookout for details.
UPDATE – Screening room schedule will be posted before doors open on Friday (28th).
REASON 2: ALL THE ANIME SHOP
It's become a #1 destination for anime fans across the UK at events we attend back in May London was no different. At MCM London Comic Con later this month the official AllTheAnime shop is back in full force giving you the opportunity to add new anime to your collection before anywhere else!
We can exclusively reveal that (strictly while stock lasts) we will have MCM Exclusive Pre-Sales of the following titles at our stand:
Psycho-Pass The Movie on standard DVD and Ltd Collector's Edition Blu-ray/DVD set.
Fullmetal Alchemist Part 1 Ltd Edition Blu-ray
Fullmetal Alchemist Part 2 Ltd Edition Blu-ray
The Tatami Galaxy Ltd Edition Blu-ray
Gundam Reconguista In G Blu-ray
Project Itoh: Harmony on standard DVD and Ltd Collector's Edition Blu-ray/DVD Steel Box.
Escaflowne Ultimate Edition Blu-ray set
Lucky Star on Blu-ray
And even our upcoming Blu-ray release of Outlaw Star!
Not enough for you?
Well have no fear, if you've been meaning to pickup some of our recent releases we'll have a large selection of those available to purchase too!
Still not enough for you?!
Okay, we'll also have a selection of the newest upcoming Funimation UK titles including High School DxD BorN (season 3) and Yurikuma Arashi ahead of their general retail dates releases too.
Hang on, that's STILL not enough for you?!
Well, have the heard of Studio Khara before? (They're the people behind the Rebuild of Evangelion films and the Japan Anima(tor) Expo project.) We're going to be stocking some of the newest books from Khara's Japan Anima(tor) Expo range! We can confirm this selection will include Nishiogikubo, which is the same short the Guest of Honour Takeshi Honda (read more about him below) worked on. And we'll also have Robot on the Road too!
And if even after all that, that's still not enough for you we will 500 free posters of Makoto Shinkai's new film 'Your Name' to giveaway on a first-come first basis. There will be a set amount per-day of the event to ensure everyone has a fair chance to get one.
REASON 3: TWO ANIME GUESTS OF HONOUR!
This MCM London Comic Con there are not one, but TWO Anime Guests of Honour in attendance! They will both be involved in their own respective Guest of Honour Panels and will be having signing sessions too! Let's tell you about the two guests.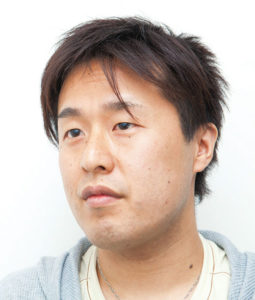 Naoyoshi Shiotani
Mr, Shiotani is coming to MCM London Comic Con for the first time to celebrate our release of Psycho-Pass The Movie! Mr Shiotani is the director of not only the movie but also the two TV series! He literally is Mr. Psycho-Pass in our eyes.
(In case you missed it above, we'll have it on sale at our stand.)
He'll be having his Anime Guest of Honour Panel on the MCM Silver Theatre on Saturday at 2:00pm.
And if that wasn't enough he'll also be having two signing sessions in the MCM Guest Signing Area on Saturday and Sunday.
UPDATE: Naoyoshi Shiotani signing sessions will be at
Saturday from 15:00-16:30
Sunday from 12:00-13:30
Signing session is free-of-charge. There will be a signing card for you to get signed or you can bring one item of yours with you to get signed by Mr. Shiotani. 
But that's not all! We have a VERY unique opportunity on the Saturday of MCM London. We're going to have a special Psycho-Pass themed area at our stand on the Saturday (UPDATE: and now Sunday too) of the event you'll be able to get your photo with Mr.Shiotani in our Psycho-Pass themed area! There's even be a standee of Akane Tsunemori too!
UPDATE: Photo times with Naoyoshi Shiotani times at AllTheAnime stand are
Saturday from 12:00 – 12:30pm
Sunday from 11:00 – 11:30am
And best of all, this photo opportunity is absolutely free of charge! This photo opportunity will be strictly on a first-come first-served basis. There will be a dedicated area for queuing by the Anime Limited stand. You will need to bring your own camera with you, be it a mobile phone or a camera, and our staff will take the picture for you! Please note this is NOT a signing session, and is a photo opportunity only.
Takeshi Honda
In what is sure to be a treat for everyone, Mr. Honda will be coming to MCM London Comic Con for the first-time. He has a impressive list of credit to his name, including working as Mechanical Animation Director on Evangelion 1.0, Animation Director on Evangelion 2.0 and Chief Animation Director on Evangelion 3.0. But it's not just Evangelion Mr. Honda has worked on, other credits include working on Hayao Miyazaki's Ponyo, Satoshi Kon's Millenium Actress, Kill la Kill, Mamoru Hosoda's The Boy and the Beast, Studio Ghibli's When Marnie Was There, A Letter To Momo, Space Dandy and Ghost in the Shell 2. He has also been involved in the popular Japan Anima(tor) Expo project too!
It's very rare treat to meet him in person and you'll have the opportunity to do so during two-signing sessions across the weekend, on Saturday and Sunday in the MCM Guest Signing Area.
UPDATE: Signing Session times with Takeshi Honda will be at
Saturday from 11:30 – 13:30
Sunday from 14:00 – 16:00
Signing session is free-of-charge. There will be a signing card for you to get signed or you can bring one item of yours with you to get signed by Mr. Honda. 
If that wasn't enough, there's even going to be an Anime Guest of Honour Panel on Sunday at 12pm at the MCM Silver Theatre, where you'll be able to hear him discuss various aspects of his career.
REASON 4: BIG NEWS AND PANELS
Another staple of our what we do over an MCM London Comic Con weekend is bring you panels and also delivering some big news! This time around will be no different as we have a veritable boatload of acquisitions to keep people busy!
As we did back in May, we're going to have a dedicated announcement area on our stand and at specific times of each day there will be a new announcement revealed on the wall for your eyes to see! So come along – take photos and tweet away to let your friends know what we're bringing in 2017 to the UK & Ireland!
We will publish the times when announcements will be made closer to the event, but the one thing we can say is that they will not clash with either of our AllTheAnime panels or the Guest of Honour panels across the weekend.
But if you can't be at the event, don't you worry we haven't forgotten about you. As there will be an announcement roundups here at our Anime Limited Blog in the evening on the Friday, Saturday and Sunday.
However, we like to kick things off early so we're telling you now that there will be an announcement the night before MCM begins! Keep an eyes peeled as sometime after 6pm on the Thursday evening we'll have some news to share with you.
If you're at the event make sure you swing by our AllTheAnime Panels on Friday on the MCM Silver Stage at 3:30pm and Sunday in Platinum at 13:30. We'll have some cool stuff to say at those too!
Okay, let's be frank. We've given you WAY MORE than 4 reasons to visit us at MCM London Comic Con net week. As you can see it's a mammoth weekend of activity we planned for you. We hope you're looking forward to it as much as we are! And if you're coming to the show, we'll see you there.
Signing out~!
Jeremy