Akiyuki Nosaka 1930-2015
December 10, 2015 · 3 comments
By Andrew Osmond.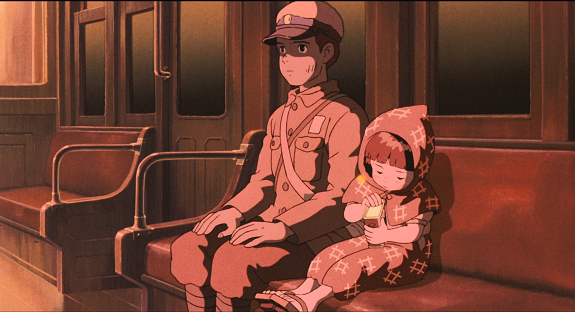 "My sister's death is an exact match with the novel," Akiyuki Nosaka said in 1987, while his book Grave of the Fireflies was being turned into an anime film by Isao Takahata. "It was one week after the end of the war. At the countryside of Fukui prefecture where I was, it was the day the restrictions on lighting were removed… It was evening, and I was picking up my sister's bones. I was coming home in a daze when I saw the village lit up. There was nothing like my surprise then. My sister died in my side of the world and the light was coming back in the other."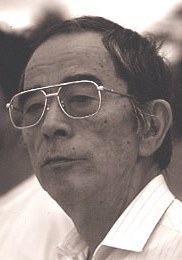 Nosaka had a long life – he died at 85 on 9th December, living long enough to see the seventieth anniversary of the war's end. However, he is best known, both inside and outside Japan, for Grave of the Fireflies. This is Nosaska's fictionalised account of his wartime experiences as a teenager, and the tragic death of his infant sister from malnutrition just after Japan's defeat. Most people know the anime version of his story, in which a teenage boy and his four year-old sister lose their mother in an American air-raid on the city of Kobe. They try to live outside the system, making their home in an abandoned air-raid shelter, but their food runs out and they perish.
Beyond the fact that the real Nosaka survived, the actual events differed from those in his novel in ways that were very painful. In 1987, Nosaka confessed that, "Honestly speaking, there was relief that (my sister) died and my burden was gone. No-one would wake me up in the night with her crying, and I wouldn't have to wander around with a child on my back any more. I'm very sorry to say this about my sister, but I did have those feelings too. That's why I haven't gone back to my novel (Grave of the Fireflies) to re-read it, since I hate that. It must be absolutely true that Seita [the fictional boy in Fireflies] must have thought of his sister as a burden too. He must have thought that he could have escaped better if it weren't for her." And yet, Nosaka's sister meant everything to him. "My only support back then was my two year -old sister. If I was stealing, I could feel it was justified if it was for my sister… My feelings about not wanting to grow up, or the guilt that I was doing bad things in the process of growing up, were all compensated for by the existence of my sister."
Nosaka was born in Kamakura city in 1930. His biological mother died soon after, and he was adopted by his maternal aunt, Aiko, and her husband. In 1944, the family also adopted a baby girl, Keiko. They were living in the city of Kobe, which came under air attack at the end of World War II. The family house was destroyed in the bombardment. For decades, Nosaka would claim his adoptive mother died in the attack (as Seita's mother dies in Fireflies). In fact, Aiko not only survived, but she also rescued Keiko, carrying her out of the burning town despite her own terrible burns (in Fireflies, it is the boy Seita who saves his sister.)
Nosaka and Keiko were sent to stay with a widowed relative of Aiko, but food was short. Keiko, who was too young to even swallow hard food, suffered especially. The siblings moved out in the summer, apparently because of tensions with the widow and her relatives, and stayed a month in a bomb shelter beside a pond, as depicted in Fireflies. Unlike the children in the story, they were then moved to another house, but Keiko's decline continued. She died on 21st August, days after the war's end.
For Nosaka, there were more hardships. Two years later, he was caught stealing and sent to a detention centre in Tokyo, where the conditions were unimaginably horrific – some other boys in the centre died while he was imprisoned there. He was eventually freed thanks to the intervention of his biological father, a politician, and came into his care. Twenty years on, with the scars of World War II fading from Japan, Nosaka started to commemorate his experiences in fiction, including Grave of the Fireflies, which was published in 1967.
By then, Nosaka was already creative in happier fields. A song-writer and lyricist, he wrote a children's song in 1963, "Omocha no Cha Cha Cha" ("Toys Dance the Cha Cha Cha"), which won him the Japan Record Award. Before Fireflies, he had already published a satirical novel, The Pornographers (subtitled "An Introduction to Anthropology"), about a harried small-time distributor of blue movies in the seedy streets of Osaka. It was turned into an acclaimed live-action black comedy film by Shohei Imamura, released in 1966. Later in the 1980s, Nosaka turned to politics, including a brief spell in Japan's House of Councillors.
Grave of the Fireflies was not the only anime adapted from Nosaka's work, although it was the most famous. In the anime world he became known for his wartime associations, and would often see a flurry of rights sales as another anniversary swung around. My Air Raid Shelter, in which a boy in wartime Japan comes to believe his father's spirit haunts the titular edifice, was released on the 60th anniversary of the war's end. Kiku and the Wolf (pictured), in which a Japanese refugee in Manchuria gains an unlikely ally, was turned into an anime on the 63rd anniversary. The same year, 2008, also saw the animated TV special The Sea Turtle and the Boy, in which the wildlife of Japan's coast also suffer the deprivations of wartime conditions.
Nosaka died a family man, survived by his wife and two daughters (who themselves were members of the famous Takarazuka all-female performance troupe). It would be unfair to define his full life by the hideous experiences of his youth – and yet, because of his Grave of the Fireflies novels and the animated film, that is how Nosaka will be remembered by the world.
3 comments
Mares

April 18, 2018 8:22 pm

Just saw Grave of the Fireflies and was not the same afterwards . It made me search for news about the author. I am happy to see that he lived a full life and am sad that he had to carry these memories around . It took much courage to write this this story to bear witness to those terrible events that he and so many lived through during those years. Was it the 20 year anniversary of the war or seeing another disaster like Vietnam emerge that pushed him to write this story? At any rate, thank you Nosaka San

Aadric Cayanan

April 2, 2020 2:05 am

Hi there! I wanted to know the references of your article. Really hope you'd reply despite this website's inactivity. I'm writing a film paper about this too. I'd super appreciate it if you could share your references. Many thanks :)

Kioto machida

February 16, 2022 10:53 am

This broke my heart.....i never imagine that could have such an impact on me,i cried everytime i think of them ....