All The Anime Metaverse Panel Announcements Roundup
August 13, 2020 · 0 comments
It might be a Thursday, but that doesn't mean we don't have some exciting news to share with you! Our panel at the Reedpop Metaverse online event has just concluded in the last few minutes (at time of publishing) and we wanted to give you a roundup of what was announced, as well as adding a few additional details we couldn't mention during the panel.
So read on below for the news regarding our latest additions to our catalogue, The Promised Neverland, Children of the Sea and the classic film by Satoshi Kon, Millennium Actress!
And we have some info about a mailing list you can sign up to with regard to our Ultimate Edition Blu-ray release of Neon Genesis Evangelion that will be arriving in 2021.
---
SIGN UP TO A MAILING LIST FOR NEWS ON NEON GENESIS EVANGELION ULTIMATE EDITION!
As announced during our AllTheAnime panel at Cloud Matsuri back at the end of May, we will be bringing Neon Genesis Evangelion to Ultimate Edition Blu-ray in 2021.
We currently do not have details to share other than the fact it will include the the original 26 episode TV series and the DEATH (TRUE)² and End of Evangelion movies.
But we know a lot of you are clamouring for more details as soon as they're available, so you can get the more information sent to you directly as it becomes available, we have created a special sub-site – https://evangelion.alltheanime.com – where you can sign up to an email mailing list. So any updates will be sent to you directly as well as being updated on that site as well accordingly.
We do want to it make it clear that this mailing list will only receive updates when there are updates we can share.
You can sign up to this mailing list in the link below –
SIGNUP TO EVANGELION MAILING LIST HERE
---
And with that being said, let's move onto some details regarding our new title announcements!
---
NEW TITLE ANNOUNCEMENT
THE PROMISED NEVERLAND
Synopsis: "Fight your destiny in this world."
As much as the children love her, she is not their mother. Although they live together, they are not related either. Grace Field House is where children without parents are taken in. An irreplaceable home for the 38 children that all live happily every day, even if they were strangers at first. However, the happy days at Grace Field House ended abruptly. In truth, their home is a farm, and the children are just human meat, food for the demons. Meanwhile, the Mom they love is a watchdog.
"I don't want any more of my family to die!"
With that one wish, Emma and the other children begin to gradually uncover the truths behind their lives. It's demon versus children, with the children attempting to escape their destiny.
Director:
Studio: CloverWorks (Rascal Does Note Dream of Bunny Sempai, Darling in the FRANXX, Fate/Grand Order -Absolute Demonic Front: Babylonia)
Watch a trailer for the series below –

Initial details we can share about our release: We'll be releasing a Collector's Edition Blu-ray set of Season 1, tentatively scheduled for release later this year – during the fourth quarter of the year most likely.
We can't confirm all the contents at this time, but can at least tell you it will include all 12 episodes of Season 1 with both English and original Japanese with English subtitles viewing options.
---
NEW TITLE ANNOUNCEMENT
MILLENNIUM ACTRESS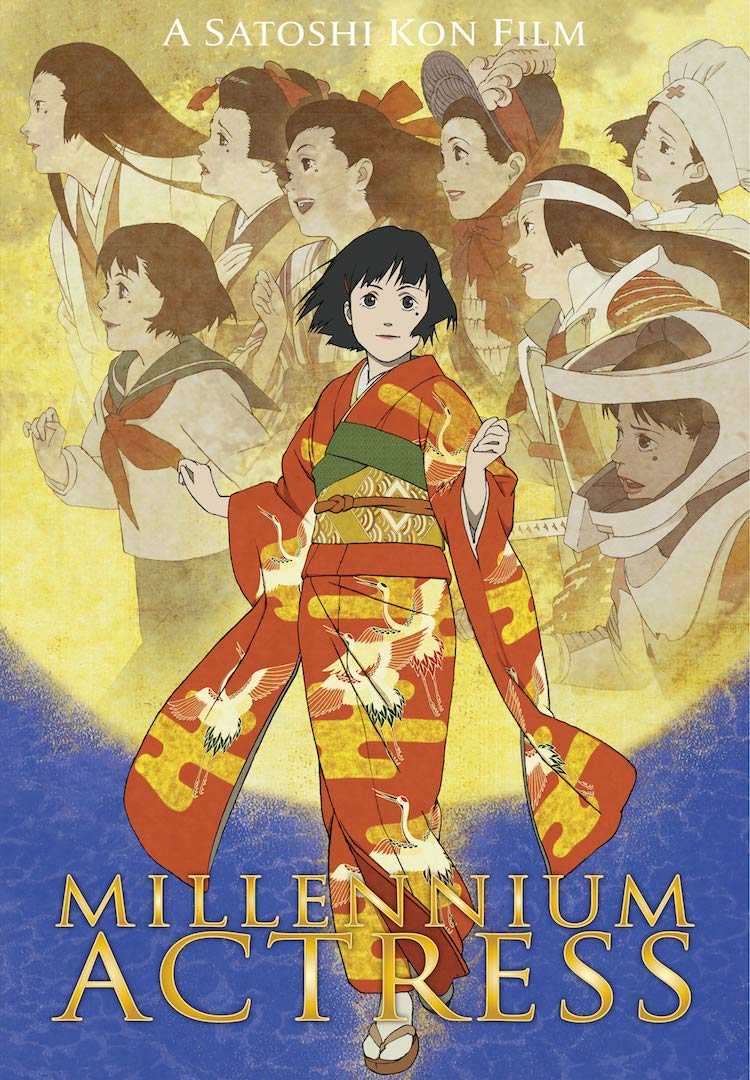 Experience the gorgeous new restoration of what many believe to be Satoshi Kon's (Perfect Blue, Paprika) greatest work, Millennium Actress.
Boasting countless awards, including the Grand Prize in the Japan Agency of Cultural Affairs Media Arts Festival, which it shared with Hayao Miyazaki's Spirited Away, Millennium Actress is a must-see for anime fans of all ages.
Synopsis: When the legendary Ginei Studios shuts down, filmmaker Genya Tachibana and his assistant are tasked with interviewing its reclusive star, Chiyoko Fujiwara, who had retired from the spotlight 30 years prior. As Chiyoko recounts her career, Genya and his crew are literally pulled into her memories where they witness her chance encounter with a mysterious man on the run from the police.
Despite never knowing his name or his face, Chiyoko relentlessly pursues that man in a seamless blend of reality and memory that only Satoshi Kon could deliver.
You can watch a preview of the film, used for promotion of it screening at the Glasgow Film Festival earlier this year, below –

Initial details we can share about our release: This will be coming to Collector's Edition Blu-ray. The Blu-ray disc will utilise the recent remastered version of the film and have viewing options in English (the recent new dub that was produced) and original Japanese with English subtitles.
This release is very tentatively scheduled for around the very tail end of the year, but we'll update when we have further details.
---
NEW TITLE ANNOUNCEMENT
CHILDREN OF THE SEA
CHILDREN OF THE SEA is the latest feature from Japan's STUDIO4°C (known for Tekkonkinkreet, MFKZ, Mind Game, Animatrix, Batman: Gotham Knight, and others), and is directed by Ayumu Watanabe, with a score by award-winning composer and longtime Studio Ghibli collaborator Joe Hisaishi (Spirited Away, Howl's Moving Castle, My Neighbor Totoro).
CHILDREN OF THE SEA is adapted from the manga of the same name by author Daisuke Igarashi, which won the Excellence Prize at the Japan Media Arts Festival.
Synopsis: When Ruka was younger, she saw a ghost in the water at the aquarium where her dad works. Now she feels drawn toward the aquarium and the two mysterious boys she meets there, Umi and Sora. They were raised by dugongs and hear the same strange calls from the sea as she does.
Ruka's dad and the other adults who work at the aquarium are only distantly aware of what the children are experiencing as they get caught up in the mystery of the worldwide disappearance of the oceans' fish.
You can watch a trailer for the film below –

Initial details we can share about our release: This film will be getting a Collector's Edition Blu-ray+DVD release, tentatively scheduled for during the fourth quarter of the year.
Complete contents are to be confirmed, but we can tell you the film will have viewing options in both English and original Japanese with English subtitles, and that our release will include a feature length Making of… documentary called "Turep – Looking for Children of the Sea".
---
and that's what we announced during our panel at Reedpop Metaverse! We hope you're excited for these and as soon as we have further updates we can share on each of these will be sure to do so.
And you can watch the archive of the panel below –

Signing out~!
Jeremy