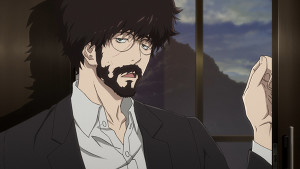 Thus far, 2018 has seen streaming juggernaut Netflix bring a number of new "Netflix Original" anime titles to their streaming platform. This March saw a show that we're particularly excited about arrive on the service, as B: The Beginning was made available in full for all and sundry to view. How excited were we by the series? Excited enough to acquire the rights to release the show on home video in the UK and Ireland – news that we're very proud to share with you today!
This all-new, original series comes courtesy of renowned studio Production I.G (Ghost in the Shell, Psycho-Pass) and is directed by Kazuto Nakazawa (Parasite Dolls). Music is composed by Yoshihiro Ike (Blood: The Last Vampire, Tiger & Bunny, Project Itoh trilogy), and the theme tune to the series is provided by none other than former Megadeth guitarist Marty Friedman!
ABOUT B: THE BEGINNING
Synopsis: "The Royal City of Cremona's beautiful archipelago is darkened by the shadow of a brutal serial killer, known only as 'Killer B' due to the distinctive calling card he leaves at the scene of his crimes.
With the royal police force struggling to hunt down Killer B, they turn to the enigmatic and eccentric detective Keith Flick to unlock the secrets of this case. However, the returning detective arrives with no shortage of baggage of his own, and the truth behind the murders drags him and his colleagues into a dangerous, conspiratorial world that is stranger than any of them could have imagined.
But is Keith Flick's brilliant mind alone enough to catch the killer? In the brash and outspoken young detective Lily Hoshina, he may have met his equal and seeded the origins of an unlikely partnership…"
For a better look at B: The Beginning, take a look at this English-subtitled trailer released by Netflix:
Our current – very provisional – plan is to release B: The Beginning on Collector's Edition Blu-ray in 2019, so bear in mind that this is a tentative schedule and it'll be a while before you hear any more news from us on this title. That said, you can expect some more exciting UK-related news for fans of the series very soon indeed…
Needless to say we don't have any further details on the precise contents of our release to share at this time, but we'll be sure to update you closer to that release date as our exact plans are cemented. For now though, Netflix UK subscribers can watch the entire series – complete with both Japanese and English audio and English subtitles amongst the language options available – so why not jump into the show and enjoy the ride?
Now that we've hopefully spiced up the beginning of your week, take care until next time!
~ Andy H