ANIME LIMITED BRINGS MAMORU HOSODA AND STUDIO CHIZU'S "BELLE" TO CINEMAS
June 16, 2021 · 1 comment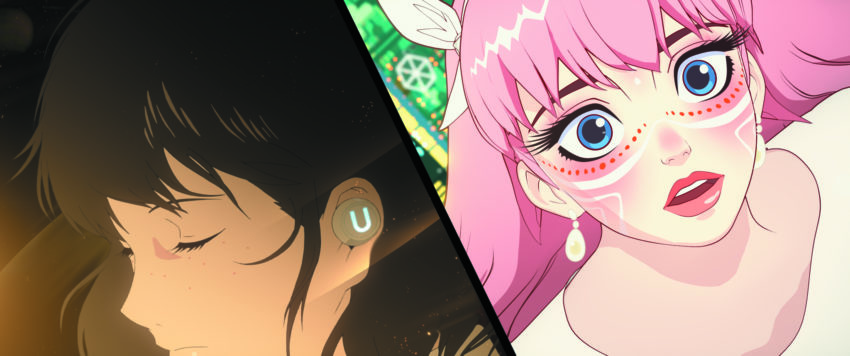 London, UK, 16th June 2021
ANIME LIMITED BRINGS MAMORU HOSODA AND STUDIO CHIZU'S "BELLE" TO CINEMAS
Oscar®-Nominated Director Mamoru Hosoda's Latest Animated Marvel May Be His Most Stunning Yet
Another me.
Another reality.
We are no longer limited to a single world.
Anime Limited, Europe's premiere distributor for Japanese animation, announced today that it has acquired all distribution rights in the United Kingdom and Ireland for Mamoru Hosoda's upcoming animated feature from Studio Chizu, BELLE. The film is written, directed, and produced by the celebrated filmmaker Mamoru Hosoda whose previous works include Mirai, The Boy and the Beast, Wolf Children, Summer Wars, The Girl Who Leapt Through Time, among other classics.
Anime Limited previously distributed Mirai, the previous film from Mamoru Hosoda and Studio Chizu, in the UK, France, and Ireland. After debuting at the Director's Fortnight in Cannes, Mirai went on to receive a nomination for "Best Animated Feature" from the 2019 Academy Awards and for "Best Feature – Animated" at the 2019 Golden Globe Awards. Mirai is the only Japanese animated film to have received a Golden Globe nomination in the history of the event.
The all-star team at Studio Chizu is joined on BELLE by an impressive roster of talent from around the world, many of them new to the world of anime. The striking character designs for the character of Belle come from character designer Jin Kim, best known for Disney features including Frozen, Moana, and Tangled. The Oscar®-nominated team of Tomm Moore and Ross Stewart, who previously have worked at Cartoon Saloon on Wolfwalkers, Song of the Sea, and The Secret of Kells, contributed gorgeous artwork that enriches the fantasy of BELLE. As with previous films, Hosoda also collaborated with an architect to help design his films, this time joined by British architect and designer Eric Wong, who was tasked with designing the virtual world of "U". Ludvig Forssell makes his theatrical debut as a composer with BELLE, having spent the last decade as a composer and audio director at Kojima Productions and scoring critically acclaimed games such as Death Stranding and Metal Gear Solid V.
"Mamoru Hosoda is one of the greatest directors alive, and his film The Girl Who Leapt Through Time is not only a personal favorite, but was the catalyst for the founding of this company," said Andrew Partridge, CEO and Founder of Anime Limited. "BELLE represents a dream team of talent from around the globe to create – this is a big screen extravaganza. Perfect for this time as we welcome people safely back to cinemas once more – I can't wait for people to see it!"
Synopsis:
From the celebrated Oscar®-nominated director Mamoru Hosoda and Studio Chizu, creator of Mirai, Wolf Children, Summer Wars, and more, comes a fantastical, yet beautiful and contemporary thematic story of one girl's growth in the age of social media.
Suzu is a 17-year-old high school student living in a rural village with her father. For years, she has only been a shadow of herself. One day, she enters "U," a virtual world of 5 billion members on the Internet. There, she is not Suzu anymore but Belle, a world-famous singer. She soon meets with a mysterious creature. Together, they embark on a journey of adventures, challenges and love, in their quest to become who they truly are.
For further information, please contact Fetch Publicity | Lisa DeBell | lisa@fetch.fm
About Anime Limited:
Based out of Glasgow, Anime Limited is Europe's premiere distributor for Japanese animation, renowned for bespoke collector's editions of fan-favorite anime and soundtracks, connecting Western audiences with creators across languages and oceans, and helping to bring anime front and center in cinemas. Anime Limited proudly produces releases from the biggest franchises in anime including Cowboy Bebop, Attack on Titan, NEON GENESIS EVANGELION, Mobile Suit Gundam, Tokyo Ghoul, Your Name, Weathering With You, Mirai and JUJUTSU KAISEN.
Tagged with:

1 comments
John Jungeling

June 16, 2021 9:18 pm

Great News Can't wait to hear, the release date