Anime Limited to release Digimon Adventure Last Evolution Kizuna in UK cinemas
February 24, 2022 · 1 comment
Anime Limited is pleased to present the theatrical release of Digimon Adventure: Last Evolution Kizuna in the UK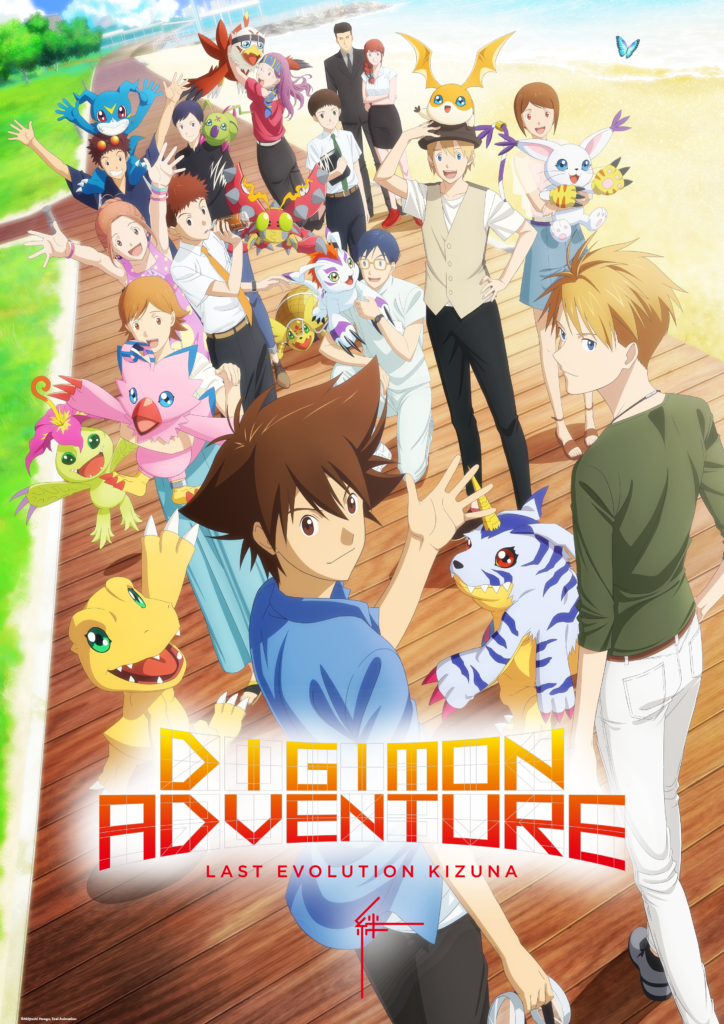 GLASGOW, FEBRUARY 24, 2022 – Anime Limited is pleased to announce a special one day event screening of Digimon Adventure Last Evolution Kizuna in partnership with Showcase Cinemas in the UK.
The final adventure for Taichi, Agumon and their friends will be screened theatrically for fans in the UK on Wednesday March 9th, 2022 in partnership with Showcase cinemas. Having screened the film at Scotland Loves Anime in 2021, fans now have a greater opportunity to see the film on the big screen.
"Over the last 23 years, Digimon has cultivated a rich audience, and we're thrilled to be able to celebrate the fans who have grown up with these characters. As we continue to expand anime's presence in cinemas, we're always looking for opportunities like this to delight the most passionate communities." Andrew Partridge, CEO Anime Limited.
For more information on Digimon Adventure Last Evolution Kizuna and where it might be screening near you, please visit digimonfilm.co.uk and check out the Anime Limited social media channels.
About Anime Ltd
Based out of Glasgow, Anime Ltd is a pioneer in distribution for anime, producing physical and digital releases across the world with some of the top brands in Japanese animation. Working with works like Attack on Titan, Cowboy Bebop, Neon Genesis Evangelion, Tokyo Ghoul, Your Name, Weathering With You, Mirai and JUJUTSU KAISEN.
About Digimon Adventure Last Evolution Kizuna
It's 2010, over ten years since the summer when Taichi met Agumon and the others, and they had their adventure in the Digital World. The worldwide existence of the DigiDestined has gradually been acknowledged, and the sight of Digimon in the real world has become less unusual. Taichi has become a college student, while Yamato and the others have figured out and started down their own paths in life.
During all this, certain incidents begin to occur around DigiDestined worldwide. Menoa and Imura are scholars whose area of study is the Digimon who appeared to Taichi and the others. These two seek assistance from the group, claiming a Digimon called Eosmon is the cause of the incidents. Taichi and the DigiDestined come together once again so they can resolve the matter. But during the battle with Eosmon, something goes wrong with Agumon's and the others' evolutions. When Menoa sees this, she informs Taichi's group of a shocking truth: When a DigiDestined becomes an adult, his or her partner Digimon will cease to exist…
The threat posed by Eosmon gradually spreads to affect Taichi's friends as well. He can't save his friends if he won't fight, but fighting will mean he has to say goodbye to his partner that much sooner. He thought they would always be together. Will he fight, even if it means losing the one most dear to him? That's what it means for a DigiDestined to become an adult. In the face of unalterable destiny, what answer will the bond between Taichi and Agumon produce for just the two of them?
©Akiyoshi Hongo, Toei Animation
Tagged with:

1 comments
Tim

February 25, 2022 9:27 am

Thats great to hear its coming to the UK cinemas but an absolute shame I wont be able to see it due to the very limited locations youve chosen to show it in. I wish I could go see it but nowhere nearby to me has a showing. (North Wales btw) I suppose this is the case for a lot of anime fans, fantastic news aboit a UK cinema release but unable to watch meaning less interest recorded in data.