We said we had some more news to share with you and we weren't joking as today we are happy to announce that we (Anime Limited) are bringing the popular series Eureka Seven to the UK.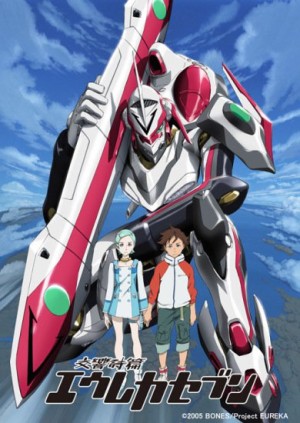 The series been out-of-print in the UK for some time, we're very excited to be giving UK fans the chance to own the entire series for the first time on Blu-ray as well as DVD, all 50 episodes of it.
Synopsis: Renton Thurston is a 14-year-old boy who lived with his mechanic grandfather in a backwater town. Every day he dreamed of being with the mercenary "Light Finding Operation (LFO)" aircraft pilot group "Gekkostate" and riding "Trapar" particle waves– a sport called "reffing"– with their charismatic leader Holland, especially when faced with his father's acclaimed past or his grandfather's desire to protect him. When a young girl named Eureka riding the original LFO, the "Nirvash typeZERO", asks his grandfather for a tune-up, she inadvertently brings the attention of the military to the garage; as a result, the garage is destroyed and Renton is forced to deliver a new type of interface– the "Amita Drive"– to the Nirvash.
After a heated fight in which the Nirvash destroys the military LFOs by unleashing an immense amount of power, Renton is invited into Gekkostate. However, he quickly realizes that behind the facade of a traveling group of mercenaries is a very bitter reality.
"What's not to love about Eureka Seven?" says Andrew Partridge, President of Anime Limited. "It's a great coming of age mecha anime that shows real growth. It's one of the great shows from Studio Bones of that era. The same studio that brought the world Escaflowne, Fullmetal Alchrmist and Wolf's Rain. I'm really happy we're getting the chance to make this available to fans in the UK, and especially on Blu-ray. I am also excited to confirm that we are planning an Ultimate Edition release for the series."
Eureka Seven will be getting released in the UK on both Blu-ray and DVD in 2016. More details on our release will be forthcoming.
You can watch a trailer released by Bandai Entertainment back around the time of it's original DVD release below.
For our French fans, we can also confirm we will also be releasing the series in France as well. You can find the announcement from our French team HERE.
Be sure to stay tuned as we'll likely have some more news to share with you soon.
Signing out~!
Jeremy