Anime Limited to release Genius Party and Genius Party Beyond
December 4, 2015 · 2 comments
It's the end of the week and we have some exciting news to share with you are happy to announce that we (Anime Limited) will be releasing Genius Party and Genius Party Beyond in the UK.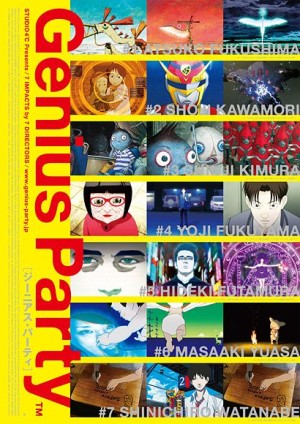 Genius Party is a series of 7 short films released by Studio 4°C in Japan in 2007 that featured different creative minds from all sides of the anime spectrum coming together for each film. A popular tag line at the time was "7 Impacts by 7 Directors." The followup Genius Party Beyond featured new 5 short films bringing more creative minds together.
"At Anime Limited we've always been big fans of unique film projects and Genius Party is no different" says Andrew Partridge, President of Anime Limited. "When you look at the directorial personnel involved Shinichiro Watanabe, Mahiro Maeda and Masaaki Yuasa, combined with the varying experiences working in anime from all involved this really is a wonderful project and I'm delighted we're getting to bring this to the UK."
At this time we can confirm that we will be releasing these on Blu-ray and DVD. We will have more details for you soon about our plans but in the interim you can watch the trailers for both and find a the complete list of films below.
Genius Party
Genius Party
Directed by Atsuko Fukushima (original character designer for Giovanni's Island. Involved in the Key Animation of many anime including Akira, Kiki's Delivery Service and Space Adventure Cobra.)
A barren desert filled with deep red and orange. A bird-like creature runs across the terrain in an awkward, primitive way. It looks hungry. Tribal/techno beats grow in intensity, like watching the sun about to rise on a 50c degree day. The bird-like creature stops, spots an egg in the ground smiling back at it. With its wooden beak it cracks in and pulls out the glowing goodness, scoffing it down. The egg, all too happy to share, watches in amazement as the creature's wings shoot flames, propelling it violently like a rocket towards the sky. Another egg takes notice, seeing the potential. It sacrifices itself, cracking its shell to expose its inner heart, and then re-eats it. A Violent Eruption results. Electricity generates between thousands of eggs, demonstrating how all is connected.
Shanghai Dragon
Directed by Shoji Kawamori (creator of Escaflowne, Chief Director for various Macross properties, Director of Aquarion, Mechanical Design in many anime including Ghost In The Shell, Outlaw Star and the a variety of Transformers series.
An imaginative Chinese boy finds a futuristic device that can make his own drawings come to life. After discovering the device the town he lives in is about to be invaded by spaceships and machine of mass destruction that are all centuries ahead of Earth's time.
Deathtic 4
Directed by Shinji Kimura (Art Director on Blood Blockade Battlefront, Steamboy and the Blue Exorcist Movie. Also the Storyboard, Character Design, Art Director, Animation Supervisor, Staging & Layout in the first episode of Batman Gotham Knight.)
Deathric 4, tells a tale set in a world full of zombies, living their normal zombie lives. A living frog, falls from the blackened sky of the zombie world, and a little zombie boy will try to bring the living creature back to its own world.
Doorbell
Directed by Yoji Fukuyama (Story & Art in various manga including Don Giovanni and Gamura-Kahn)
The main character is a ghost in his own world. He must outrun the other versions of himself, or they will take over his life.
Limit Cycle
Directed by Hideki Futamura (Director of Halo Legends: Origins I & II, various episodes of JoJo's Bizarre Adventure. Key Animation in many anime including Akira, Perfect Blue and Mobile Suit Gundam: Char's Counterattack.)
An existential examination of the world as seen through the lens of a man seemingly trapped in an endless cycle of work.
Happy Machine
Directed Masaaki Yuasa (Director of Ping Pong, The Tatami Galaxy, "Food Chain" episode of Adventure Time.)
A infant who was happily secured in his own nursery, suddenly discovered that everything about the nursery was fake. Soon the infant was forced out of the nursery and into the world that exists outside, where adventure awaits and many alien like creatures to encounter.
Baby Blue
Directed by Shinichiro Watanabe (Director of Cowboy Bebop, Space Dandy, Samurai Champloo, Macross Plus and many more.)
"What if we just forget about today or the future" A phrase that gives start to a small adventure of two young students, to go anywhere they can in just that one day, to live what they want or just can, to reach the longest distance with only the money in their pockets, to enjoy that day without caring about the rest, just be toghether. Love is bittersweet, but just for that day lets stay with each other.
Genius Party Beyond
Gala
Directed by Mahiro Maeda (Director of Evengelion: 3.0 You Can (Not) Redo, Gankutsuou: The Count of Monte Cristo, Final Fantasy Unlimited.)
A village in olden times is awakened as something huge hits the ground. The villages try to pry it open, while one boy and girl see and feel that the thing is alive. The boy falls and is saved by a huge cat. The acorn hatches, and the boy, girl and cat must save the world.
Moondrive
Directed by Kazuto Nakazawa (Co-director of Linkin Park's "Breaking The Habit" music video. Director of Parasite of Dolls. Character designer on Terror In Resonance.)
A group of treasure hunters get a map of Giants island, where all the clouds comes from, a stormy place with a dream treasure.
Wanna The Puppy
Directed by Shinya Ohira (Key Animator on A Letter To Momo, Howl's Moving Castle, Ghost In The Shell 2: Innocence, Giovanni's Island, Kill Bill Chapter 3: The Origin of O-Ren. Storyboard on Berserk: The Golden Age Arc II, 
Child's dream about his mother's pregnancy, which is bizarre mix of fears, hopes and joy.
Tojin Kit
Directed by Tatsuyuki Tanaka (Key Animation on Akira, Bubblegum Crisis, Roujin Z. Conceptual Design on Batman Gotham Knight.
A young woman raises alien lifeforms inside stuffed animals. The authorities find her home, but she manages to get away carrying one alien but later the authorities catch her.
Dimension Bomb
Directed by Koji Morimoto (Director "Beyond" from The Animatrix. Animation director Macross Plus, 
An eccentric young girl summons a boy from another dimension, causing her own dimension to explode later.
Signing out~!
Jeremy
Tagged with:

2 comments
Eric

December 6, 2015 10:53 am

Fantastic news, I've come close to importing the Australian DVD set a few times but UK Blu-rays will be much better. I've read that 4C have priced some of their licenses at a point that isn't commercially viable for other territories, but it would be great to see more subbed releases of their rather unique back catalogue.

SaucyG

July 10, 2016 9:27 am

Yeah, like give us mind game too please!!!!!