Anime at the Oscars 2016
January 14, 2016 · 0 comments
By Andrew Osmond.
One of this year's Animated Feature Oscar nominees is not like the others. Inside Out is the only one that was a box-office hit in America, and the only one that more than 5% of the American public might have heard of. It's also – let's be honest – the sure-fire winner this year. The story of five emotions piloting the mind of a troubled girl has been so popular, so acclaimed, that if any other film won, the uproar would put last year's Lego Movie row into obscurity. Inside Out is the winner, no question.
We cast an anime eye on Pixar's film when it first came out, and argued it was doing something similar to several anime – foregrounding an uncertain, angry girl with "murky, painful" emotions. One of the other nominees is Studio Ghibli's When Marnie Was There, which means we have two films about unhappy girls at the end of their childhoods! Some British readers may have seen Marnie at last year's London Film Festival. It's a kind-of ghost story, in which the young protagonist encounters a mysterious (unreal?) girl in the marshes of Hokkaido.
Marnie is directed by Hiromasa Yonebayashi; like his Arrietty, it's underplayed with subtle psychology and characters. But it doesn't have the high-flying whimsy which made world audiences love Ghibli. In Japan (where it opened in 2014), Marnie earned a very modest $30 million. That's less than half the takings of the CG Stand By Me Doraemon and barely a tenth of Frozen's Japanese takings. Assuming Marnie is Ghibli's last film, it's a diminuendo.
But is it also the end of anime features at the Oscars? Since the 'Animated Feature' category began in 2001, we've had one anime winner – Spirited Away – and three runners up – Howl's Moving Castle, The Wind Rises and Princess Kaguya. All were produced by Studio Ghibli, which enjoys a certain level of awareness with the voting audience. Well, with some of it. The Cartoon Brew website quoted one irate Oscar voter who described Princess Kaguya as an "obscure freakin' Chinese thing (sic) that nobody freakin' saw."
The big question is whether US distributors will be able to push non-Ghibli anime into the Oscar nominations in future years. They've been trying already; Funimation got Mamoru Hosoda's The Boy and the Beast onto this year's longlist but it failed to make the cut. Miss Hokusai should still be eligible for next year, if a distributor wants to try. It opened in Japan last May, and films from outside the US have a two-year window to have an Oscar-qualifying run in Los Angeles.
Miss Hokusai is certainly the kind of film that could be a plausible nominee, with an unusual subject grounded in Japan's cultural history. It's possible, though, that voters may find its presentation too conventional, even too close to Ghibli. A more striking anime, in the mold of Takahata's Princess Kaguya, may have more luck just by looking different.
For example, the brilliant hyperrealism of Makoto Shinkai is still mostly 'undiscovered' by mainstream Western critics. For that reason, perhaps his upcoming movie Kimi no Na wa (your name) has a chance as a future nomination. (It opens in Japan this August.) Or perhaps the remarkable Masaaki Yuasa (Ping Pong) will release a feature as stunningly creative as his 2004 Mindgame. Indeed, he's currently working on "a film," though no film details have emerged yet.
Mindgame didn't get an American release in 2004, but the market has evolved since then. Diverse, experimental features get distributors and even end up as Oscar nominees. Boy and the World, another of this year's nominations, is a wordless, semi-abstract, allegorical fantasy made in Brazil for half a million dollars. It's distributed by the tireless GKIDS company, which is also pushing When Marnie Was There. The company's past acquisition include Ghibli's Princess Kaguya, Song of the Sea from Ireland and the multinational Chico and Rita, all Oscar nominees.
The comments by GKIDS founder, Eric Beckman, give hope to cartoon fans looking to break Hollywood hegemony. "Audiences want to see interesting, beautiful different types of animated movies," Beckman told the Wall Street Journal in 2012. "(GKIDS) didn't send out 6,000 screeners or take out national ads in Variety… You look to a smaller group of people who know and like film. But you've got to start with something super."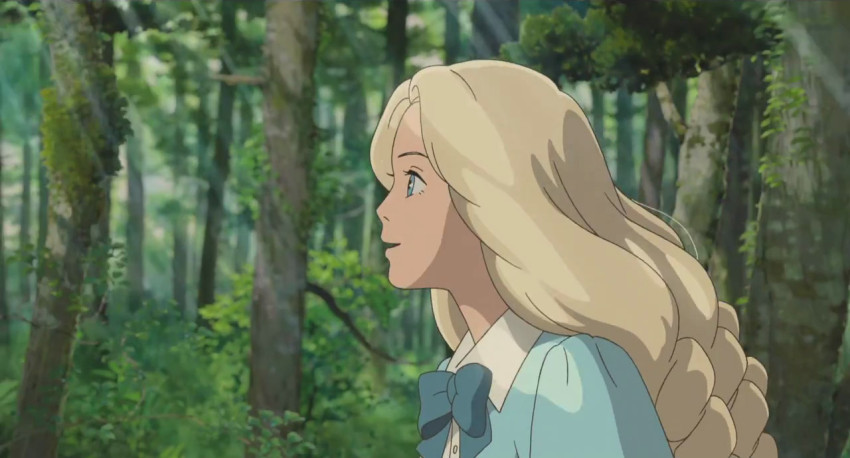 In the meantime, alas, Ghibli's Marnie has a microscopic chance of toppling Inside Out. The same applies to Boy and the World and the two other nominees, Aardman's cute Shaun the Sheep and Charlie Kaufman's adult puppet film Anomalisa. Reportedly, Kaufman's film includes a geisha sex-toy doll which sings the children's "Momotaro" song. Mamoru Oshii will be doubtless cursing that Kaufaman got there first.
There's some consolation, though, in the live-action Oscar nominations. George Miller's Mad Max – Fury Road is burning rubber in a mighty ten categories, including Best Picture and Best Director. As some fans may know, Max features input from an anime legend, Mahiro Maeda, whose Gankutsuou: The Count of Monte Cristo is released next month. Maeda created designs for a planned Max anime; it was never made, but many of Maeda's ideas ended up in Fury Road instead. (You can see images and a video here.)
Interviewed by MyM at Scotland Loves Anime, Maeda was asked if he thought Fury Road was close to an anime sensibility. "I think it really is," he said. "I think it's even a bit Ghibli-ish… The fact that it's the strength of the female characters that saves everybody in the end; the world-view, where you have a world that's falling apart because of pollution and maybe nuclear war, and the sense of regret and repentance. That's something you can see in films like Nausicaa." Ghibli may be ending, but its soul goes riding on.
Andrew Osmond is the author of 100 Animated Feature Films.