Anonymous Noise
March 18, 2020 · 0 comments
By Andrew Osmond.
Anonymous Noise is a love-triangle teen melodrama, and a music drama, and it's very much in the tradition of girls' (shojo) manga. That's hardly surprising; the source strip, created by Ryoko Fukuyama, was serialised in the venerable girls' manga magazine Hana to Yume, which was also home to the popular Fruits Basket. The magazine's still-going-now strips include the "war of idols" music comedy Skip Beat! and the epic fantasy Yona of the Dawn, both adapted as anime.
The anime version of Anonymous Noise starts rather confusingly, with much of the background information only revealed in part two. Once upon a time, there were two sweet Japanese grade schoolers, a girl called Nino and a boy called Momo. They were devoted to each other, walking around everywhere together, singing together. They were next-door neighbours, even singing together at their bedroom windows every night. Some of the other kids teased Nino for her lusty voice, but Momo always defended her. And then… one day, Momo suddenly moved away with his parents, leaving poor Nino broken-hearted.
But there's more to the backstory. Distraught from losing her friend, Nino runs onto the beach one day. (The beach is an important setting; it's Yuigahama beach, near Kamakura and Yokohama.) There Nino meets another boy about her age, Yuzu, who's also musically inclined; he's writing a lovely tune of his own creation in the sand. Nino is so moved that she starts singing it, with Momo in her mind. She doesn't notice that Yuzu is transfixed by her voice. Later Yuzu sees Nino distraught and sings himself to calm her down, though he previously said he'd never sing. Nino doesn't know, but Yuzu has just made a terrible sacrifice that will have consequences for years after…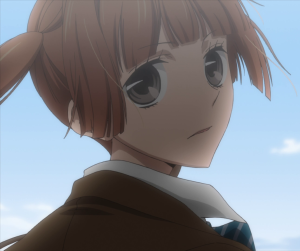 The main story takes place six years later, when Nino is just entering high school. Here she finds Yuzu again, now a member of the school's pop band. Of course, she's delighted to see him, but she's still obsessed with Momo, even imagining he's somewhere close. Only we see it's not just her imagination. Meanwhile, Yuzu is just as obsessed with Nino…
In short, this is the kind of story that might be classed as "I hate being the gooseberry!" A lot of the weight is on Yuzu's agonised and guilty feelings, knowing Nino is desperately seeking Momo (whom Yuzu never knew) but still secretly wishing she won't find him. In effect, Yuzu is a gender-swap on the "girl next door" character in many boys' manga and anime,  quietly longing for the hero who only sees her – or in this case, him – as a friend. Anonymous Noise varies the pattern: here the protagonist longs for the person who actually was her next-door neighbour. But even that feels like playing with established patterns.
The show treads on some of the same emotional territory as anime written by Mari Okada – for example, Anthem of the Heart, another story of youngsters releasing their feelings through song. Wait till you see how the love polygon is reflected in the school band, where a girl lip-synchs for a cross-dressing boy who's emulating a different girl, the one of his dreams. Okada herself might think that was going a little far.
But the animation by the Brain's Base studio has more whimsical graphics and deformities, referring back to the show's origins as a girls' manga. It's also a series about the transit from childhood to adolescence – such a short period of time, but it makes such profound changes to people, relationships and the world. The scene-switching between grade school and high school is reminiscent of A Silent Voice; coincidentally, the lead girls in both anime are voiced by the same Japanese actor, Saori Hayami.
Anonymous Noise is released in the UK by Anime Limited.