By Andrew Osmond.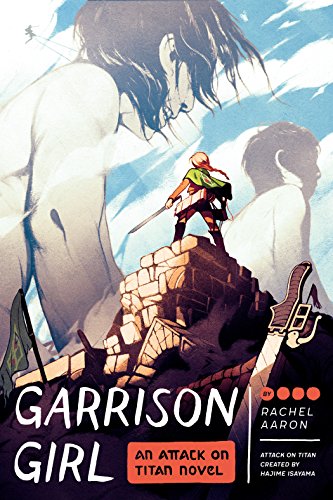 Nine years after Attack on Titan began, it's become a paradigm of franchise management. As of writing, the original story by Hajime Isayama continues as a manga and anime, with fans speculating "How will it end?" as eagerly as Harry Potter or Breaking Bad fans did in their time. But Titan has sprawled in umpteen other directions. It's spawned games and figurines, of course; it was adapted as a two-part live-action film; and it's had long-running spin-offs that crossed media themselves, like the prequel Before the Fall (a light novel series and a much longer manga) and the Junior High spoof (a manga and TV anime).
Garrison Girl, though, is something of a first. Published by the US imprint Quirk Books, it's a spin-off Young Adult Titan novel by an American writer. True, there are industry precedents. In past decades, there were American-produced anime spin-offs linked to "hidden import" titles, like the long series of Robotech novels by James Luceno and Brian Daley; the American Battle of the Planets comics; and American-drawn versions of Captain Harlock and Star Blazers. Titan itself has already dabbled in cross-overs, with a comic anthology by non-Japanese writers and a mini Marvel crossover ("Attack on Avengers") that came and went with little notice.
But Garrison Girl goes beyond that. It's a 237-page prose novel that invents its own characters in Titan's world. From a marketing viewpoint, it's risky – some Titan fans may turn up their noses at a spin-off that doesn't focus on Eren, Mikasa, Levi or Armin. The upside, of course, is that author Rachel Aaron can develop her protagonists with far more freedom. Titan already has memorable female players – Mikasa, Annie, Sasha, Christa, Ymir – and Aaron sets out to add her own, sixteen year-old Rosalie Dumarque. Titan's "canonical" characters had back-stories that were slowly parcelled out, or else carefully hidden by their owners, but Aaron sets out Rosalie's past plainly in the first pages.
She's an aristocrat, living within the innermost Wall Sina, far from Wall Maria which was catastrophically breached at the manga's start. That happened five years ago; Rosalie's story (or at least most of it) takes place in the time-frame of the third and fourth anime episodes. While Rosalie's home was untouched by Maria's fall, her family was still affected. They've lost swathes of land, and Rosalie is now their most valuable asset – as a bride. She's been long engaged to marry into a richer family, and the wedding's coming up in six months.
For anyone envisaging Pride and Prejudice and Titans, it's not that. Rosalie is restless, gazing out at the surrounding wall like Eren and his friends at their story's start. Rosalie has never seen a Titan, but she's graduated from a military academy, and her pre-nup says she can't marry until her seventeenth birthday, six months from now. So Rosalie descends from the roof of her hilltop house (from where, Aaron notes, she "could see all that was left of the human world") and demands of her father that she serve at a garrison at Wall Rose, last line of defence against the Titans.
If that sounds like a strain in believability – a posh family allowing their valuable daughter to go anywhere near flesh-eating giants – it lets Rosalie show her wiles. She blackmails her dad by threatening to take the matter to the King, thereby causing a wedding-wrecking PR scandal; British readers should find that credible. The young target readers should be reminded of numerous Disney cartoons with feisty, restless heroines (Little Mermaid's Ariel, for example). You could see Garrison Girl as a reworking of China's Mulan legend, itself adapted by Disney, except that in Titan's world Rosalie needn't disguise herself as a man.
Rosalie's irate dad grants her wish, assigning her to the garrison at Trost city – a familiar location for Titan followers. Off Rosalie rushes, to find a shockingly ill-equipped outfit with cables that don't work, blades that don't cut, and a phenomenally hostile Sergeant who nearly gets Rosalie killed on her first day.
Then there's her first sight of the Titans. Like cannibal zombies (their obvious relatives) or Giger Aliens, it's becoming harder and harder to make these over-exposed monsters scary. Aaron, though, does a fine job. An early taste – "The Titan's thick lips and huge, flat teeth – each one as large as her bedroom window – were crusted with the brownish-red of dried blood. The stain ran down its beard as well, forming a clotted mat in the tangled hair. In it, Rosalie saw chunks of half-chewed, rotting flesh, one of which looked suspiciously like a human foot."
It's a really enjoyable book. The writing is crisp, and – as the above quote demonstrated – often vivid. The action scenes only improve as the book goes on, and the later ones are terrific, with moments that Isayama himself might envy. It's often clearer to picture what's happening from Aaron's prose than it was in the early anime episodes, which suffered from clotted editing and stilted staging.
Aaron's book is unlikely to get serious critical attention, being a YA novel and a media spin-off, but it's a great specimen of its type, to the point that it could be enjoyed by a newbie reader who doesn't know the source. That's only compromised by the book's ending, which dovetails with the "canon" story in a way that's very effective if you know the source, but will have a couple of confusing, arbitrary details if you don't.
There are obvious complaints. One is that the drama follows a trajectory that many readers will guess very early, and is extremely familiar. But that doesn't stop it being well told, and because the characters are new, there's genuine uncertainty about how they'll end up – a fact Aaron gleefully exploits in the last pages, where the final, maybe fatal threat is not what Titan fans will predict.
Another complaint is that many of the characters are thinly-sketched. But there are no painful stereotypes, and they're compensated by Rosalie, who's the viewpoint for almost all the story, and is properly likable and engaging. There's nothing outstanding about Rosalie, no effort to make her iconic like Mikasa. She's just impetuous, motivated, mistake-prone and always ready to fight overbearing authority. That makes her like umpteen other heroines, but with enough real-feeling detail to her moods and reactions, whether trivial or Titanic, to make her congenial. No doubt some online reviews will call her a Mary Sue, as if a character who wasn't "over powered" could register in a Titan story.
Lastly, given the current bad press around Western "appropriations" of anime, it's possible that some fans may shun Garrison Girl because its writer isn't Japanese. If so, it's entirely their loss.
Garrison Girl is published on 7th August.