By Andy Hanley.
Never mind sales figures or live-action adaptations – the real way to know that you have a successful series on your hands is when it starts spawning spin-offs at an alarming rate. Neon Genesis Evangelion has seen Shinji Ikari serve as everything from a harem protagonist in need of "raising" to a detective, while it's currently hard not to walk into the manga section of any bookstore without being buried under a veritable sea of titles set within the world of Puella Magi Madoka Magica.
Given the propensity for all and sundry to jump on the bandwagon of a popular anime or manga franchise, it's hardly surprising that Attack on Titan has seen a similar explosion of related materials, from serious side stories set firmly within its world through to a forthcoming western comic anthology. Given how relentlessly grim and violent it is, you might think that it would be difficult to create an outright comedy series based around it, but that hasn't stopped Saki Nakagawa from creating Attack on Titan: Junior High, a parody which has now received an anime adaptation in its own right from Production I.G.
The first thing that the series does – beyond setting up that junior high school setting – is deal with those pesky Titans themselves. Clearly, there aren't many laughs to be had when your main cast are being eaten limb by limb, so rather than hungering for human flesh the Titans of this world are rather more civilised in their tastes, instead opting to pinch and devour lunch boxes whenever the opportunity presents itself. When you're sharing the same school grounds this is a major issue, and a first-day encounter with the Colossal Titan that see his delicious lunch snatched and eaten breeds Eren Jaeger's hatred of Titans in a decidedly different way to the original work.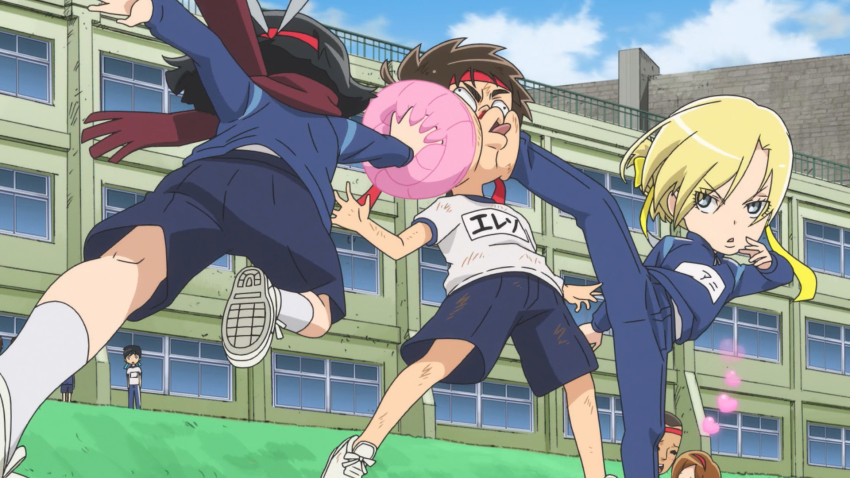 In essence, this sets the tone for what Attack on Titan: Junior High sets out to do – rather than simply taking the main cast and dumping them into a new setting, it tasks itself with rebuilding the pivotal moments of the series in a goofy, over-the-top way within its new framework in search of laughs. On top of this is layered a whole array of gags and moments squarely aimed at dedicated fans of the original Attack on Titan, bringing together potential character pairings that would be impossible in the series proper. It makes all kinds of nods aimed squarely at an audience already deeply ensconced in the franchise. Its dedication to this kind of fan service in its purest form is commendable, and may at least slightly ease what must seem like an interminable wait to those fans for the second season of the anime proper.
The opening credits ape the anime's iconic opening sequence with a school-themed riff on Linked Horizon's Guren no Yumiya as cute versions of the cast replicate its on-screen visuals shot for shot, and Hiroyuki Sawano's soundtrack for the series proper crashes and thunders incongruously around the silliness inherent within major moments of each episode.
The absurdity of this blending of the serious, life or death origins of Attack on Titan into the frivolity of Junior High is what makes this series tick, and if you're willing to embrace its silliness then the series is a lot of fun, brought to life by an anime adaptation that knows what fans want and delivers it at every turn. Even if you aren't a fan of the franchise there may be some perverse enjoyment to be had from watching Eren getting pummelled in the face while playing dodgeball for an entire episode…
Andy Hanley is the Editor in Chief of UK-Anime Net. Anime Limited will be bringing Attack on Titan Junior High to Blu-ray and DVD in 2016.