Azuki: Your Digital Manga Cafe
August 25, 2021 · 0 comments
By Andrew Osmond.
Springing onto the web this summer, the Azuki digital manga service offers readers a huge number of titles, delivered straight to their e-reader. It's not only the ideal place to catch up on established titles like A Silent Voice and Ajin: Demi-Human, but also to snag "simulpub" releases coming out in English at the same time as they hit the shops in Japan. We talked to Evan Minto, co-founder and marketing director.
Azuki launched at the end of June. What's the response been like? 
We were blown away by how excited people got pre-launch. Then it was about living up to everyone's expectations! We hit some bumps in the road, but we were pleasantly surprised by how supportive and understanding fans have been, whenever there's a bug or whatever.
When we launched, our website had more features than the mobile apps, which is something people noticed, and we've been working on getting them up to speed. iOS and Android now has 'search,' and iOS has the 'add to list' button. That's also headed to Android soon, so we'll be at feature parity between all three platforms.
Can you say anything about the subscriber figures you're projecting?
We definitely would love dramatic growth! I can't give internal projections but out vision is to have a lot more manga than you can currently see on the site, and it's a lot of manga right now. I think that's what will determine the level of growth, and we're working hard to get more publishers and titles on board. But I think if we can achieve that, having a huge collection across different genres, then I'm pretty confident we can grow quickly.
Do you think a large proportion of your subscribers will be people who have bought few or no physical manga in the past?
That's a great question…One of our focuses is on people who are reading entirely digital, and frankly on people who are reading on mostly unofficial websites. We want to give them a better experience, that actually supports the creators. But I also expect us to be – and I think we currently are – a good thing to have on top of having a physical manga collection. Azuki is a great way to sample things before you buy them, so it can serve both purposes. We're working with publishers who have print editions of manga, so we do promote their print releases on social media.
Do you think there will a definitive switch over from physical manga to digital manga in the near future?
I don't see it happening en masse. We've had digital manga for a while now, and print is still doing very well, from everything I hear from publishers. What we're trying to do with Azuki is to make it smoother for people to pick up and start reading new manga, by having an all-you-can-eat, Netflix style service. We have free chapters, so people can start reading without even subscribing,
More broadly, do you have any predictions for the manga market outside Japan?
If I was to make a broader prediction, we have some really cool small (print) publishers popping up, who are doing very cool, high-quality boutique releases. I think that's where I could maybe see things going; people reading a lot of stuff on digital services, and then buying collectors editions of things.
Can you tell us about the logistics of the simulpubs process, through which Azuki presents new manga chapters for some of its titles?
We actually don't do the simulpub production ourselves. We don't do any localisation right now, we're getting localised chapters from our partners. In the case of simulpubs, those are all Kodansha. They do all the production and send us the chapters. I believe their localisation staff are getting the chapters before they come out in Japan.
Do you collect data on, for example, which manga are most popular on Azuki?
We're a very tech-focused team, that's our background, so data is a really big part of the business for us. Honestly, we have so much stuff that we're still sifting through and building all the right ways of looking at it. We track all that stuff – anonymised, so we're not looking at individual user histories. But in aggregate, it's very useful to see what's popular week to week and what manga is getting users who only read this title.
In the case of simulpub titles, would you consider dropping a title if you see that it isn't popular with subscribers?
I think one cool thing about a subscription service is that some of those calculations are a little different compared to print. Right now, we don't even have localisation costs and (dropping a title) is really unlikely. Even in the future it would be somewhat unlikely, because we make our money on subscriptions, not on people buying books. If it's someone's favourite manga, that makes Azuki valuable to people. It's Kodansha's call on whether they want to simulpub or not, but for us there's no real reason to drop a title. Even if it's not doing particularly well, we can just market it more or try to find a better audience for it.
In the site's introductory statements, it talks about Azuki capturing the experience of the fan community in a way that other companies have failed to do.
Right now, our big community feature is the comments feature. You can get to the detail page for each series and press the comments button in the menu. We've definitely had some activity in there from fans, especially on the simulpubs. So that's the flagship feature now, but we are also planning on adding more stuff. I think you can expect to see ways for fans to recommend things to each other, and some more robust ways to discuss and make friends with other manga fans.
Are there some manga translations exclusive to Azuki, and are you aiming for exclusives in the future?
All I can say is stay tuned. We're focused on our current publishers, but we want to expand the catalogue and introduce fans to new manga… I wouldn't take that off the table.
What other prospective partners are you talking to?
We are basically talking to just about everybody you could think of… Once we've got ink on paper and everything's worked out, we'll be able to talk about that publicly.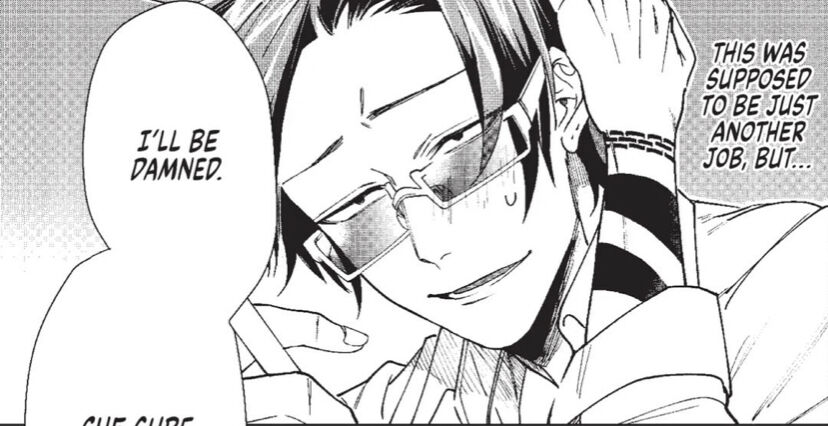 How easy or difficult have you found it to communicate with manga companies?
Right now, we're working with English-language publishers, which has been much easier, I think, than Japanese ones, just because of the language barrier. With Kodansha USA and Kaiten books, we've been working really closely with them on cross-marketing things. I have some experience working with Kodansha, so I knew the folks there and they're great. With Kaiten we just hit them up and they were ready to work with us.
We've just had two volumes from Kaiten, The Yakuza's Guide to Babysitting and Gacha Girls Corps, go live on Azuki before they went on sale for eBook and print, which was really exciting. Kaiten brought them to us; they wanted to get the word out about those titles via Azuki. They've been very supportive and collaborative.
As of writing, some of the manga on Azuki have gaps, with some chapters unavailable. What are the reasons for these gaps, and will it be possible to fill them in the future?
This is kind of an artefact of what Kodansha, in particular, provides to some of their partners. I can't reveal too much behind-the-scenes stuff, but we're definitely to try to fill in the gaps where we can. It's ongoing negotiations. The publishers that we work with may have their own restrictions (regarding) what they have available, and we just have to work with that. Stay tuned, and we will announce when and if we have improved chapter selection.
Some of the other manga are being released in sections – for example, Azuki is currently offering the first five chapters of Tokyo Revengers. For readers following such titles, when should they expect new chapters to drop online, and does it vary a lot between titles?
This is something we're trying to do a better job of communicating on social media and in the apps. There are two reasons why (manga titles) might have limited chapters right now. One is because that was what we were provided by the publisher, and we just need to work with the publisher to get more chapters available. But in other cases, we do have a bunch of manga that are not uploaded on the site yet, just because we've got a lot of manga! We've been working on adding more of the backlog.
With Tokyo Revengers, that's one where we're working with Kodansha, trying to get more of that. With other series, we do upload new chapters of four series each week. We put those out on Thursdays and you can follow us on social media or check the home page every Thursday afternoon (Eastern Time), and you'll see the new series up there. We're releasing them in chunks; it's not like one new chapter every week, like a simulpub.
Are you available in every territory outside Japan?
Yes, this is something we're super proud of and it's thanks to the terms from Kodansha and Kaiten. There are no region restrictions outside of Japan. You can read everything as long as you're not in Japan, and we aim to maintain that going forward. Obviously, that will depend on what future arrangements we have with publishers, but we're aiming to keep the full selection available worldwide as much as we can.
Are any features of Azuki limited to particular territories?
Not right now, and I think we would probably never do that. There could be title restrictions, potentially, but not feature restrictions.
Some of Azuki's founders met when they were working at Crunchyroll. Did the concept which became Azuki originate at that time?
It's definitely not something we suggested at Crunchyroll. A few of us did work on manga-related projects at Crunchyroll, and that gave us some relevant experience, but the idea of Azuki came later. Abbas Jaffery (Azuki's co-founder and CEO) was looking for a service that offered the mix of reading and community features he wanted, and then said, let's try to make it.
In this age of acquisitions, could you envisage selling Azuki to another company some day; for example, Sony?
Right now, we're operating under the model of a worker-owned business, and we're focused on building this sustainable, independent business. We're open to investment, for sure, because that will help us grow faster and licence more titles and things like that… I can maybe envision us selling the company at some point, but because of the worker ownership model we have, it would depend on the point we were at, and if it was the right move for all our workers. We're manga fans and we're aiming to create a product that manga fans love, and that we can run sustainably as an independent entity.
Andrew Osmond is the author of 100 Animated Feature Films. Azuki is offering "unlimited manga" at $4.99 a month.