B: The Beginning Ultimate Edition Blu-ray coming in October
July 3, 2020 · 1 comment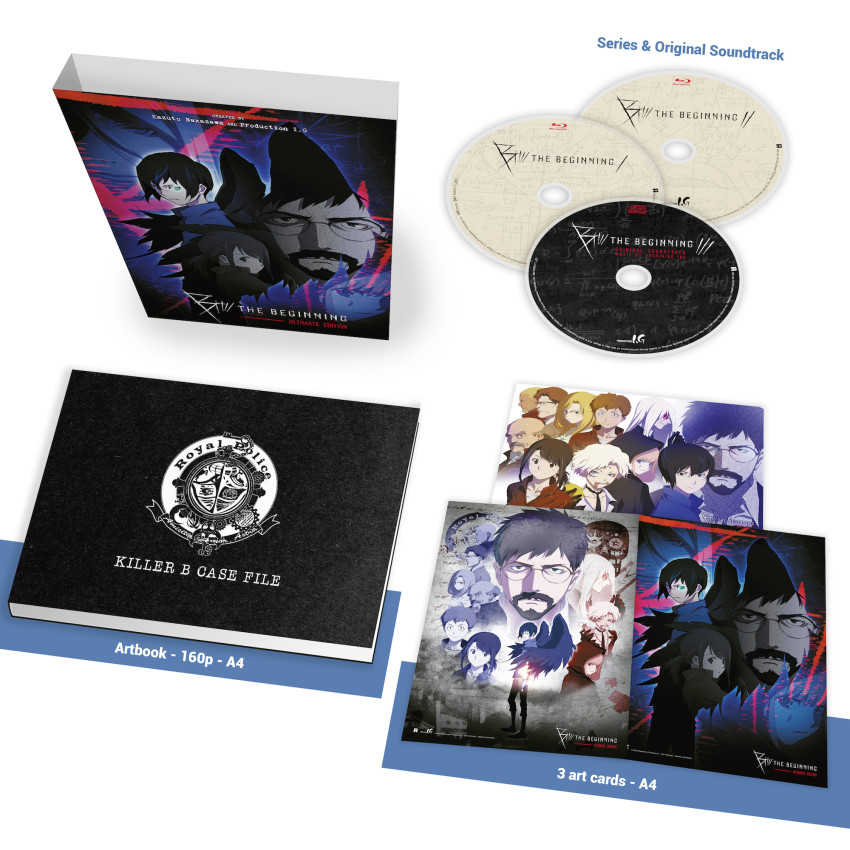 If you tuned in to the AllTheAnime panel during Cloud Matsuri you will have seen the details we shared regarding our upcoming release of the series B: The Beginning as an Ultimate Edition set that will be released not only here in the UK but will also be getting released in North America as well!
Today we're here to give you a full rundown of what to expect with this release, plus tell you about when it will be getting released and for our North American friends, tell you about how you'll be able to get your hands on this set as well. (We'll have a specific section about that further below.)
This will be getting released in the UK on Monday 5th October, with the USA following a day later on Tuesday 6th October.
With that being said, to cut to the chase if you jump straight to pre-ordering the set and then read all the info we have to say below after, you can do so via the links below –
UK: Ultimate Ed. at All The Anime Shop
USA: Ultimate Ed. at Shout Factory
USA: Ultimate Ed. at RightStuf
Read on below for all the details.
---
ABOUT
B: THE BEGINNING
Synopsis: The tiny city-state of Cremona has been shocked by a string of gruesome murders. As only vicious killers are being targeted, and from an enigmatic mark left at each crime scene, people call this mysterious executioner, "Killer B". When former detective Keith Kazama Flick is called back on duty after an eight-year-long hiatus, a new team assembles at the Royal Investigation Service with the purpose of putting an end to the bloodshed.
But Keith appears burdened by too many ghosts from his past. And as a much greater and ominous scheme starts emerging, he will need to come to terms with them all.
Studio: Production I.G (Ghost in the Shell: Stand Alone Complex, Psycho-Pass, Joker Game)
Created by: Kazuto Nakazawa (Director of B The Beginning; First Uni director on Kill Bill Vol.1 animation sequence)
You can watch our exclusive trailer for the series below –
---
WHAT'S PLANNED FOR THIS ULTIMATE EDITION RELEASE?
This Ultimate Edition Blu-ray will truly be the definitive experience of the series for English speaking fans!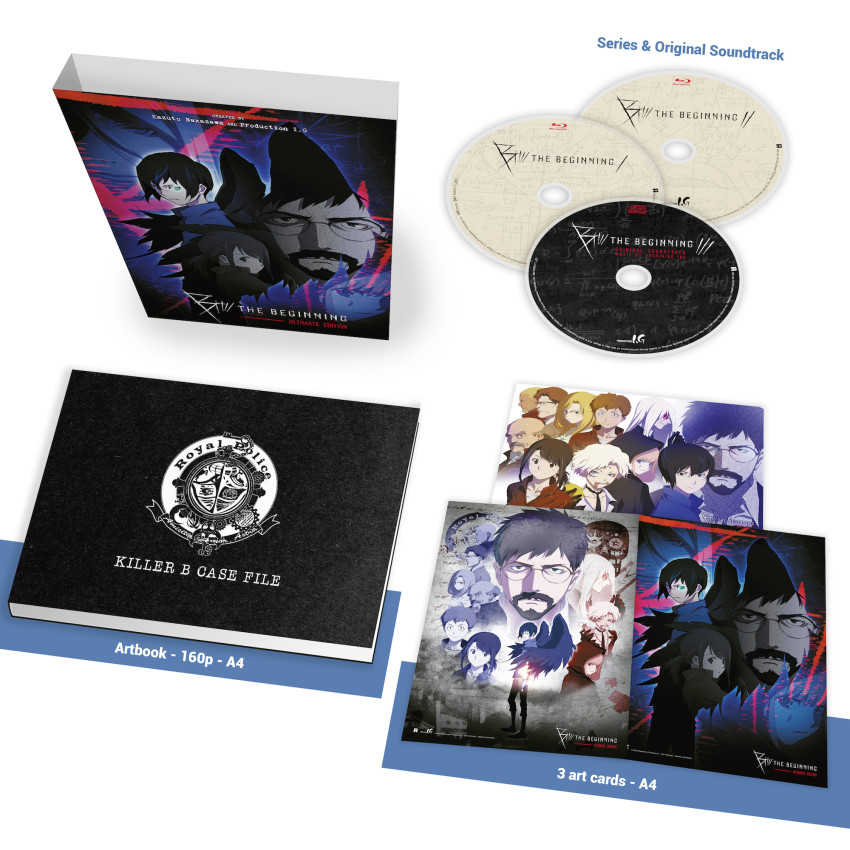 You'll get the entire series (12 episodes) on Blu-ray with both English and original Japanese with English subtitles viewing options. Both audio options being in 5.1 DTS-HD MA for any interested. As well as the episodes, on-disc extras include
An exclusive interview with the creator and director of the series, Kazuto Nakazawa, recorded during his visit to the Scotland Loves Anime Film Festival back in 2018.
Bonus Test Film, which is a test pilot film for B The Beginning. It's a fascinating preview of the what the series was going to be early on its conception.
Textless Ending Title Sequence
Additionally there will be a third disc inside that is the official Soundtrack CD to the series composed by Yoshihiro Ike! Featuring 21 tracks with 52 minute run time. The track listing being –
Split-B
Havoc
Prickle
Puzzle
Reason
Craziness
Easygoing
The Voice of the Wind
The Spirits of the Dead
Honesty
Suddenly a Voice Was heard
Rendevous
Koku
When the Ceiling Speaks
After Him!
Psychological
Deporter
Blow
Farewell to the Black-Winged King [previously unreleased]
Unveiling the Truth
Sweet Fragments of Peace
But that's not all as there will be three A4 sized art prints, showing some of the fantastic visuals created for the series.
And then we come to the whopping comprehensive 160-page hardback art book! Given the wealth of materials available to us, we felt compelled to put all of this together into a book that will sit proudly on your shelf as a companion to the series once you've seen it. This book will be split into the following sections
Notes to a Perfect World; this section very much compliments the series once you have seen it. Going into details of particular characters and circumstances that occur. There's also a map of the entire island where the show is set, so you can get a real sense of scale of where this all unfolds.
Character Models; this will be bringing you art of the diverse characters you encounter in the series.
Props; a look at a wide variety of items, setting and even animals you see in the series
Creating Cremona; this section will go into the background information on the place where the series takes place.
Background Art Gallery; this section will show the background arts for many locations you see during the series.
Interview with Yoshihiro Ike (Music); an interview with the person who behind the music for the series.
Interview with Kazuto Kakazawa (Creator & Director); this focusing on various elements of the series. (As a note, this interview is not the same one as on the Blu-ray.)
Key Animation; this section goes into the detail of the process of key animation for the series and shows an example of the evolution of this in the context of B The Beginning.
Animation Artworks Gallery; expanding on the section above, this section will feature selection of key animation frames, again providing another unique look at the development of the series.
Test Film; this is included as an extra on the Blu-ray, but this section will provide some more background information on the this test film.
Staff Credits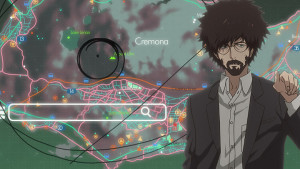 Like we said, it's a whopping great book!
It's worth noting that the this book is A4 (landscape) sized. And the two Blu-ray discs and Soundtrack CD will be stored inside the covers of the book. (Like with what we did in our Perfect Blue Ultimate Edition release.) Additionally, as this entire product is A4 sized, there will also be a slipcover/box – pictured above – that will go around the book and prints to keep them together.
(And yes for those wondering, this means the A4 prints won't be folded or rolled inside.)
---
WHERE CAN I ORDER THIS IN THE UK?
Product: B The Beginning
Format: Ultimate Edition Blu-ray
Release date: 5th October 2020
Cat. No.: ANI0410
Suggested Retail Price*: £129.99
*Suggested retail price is the maximum price a retailer could charge for the product. However, once retailers factor in their own discounts, the regular price will be cheaper. 
For customers in the UK, this will be getting released on Monday 5th October 2020.
This set will not be exclusive to any one retailer. At time of writing you won't find any listings on the likes of Amazon, Zavvi, etc.
However we have today opened pre-orders for this set at our AllTheAnime online shop! And we have a limited-time pre-order offer to coincide with that too.
~ AllTheAnime.com Special Pre-order Offer ~
Until Monday 3rd August 2020 pre-order the Ultimate Edition set for £79.99
(SRP: £129.99)
We'd also like to take a moment to acknowledge that there will also be a standard Blu-ray version of the series available on 5th October 2020 as well.
---
WHERE CAN I ORDER THIS IN THE USA?
B The Beginning: Ultimate Edition Blu-ray — MSRP: $159.99 USD
USA Release Date: 6th October 2020
As mentioned at the top of this post, our Ultimate Edition will be coming to the USA on Tuesday 6th October 2020 as it will be getting distributed by our friends at Shout Factory. They have begun taking pre-orders for this at their website and this can also be ordered through RightStufAnime.com as well using the links below –
USA: Ultimate Ed. at Shout Factory
USA: Ultimate Ed. at RightStuf
And we expect this to be available to order from other US retailers in the coming months.
B The Beginning: Standard Edition Blu-ray/DVD Combo — MSRP: $29.97 USA
USA Release Date: 6th October 2020
Additionally we also want to make it known to US Customers that there will be a standard Blu-ray/DVD combo set arriving on 6th October as well.
Expect other retailers to be listing this in the coming months, but right now this can be pre-ordered directly through Shout Factory's website, and through RightStufAnime.com using the links below –
USA: Standard Blu-ray/DVD at Shout Factory
USA: Standard Blu-ray/DVD at RightStuf
---
And with that being said, that concludes everything you need to know about our upcoming Ultimate Edition release of B The Beginning! We hope you're excited to add this to your collection.
Signing out~!
Jeremy
1 comments
Matthew

July 5, 2020 11:47 pm

Will pick the show up in October when you release the standard edition. The Ultimate Edition looks great and credit to everyone at Anime Limited for putting so much love into it but its not a show I'd drop £80 for regardless.