Beyond the Infinite Two Minutes
April 29, 2022 · 0 comments
By Tom Wilmot.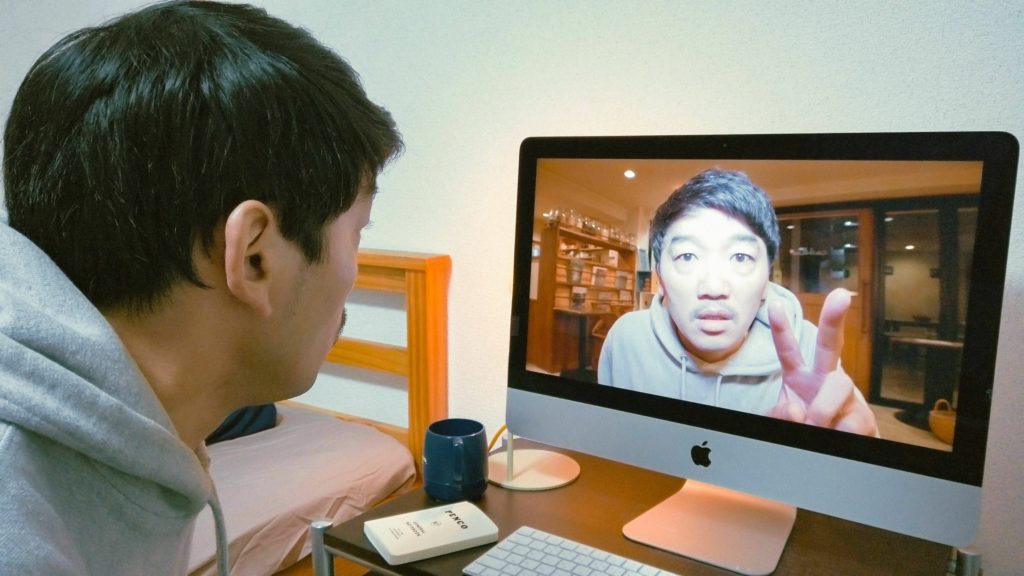 After what has been a tough couple of years for the film industry, it's uplifting to see an indie gem that proves the magic of filmmaking is well and truly alive. Beyond the Infinite Two Minutes is the brainchild of screenwriter Makoto Ueda and directed by first-time filmmaker Junta Yamaguchi, the film is a high-concept, low-budget sci-fi that is executed to perfection by the Europe Kikaku theatre group. Having received acclaim from festival-goers worldwide, the ingenious project has come a long way from its humble crowd-funded beginnings. Third Window Films continues to champion the Japanese indie by bringing this time-meddling tale to home media.
We're introduced to Kato (Kazunari Tosa), an aspiring musician who lives in a small flat above the coffee shop he runs. Shortly after closing up for the night, Kato is beckoned over to his computer screen by a voice claiming to be from the future – his voice. Kato learns that the computer screens in his room and the coffee shop are somehow linked, the former showing him two minutes into the future and the latter two minutes into the past. It's not long before a bewildered Kato and his giddy pals begin pushing the boundaries of this inexplicable time loop. Unsurprisingly, chaos ensues.
Beyond the Infinite Two Minutes might very well have been a headache-inducing affair were it not for the welcoming presentation of its mind-boggling plot. The mystery of Kato's "Time TV" moves along so quickly that there's little time to question the why and how of what's happening. After all, everything is confined within the brisk two-minute loop that is the present. A series of what would normally be boring conversations instead help to explain the complex setup clearly, as Kato and friends have repetitive chats with their past and future selves. This clarity is essential once we reach the establishment of the "Droste effect", which consists of the TVs displaying one another infinitely, seemingly putting no limit on how far Kato and the gang can see into the future.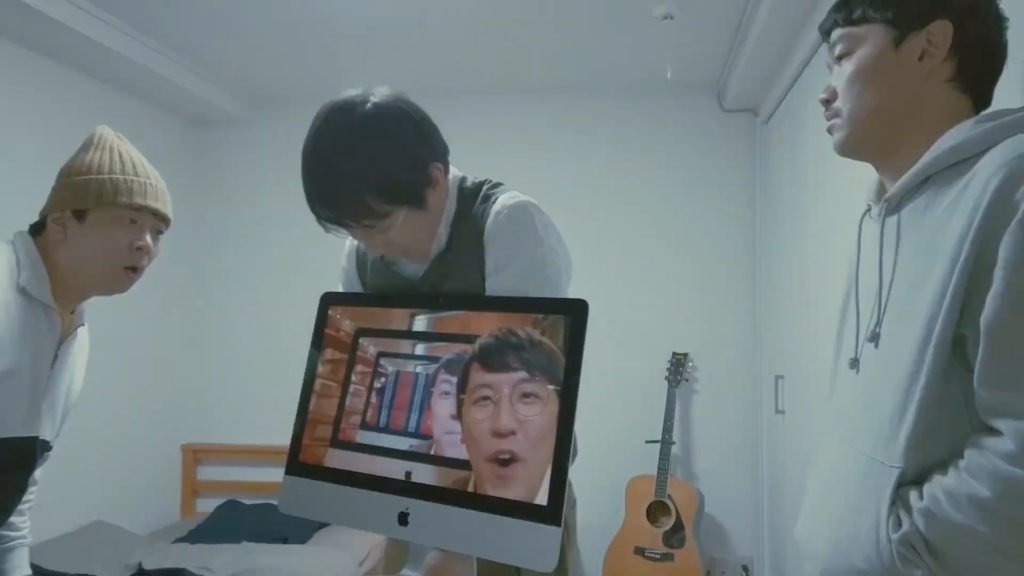 It's remarkable how much screenwriter Makoto Ueda has managed to pack into the just-about-feature-length runtime. He and Yamaguchi explore many of the possibilities offered by the anarchic time-travelling narrative. There's a welcome blend of comedy and sci-fi as serious ponderings on the potentially damming implications of knowing the future are juxtaposed with far more playful developments. For example, Kato's fear of being compelled to follow pre-determined actions contrasts wonderfully with his friend's delight at winning a rare vending machine toy. 70-minutes is the perfect length; any longer and the film may have lost steam. As it stands, there's enough momentum in the plot and energy in the gleeful performances to keep things moving at a blistering pace.
As if keeping the time-bending narrative in check wasn't already challenging enough, Yamaguchi and crew decided to present Beyond the Infinite Two Minutes as a one-take film! A blend of discreet cuts, pre-recorded TV conversations and impeccable timing means that this ambitious shooting approach pays off in spades. Even more rewarding is the fact that the one-take presentation is essential to the plot rather than just being a gimmick. Keeping us in real-time evokes a feeling of urgency that would be lost through a more traditional presentation. The fluid one-take camera movements keep us constantly in the present, stringing us along with the characters as time warps around them.
Screenwriter Makoto Ueda has in interviews touched on the fact that he wanted to utilise the skills of the Europe Kikaku theatre group to bring something unique to the film. There're several instances of thinking outside of the box where the cast and crew take advantage of their background in theatre. Having stage-trained actors who are familiar with long takes and a crew confident with managing elaborate staging contributes massively to the film's success. It's wonderful to see a team new to feature filmmaking bring their outside expertise into the field to create something that feels truly fresh.
While watching Beyond the Infinite Two Minutes, you can't help but think how much of a logistical nightmare the film must have been to make. Fortunately, there's a chaotic making-of featurette to show us just how confused everyone was during filming. An early table read, complete with convoluted diagrams and puzzled looks, gives you an idea of the enormity of the project at hand, despite the deceptively small-scale production. However, you also get a sense of just how much of a team effort making the film was, with everyone chiming in with helpful suggestions or words of encouragement.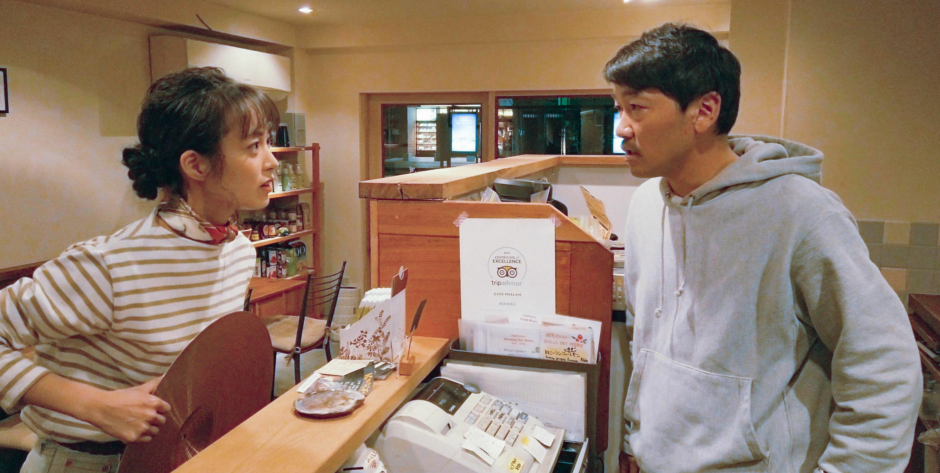 Many behind the scenes featurettes tend to paint a merry picture of affairs, yet the making-of footage for Europe Kikaku's first feature doesn't shy away from the more strenuous moments, particularly those for director Yamaguchi. In his on-disc interview, the director talks about the film's tight turnaround, coronavirus disruption, and his dual roles of director and cinematographer. Such insights highlight the pains and pressures of indie filmmaking and help you appreciate the triumph of completing such a modestly budgeted film.
The film was written by Makoto Ueda, who also wrote the screenplays for a handful of anime features, including Penguin Highway (2018) and The Night is Short, Walk on Girl (2017). The concept of a TV-facilitated Droste effect was toyed with in the screenwriter's 2014 short film, Howling. This project was seen by producer and cinema owner Takahiro Otsuki, who tasked Europe Kikaku with expanding the idea into a feature film for his annual festival. Howling is included on Third Window Films' release and showcases earlier versions of "Time TV" sequences later refined in Yamaguchi's film. The fact that a consistently entertaining feature-length film has been born out of this clever eleven-minute short is an achievement in itself.
Beyond the Infinite Two Minutes has frequently been compared to the immensely successful One Cut of the Dead (2017). This link is touched upon in Yamaguchi's interview, who laughs off the idea that Shinichiro Ueda's undead indie hit was a direct influence on his feature but does concede that there are similarities. One thing for sure is that Yamaguchi's film is every bit as ingenious and entertaining as its spiritual forebear. Beyond the Infinite Two Minutes is essential viewing, if not only to experience the joy of basking in its absurd premise. At a brisk 70-minutes, it's a leisurely watch and a worthy champion for Japanese independent filmmaking. With Europe Kikaku already preparing its next film, one waits with eager anticipation to see what the ambitious theatre group manages to produce.
Beyond the Infinite Two Minutes is released in the UK by Third Window.