By Helen McCarthy.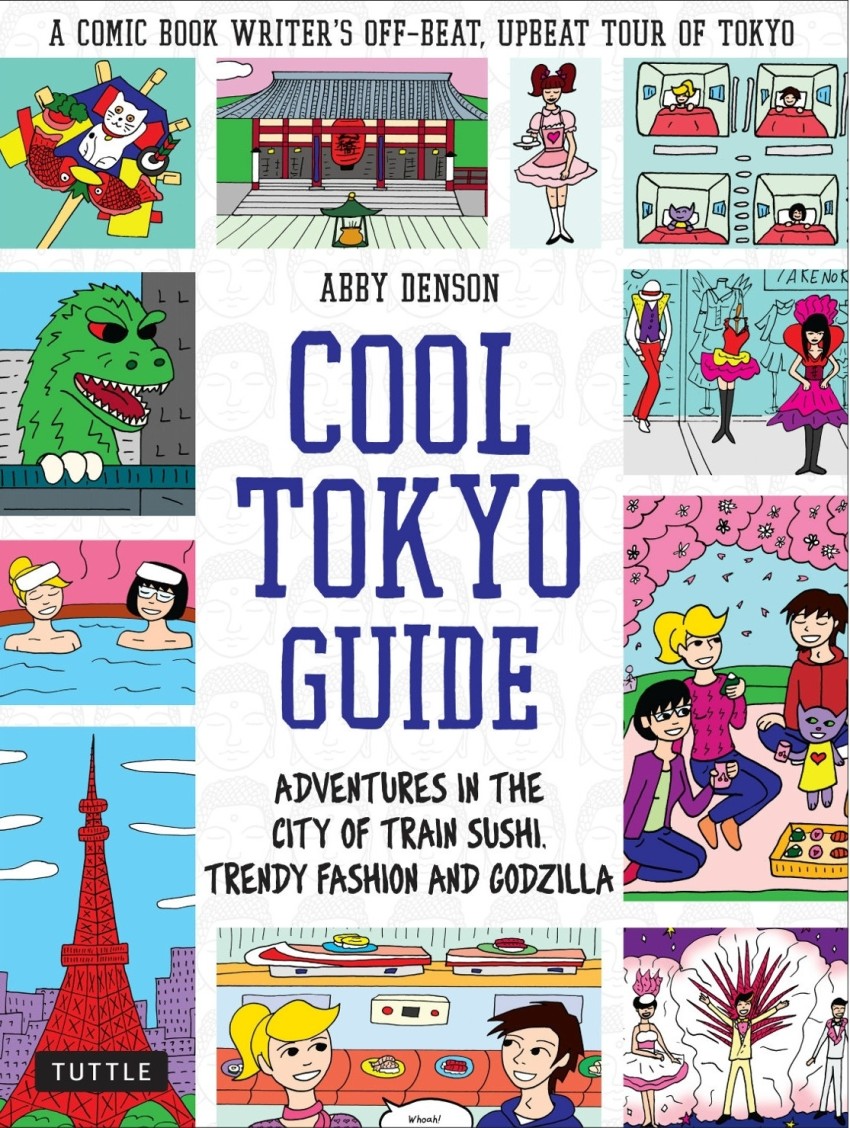 The whimsical, colourful Cool Tokyo Guide by Abby Denson is bright, light, appealing and accessible. American cartoonist Denson, with help from her husband, Japanese friend Yuuko and mascot character Kitty Sweet Tooth, guides you through the process of visiting Tokyo from the point at which you start to plan your visit to the moment you pack your souvenirs for the flight home.
Denson's second travel guide for Tuttle – following from last year's Cool Japan Guide  — covers some of the same ground. A good deal of that was about Tokyo, often the Westerner's first or only port of call in Japan. The sections on trip preparation have a good deal in common. Kamakura's purple sweet potato delicacies and Japanese pharmacies get similar rave reviews in both books. The same, of course, could be said of any travel guide, but be aware that if you have the first book you'll find the second overlaps.
Treated as a stand-alone guide to Tokyo, this has some very useful aspects. It goes wider than Gianni Simone's Tokyo Geek's Guide, reviewed last year, covering more general tourist attractions. The breezy style and enthusiastic approach will make it particularly appealing to teenagers, although parents planning a trip with younger teens should be aware that it also features information on bars and other establishments that they might prefer their children not to visit.
The comic-book format means that Denson can show first-timers how to navigate the control panel on a hi-tech Japanese toilet, devote a page to the different kinds of napkins and their uses, or convey the meaning of the crossed-arm "batsu" gesture (the physical equivalent of the Ghostbusters "no ghost" sign, used against the author to deter unwanted photography or incorrect recycling.)  It also makes the book a fast, easy read.
The downside is that it gives less space for written information, but the panels convey a good deal to those who look carefully. The art often includes labels or signs with hiragana or katakana script; although these are not transliterated they offer something to point at if, for example, you need haemorrhoid cream at the pharmacy. (The image shows a brand name and not the Japanese word for haemorrhoids, so you'll always get Boraginol, but at least you won't have to try and decipher the packaging.)
This aside, there is not much in the book on how to deal with any difficulties you might encounter in Tokyo. There's some information for vegetarians but nothing about visiting Tokyo with a child, or a disability. You are advised to get flu shots and buy your Ghibli Museum tickets and JR passes in advance, but medical insurance is not mentioned. There are pages of useful numbers for attractions, shops and restaurants, but the only embassy listed is American and the only emergency numbers are the fire and police/ambulance 999 equivalents. The suggestion that you can get help at a police box in an emergency only works if you speak some Japanese, or if whichever of Tokyo's finest happens to be on duty at the time speaks some English.
The book's emphasis on the fun side of the city is infectious, and its sheer enthusiasm and energy make it a very appealing read. I wouldn't advise relying on this as your only guide to Tokyo, especially if it's your first trip and, unlike the author, you don't have some command of the language or a Japanese-speaking friend. Just make sure you load emergency contacts and information onto your phone before you head for the airport.
Helen McCarthy is the author of A Brief History of Manga.