By Roxy Simons.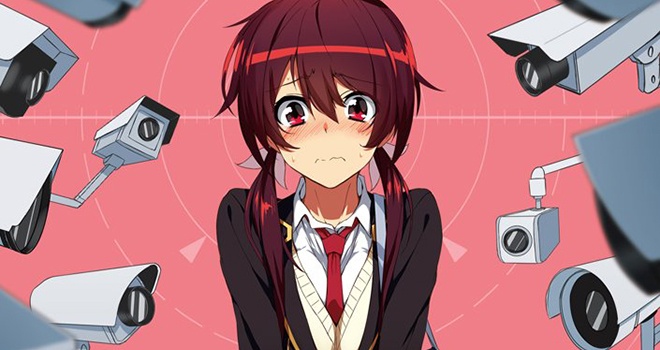 The Sakurada family aren't exactly what you'd call a typical royal family. Blessed with supernatural abilities, the nine children are determined to live normal lives, well… as normal as you can expect it when they're constantly on camera or campaigning to win the throne through a public election. It's not easy to win the hearts of the people, and with only one year to go before the vote takes place the children must do everything in their power to become number one.
One person who isn't so enthused by the prospect is fourth child, and third daughter, Akane, who is easily embarrassed and suffers from extreme shyness. She's a wallflower, or in this case a Dandelion, so it doesn't help that she's got such a large group of followers. With her ability to control the gravity around her and those she touches putting her in compromising positions, all she wants to do is be able to look the public in the eye without going beet red.
Given her prominence from the first episode you'd be forgiven for thinking that Akane is the only character that you should care about, but even if she is the lead of the story, her siblings aren't afraid to step into the limelight. There's Aoi whose ability makes people obey her commands, Shu who can teleport, his twin Kanade who can create anything she wants, while Akane controls gravity. Haruka can predict the outcome of any event, Misaki can create clones of herself, Hikari can make anything grow or shrink, Teru is super strong, and Shiori can communicate with all creatures and inanimate objects.
As you can imagine, with only 12 episodes and nine children to showcase it is hard for them to get the same amount of screen time. With the exception of the youngest brother Teru (who you may forget exists halfway through the show), each sibling showcases their strengths and weaknesses well. Of the Sakurada children, Akane, Kanade, Hikari and Shiori are the most interesting, thanks, mainly, to their mystical abilities and the trials they face because of them. Kanade has the most troubling time of the four, she puts on an amicable façade around the public so that she can become Queen and right a past wrong. Her struggles make her the most relatable, even if, at first, she seems the least approachable. Hikari's goal to become an idol despite being royalty may not be as serious a storyline but it is still sweet to see her chase after her dreams.
Originally based on a four-panel manga series by Ayumu Kasuga, Castle Town Dandelion is a surprisingly funny story. With each character's missteps comes a great many slapstick moments, whether it's Akane's adventures as a 'masked' superhero to combat her shyness or Shiori's conversations with a watermelon during a summer vacation, there's barely a moment where the show's comedic prowess falters. We may only be with the Sakurada family for a short time, but their story is sweet and they're so likeable that even after it's over you'll wonder what the next chapter of their lives has in store.
Castle Town Dandelion is released in the UK by Anime Limited.