By Paul Browne.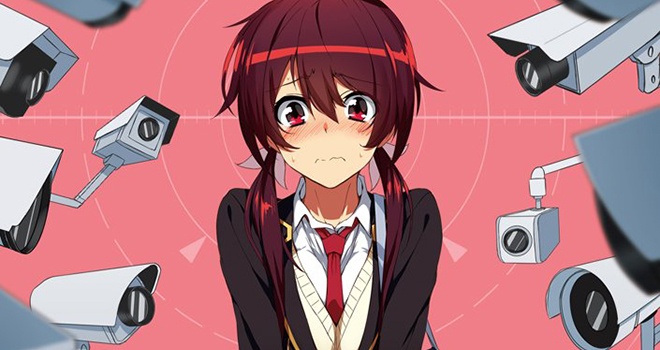 With security cameras tracking our every move and reality TV shows like Big Brother part of our everyday lives it seems as if surveillance has become ingrained in our culture. It's difficult to imagine something that was once considered pure science fiction to be given a fresh twist.
New anime Castle Town Dandelion does just that. Based on a popular 4-panel manga strip, Jyokamachi no Dandelion (to give it its original Japanese title) introduces us to the Sakuradas – a royal family in which each of the nine children has their own super power. In a novel turn on reality TV, the royal family is also watched by cameras as part of a TV broadcast – which plays a part in the process for the citizens to elect the next monarch.
The story focuses on middle child Akane – whose shyness and reserved nature makes the constant presence of cameras an awkward issue. Akane also has the ability of Gravity Core – a power to manipulate gravity. Other powers among her siblings include sister Hikari's God's Hand, which enables her to increase or decrease the growth of a living being for a 24-hour period. Hikari also has dreams of being an idol music star, which seems to be a fitting role for her voice actress Yui Ogura.
Originating in Gunma prefecture, Yui Ogura has managed to pack in a hectic career in a short space of time as both a voice talent and singer. Her anime resumé has included a broad variety of titles, including .hack//Quantum, Ro-Kyu-Bu! and Campione!
Yui signed to the Lantis label and released her first single – the rousing strains of 'Raise', which formed the ending theme of Campione! The single also managed a respectable No. 8 in the Oricon charts.
Although Yui has proved herself capable as a lone idol singer, she's also part of several groups whose output revolves around anime soundtracks. This includes StylipS and also HAPPY! STYLE Rookies, an idol outfit where Yui met fellow singer Kaori Ishihara. Both graduated from StylipS to pursue more voice acting roles, often starring alongside each other in anime titles, including Yumeiro Patisserie and Nakaimo – My Sister is Among Them!
Meanwhile, Kaori distinguished herself with parts in Aria the Scarlet Ammo and also played Himeko in the AKB48 anime series AKB0048. More recently, Kaori has stared in the likes of Aikatsu! and Cross Ange. Castle Town Dandelion brings both Yui and Kaori together again, this time playing Sakurada siblings.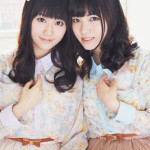 Throughout their anime career, the pair also kept an interest in music , taking on singing duties for various anime soundtracks. As well as their voice roles, Castle Town Dandelion also features the pair on music duties, notably as duo YuiKaori, to provide the euphoric charms of 'Ring Ring Rainbow!!' – an engaging and catchy slice of idol pop with its synthesised melodies and perky vocal turns from Yui and Kaori.
Meanwhile, Yui takes stage centre for Castle Town Dandelion's ending theme 'Honey♥Come!!' – an exercise in vibrant idol goodness that suggests Yui has been downing the contents of several helium-filled balloons during the recording.
As YuiKaori, the pair also released an album, 2011's Puppy, which featured several of the duo's anime and game theme contributions. Among the gems on the album were the relentless energy of 'Our Steady Boy' from 2010 anime Kissxsis and the pop appeal of 'Shooting Smile' from the 2011 video game Toy Wars. The duo followed this up with the release of their second album Bunny in 2013.
The music for Castle Town Dandelion demonstrates that anime theme tunes are often best when you stick to a tried and trusted formula. Certainly, Yui and Kaori have the vocal chops to carry this task off with ease.
Paul Browne is the owner of Japanese music website J-Pop Go. Castle Town Dandelion is currently streaming on Viewster.