Castlevania Season 1 comes to home video from Anime Ltd.
February 15, 2019 · 0 comments
We appreciate it's been a little quiet from us to begin this year but fret not as there's plenty in the works coming from us in 2019 – with details on what you can expect arriving next week, all going well. But today we've got some exciting news about a new title that we'll be bringing to Blu-ray this year! In fact, you won't have wait long for this as it's set to arrive during the second quarter of 2019! This new acquisition being the first season of the hit series Castlevania!
ABOUT CASTLEVANIA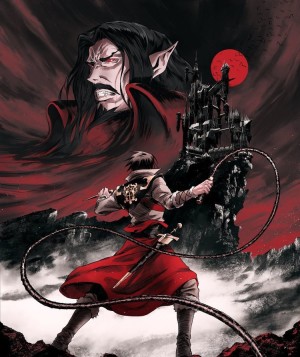 Inspired by the classic video game series, Castlevania is a dark medieval fantasy following the last surviving member of the disgraced Belmont clan, trying to save Eastern Europe from extinction at the hand of Vlad Dracula Tepes himself.
SEASON ONE SYNOPSIS: "Trevor Belmont, embittered and excommunicated, finds himself drawn into a battle for the survival of Europe–a region that has brought doom upon itself by taking away the one thing its greatest monster loved."
Adapting the story of the hit game "Castlevania III: Dracula's Curse" the series written by renowned writer Warren Ellis (Transmetropolitan, Astonishing X-Men) is a fantastic viewing experience for fans of the franchise and those completely new to it as well. The success of the first season on Netflix led to a second being produced and a third season also being green lit for production!
You can watch a preview of this below
---
WHAT CAN YOU TELL US ABOUT THIS RELEASE AT THE MOMENT?
Well first of all I can tell you that we'll be giving the series our traditional style Collector's Edition treatment for the Blu-ray version of this. It'll be available on Ltd Collector's Edition Blu-ray on day of release. We can't share an exact date of release with you at time of writing, but we'd say expect this to be available to add to your collection during the second quarter of the year!
While we can't show you what it will look like at this stage either – as the designs and exact contents are not 100% signed off at time of writing – if you're familiar with our Collector's Edition style releases then you'll have an idea on how it will be packaged. And we're also hoping to be able to utilise lots of art we have access to so we can include an art booklet as well. Obviously this is all pending approvals, but we wanted to give you somewhat of an idea as to what we're hoping to be able to do.
In terms of the disc, it will contain the entire first season of Castlevania (which for those unaware is 4 episodes total) and there will likely be some extra content included too. (We'll be able to confirm exact on-disc content once everything is signed off.) Also worth noting that we are authoring our own disc for this release, so we are not utilising any disc master that has been used in other English speaking territories.
As soon as details are 100% signed off we'll be able to share more details with you, but we wanted to give you a preview of what (all going well) to expect in some form.
---
And there you have it folks! Castlevania season 1 coming to Blu-ray during the second quarter of this year! We hope you're looking forward to this. We certainly are. As we mentioned, as soon as all the details are 100% signed off on this Season 1 release we'll be able to share more concrete information with you about this.
Signing out~!
Jeremy